Belief is Half of All Healing

In the book A Monster Calls, by Patrick Ness, there's a moment when the tree monster is telling the main character, a boy called Conor, a story about the tree's past. The tree is using these stories to teach Conor about life, and how to deal with different situations. In…

Learn More
Always remember that your first dollar online is always the hardest. So we are here to help you earn your first dollar, up to your first million online.
In the book A Monster Calls, by Patrick Ness, there's a moment when the tree monster is telling the main character, a boy called Conor, a story about the tree's past.
The tree is using these stories to teach Conor about life, and how to deal with different situations.
In this particular story, the tree talks of a parson and how the tree punished this parson for something he'd let happen.
I won't spoil the story or the book by describing the punishment (and the lead -up to it) as A Monster Calls is a wonderful book that should be read by everyone.
However, one of the things the tree said stuck in my head:
Belief is half of all healing. Belief in the cure, belief in the future that awaits. And here was a man who lived on belief, but who sacrificed it at the first challenge, right when he needed it the most.
In the context of the book, it's a powerful enough commentary, since you know – as the reader – how much the loss of belief had cost the pastor.
But even on their own, the words "belief is half of all healing" are so true, so meaningful, that they're relevant to any situation.
You Don't Have to "Believe" to Believe
I'm an atheist. I stopped believing in God and religion when I was about nine or ten years old.
I respect the beliefs of others for whatever their God is, I just can't buy into the "one God over all others" mindset and education.
Since becoming an atheist, and especially in my adult years, I've had some interesting discussions with friends and peers of all religious backgrounds, as well as folks who are agnostic.
One of the things that come up is the "but if you don't believe in a God – any God – doesn't that mean you don't believe in things like spirituality and pre-ordained futures?"
To which I usually reply that they're not mutually exclusive.
For example, I'm not a Christian, but I'll celebrate Christmas. However, instead of celebrating it as the birth of Christ, I'll celebrate it as a time for giving, for loving, for being with family and people that matter to you.
Spirituality is an interesting beast. For me, spirituality can be believed in more than God, because it's about overall faith as opposed to servitude to a sole deity.
For example, I have faith that no matter what shit show is about to hit the U.S. when Trump takes office in three days time, good people will rise and counter any hate or ignorance that comes as part of his Presidency.
But I don't believe there's a God that will keep Trump on the straight and narrow.
For me, that's the crucial difference – true belief is hope, as opposed to believing in something that is, logically speaking, impossible to come to fruition.
To the point of the tree monster's words, belief is half of all healing, I believe:
Love can overcome hate in the long run
We're not born with hate in us, which means we can prevent hate from forming
There is room in the world for all religions or no religion
If there was no religious divide, humanity would win
People are inherently good – we just need to nurture that.
Of course, all of the above could be simple naivety on my part – but like the great John Lennon once said, "You may say I'm a dreamer, but I'm not the only one."
Belief is half of all healing. Get that half right, and we're already halfway to a better world.
Which is something I can truly believe in.
Every SEO specialist might feel overwhelmed from time to time because of their constant effort to see the outcome. It is a long term commitment. There are no shortcuts and you must look for future results, not present ones. For SEO amateurs, it is even harder. It is a constant battle to keep the rankings high. They will always try to find the easy way. We won't talk about them today; we will address those who are striving to do white hat SEO.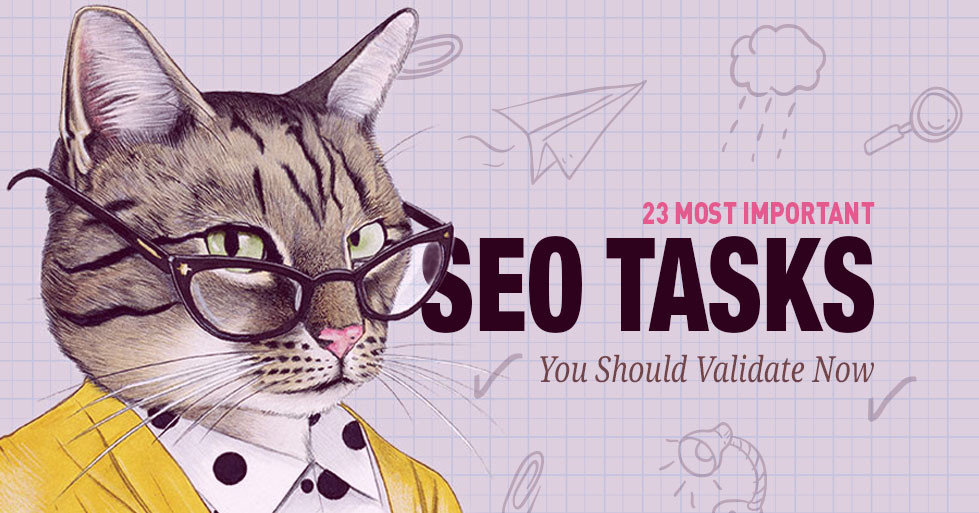 We've compiled a checklist with the most important SEO tasks you should validate to keep your site clean and pretty. All your hard work shouldn't catch dust. You must verify your site regularly and evaluate whether all your effort was worth it.
Check this list and start boosting your website:
1. Clean Your Site of Duplicate Content
Since duplicate content is not the most orthodox SEO practice, if it's the case, you should start cleaning your site, so you don't get penalized by Google. A quick way to identify that is by accessing tools to check your site. Some of the most used tools for checking duplicate content are Copyscape and Siteliner.

Using canonical tags is another way to prevent having duplicate content. If, for example, your site is www.hairoil.net so might be hairoil.net, hairoil.net/index.html or www.hairoil.net/index.html. You need to use the rel=canonical tag only for one URL. You should use the rel=canonical tag to give a hint to Google to know that the sites are one and the same. Below you can find the code to set the URL you mark as canonical:

2. Track Keywords – Craft a List of Keywords to Verify Rankings
You want to rank as high as possible so you should always track the keywords that matter in order to see how your site is performing. First, you need to research and make a list with the keywords you wish to rank for. You don't have to check them manually. There are lots of tools that can help you with that. After that, you need to keep them in a consistent system in order to monitor them, even daily if possible. You can use a Rank Tracker Tool to do so as it's a time and money saver.

Each line represents the performance for each monitored keyword. On the bottom you can select the period; if you hover over on each line, it will show you the keyword, the position, the URL and the date. To see the trending lines, you must add the keywords first. Here you can find the guide.
3. Define a Core Keyword for Each Page
Having keyword targeted pages is something to keep an eye on. Finding the right keyword might be hard, but there are tools to help you with that. The well-known Google Keyword Planner is maybe the most used tool for searching keywords, even though it suffered a lot of changes in the last year. To receive specific data you need to have at least one active campaign in Adwords, otherwise you will see limited data in the average monthly searches column, such as 0, 1-100, 100-1K, 1K-10K, 10K-100K, 100K-1M, 1M+. You could also use the Forecasting Tool for more accurate data.
After you set up a list with maximum 5 keywords, pick only one to be the core keyword for your article and use the other ones in your content for semantic optimization.
4. Keep Unique and Relevant Title Tags Within Your Website
After you write the content, you should optimize your title tag to express what you want to convey. It is important to verify if you have duplicate title tags. You do that if you have registered your website in Google Webmaster Tools and look at the HTML Improvements in the menu and search for the titles that are duplicated.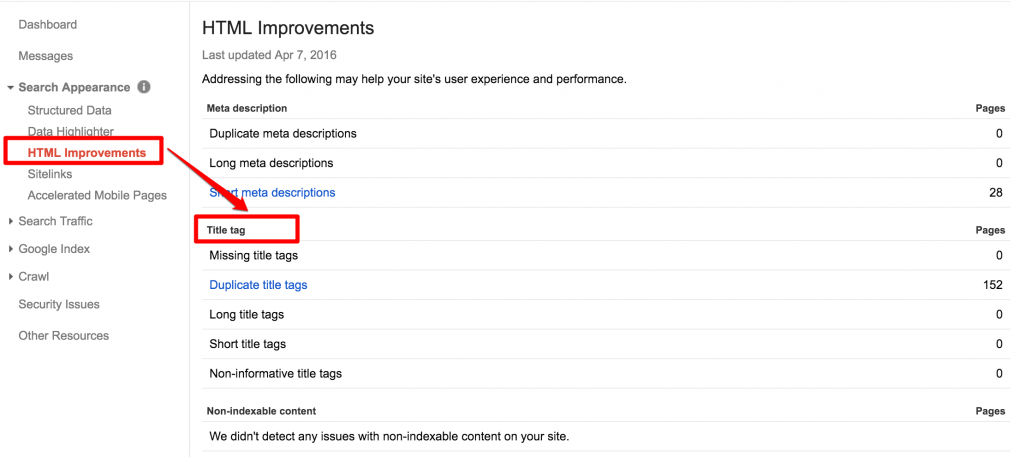 After you see the list, you should modify the duplicate title tags and try to find other ones that are relevant.
As a recommendation, I suggest you have clickbait title tags to increase your CTR. For that you should make sure it has:
a length of maximum 60 characters;
the core keyword included;
the promise you make to the reader to persuade him;
the brand name (optional).
A simple and an effective way to write the title tag: Primary Keyword – Secondary Keyword | Brand Name
5. Write Meta Description with Less Than 156 Characters
Meta description is an onsite SEO element you need to have for every page. For each meta description, you should have the answer to what the user is thinking: "what's in it for me?". At this point, you must differentiate yourself from the competitors and bring to the fore your value proposition. Before you make any decision, make sure you've searched the meta description that represents the best option from all that you could possibly think of.
Make sure you've chosen the right tone, it is welcoming, it has a call to action, it's unique and it has the core keyword.
After you've encapsulated what I outlined in maximum 156 characters, you can save your meta description. It's important it has only 156 characters, because that's the maximum Google will show in the search engine results for every query.
6. Use Keywords in the Title Tags and Headings for Better Content Optimization
Your core keyword should be included in the title tag, in headings and not only. You should also place it in the URL, in the content, in the image alt descriptions, and in the meta description.

The title tag for each page must be unique and entice you to click on it. If you have included the keyword in all the elements I've listed above, your post will be better optimized, and this could offer you a better ranking position in SERP. On top of all, using a keyword in the URL might simply make a site appear more relevant.

Another important aspect you should check is to have the title tags of maximum 60 characters.
7. Keep the URL as Short as Possible
A good SEO specialist knows that he should keep a simple URL structure. Also, a friendly URL can even help you rank better.  To help improve the readability you should use a permalink without dynamic parameters. The only punctuation you should use are the hyphens (-) instead of underscores (_).
You can match your title with the URL if it's a short title.
It doesn't mean that if the title is "7 Dumb Stories People Told Me When I Was Starting a Business" the URL should include it all.

The URL could look something like this:

http://businessentrepreneurs.com/seven-dumb-things-people-told-me
or

http://businessentrepreneurs.com/blog/seven-dumb-things-people-told-me

It looks good either way.
One thing you shouldn't do is to leave your URL automated because it can include irrelevant stop words (a, the, so,with, for, to, at, etc.).
8. Optimize Images with Descriptive ALT Tags
Another important SEO task you should validate is including the alt description in your image to make your content even more relevant. If you've never thought about adding images, please try and add at least one in your content to make it more readable and explicit.
If you're using an open-source content management system, such as WordPress or Blogger, it's easy to add an image alt description. You can take a look at the next picture to get an idea: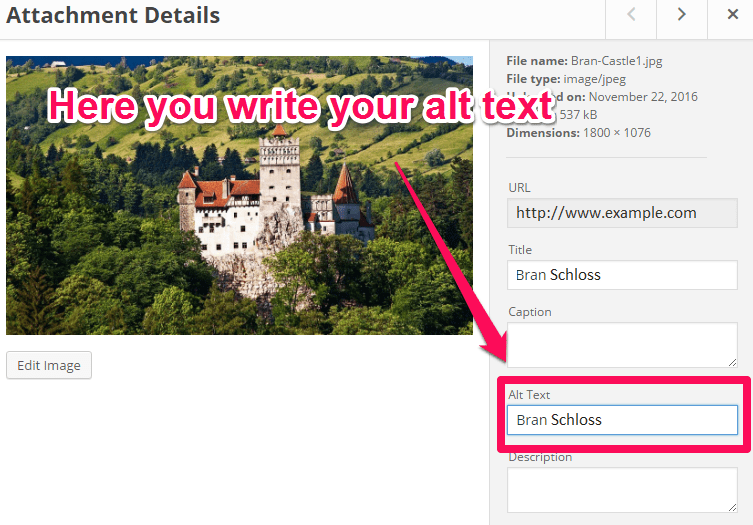 If you're using HTML language then you could simply add the alt="here you can write your alt text" to your image tag.
9. Write Competitive Content Frequently to Stay on Top
You already know that your content must be unique and bring value to your readers. Beside that it has to be a competitive type of content, so the audience choose your site and not that of your competitors. This means that before writing a new piece of information you should see if and how it was debated by your competitor. An easy way to do this is by checking their website. You can do this by searching on Google by the query "site: name of the site keyword" or, an easier way to do this is to check for the type of content you are most interested on BrandMentions.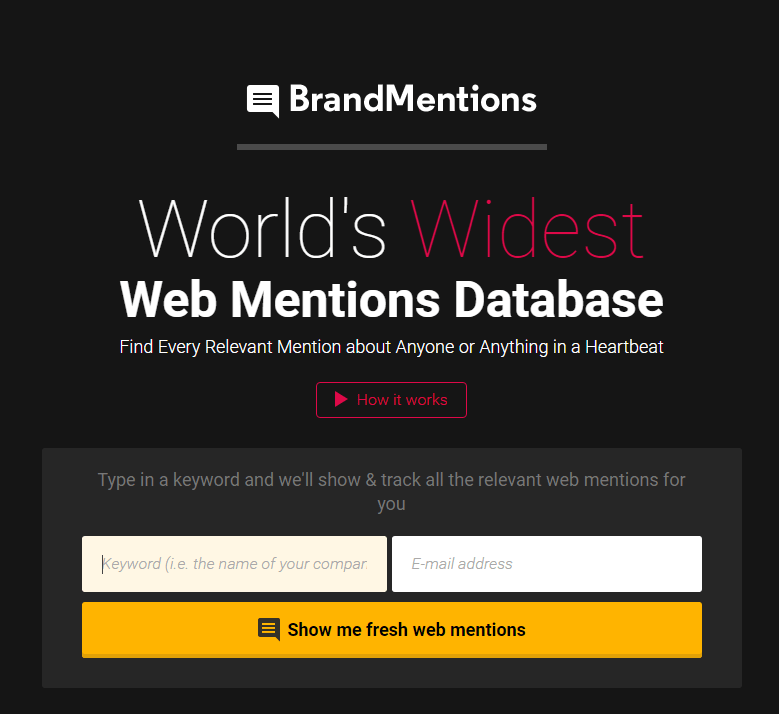 10. Have a Blog and Write Smart Content Frequently
If you want to bring more visitors to your site and create leads, you might be thinking of creating a blog. Here you can find more reasons on why to do so.
A good SEO indicator is a blog that has fresh content written on a regular basis. Furthermore, a blog can make you stand on top of your competitors in SERP. Having a blog is an easy way to have new content on your site to help you rank higher in the search engines results.
You can present your product more efficiently if you offer blog content to back up the benefits.
In case you don't have a blog you can create a free version by registering on WordPress or Blogger. Then, you will have to build your blog, select a template, install the plugins you need, create a user account, edit the appearance of your blog, create categories for your blog, edit settings. You will start to write after you've checked your site to see if it shows information properly, if it has a fast load speed page, if all the buttons work, if the comments area works and all the other features are set up right. We know it might sound a long complicated task, yet once you started we bet it will grow on you.

11. Monitor Your Backlinks' Naturalness
On the web you can find lots and lots of useful tools to help you monitor your backlinks' naturalness. You can use the cognitiveSEO tool to explore statistics in the Unnatural Links History chart, besides other interesting features. The Link Velocity chart will help you discover if you have an unnatural profile due to the different spikes on various time frames.
Below you can see a print screen with the Unnatural Links Detection feature: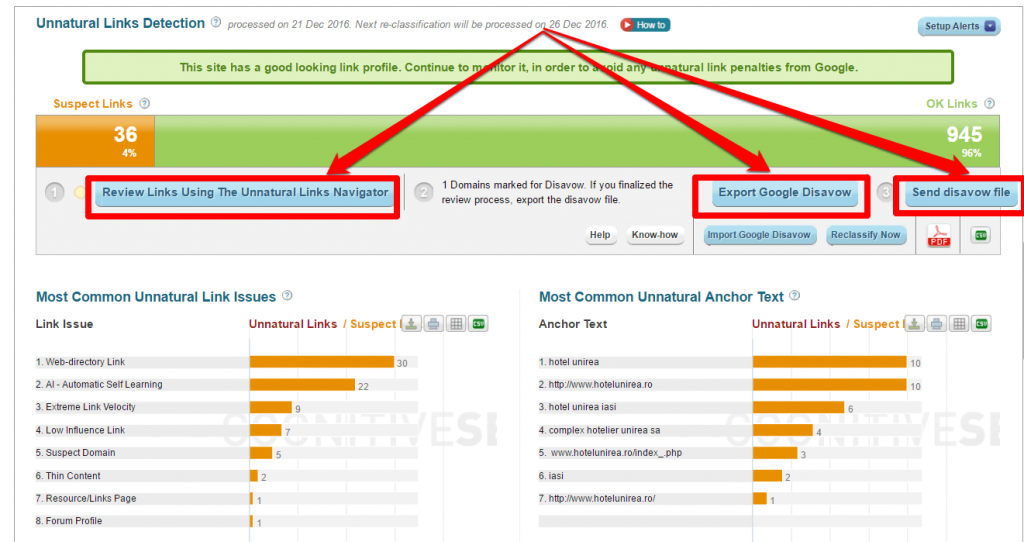 A major advantage of this tool is the fact you can review your inbound links using the Unnatural Links Navigator, then disavow the ones you think might cause you problems and export the file to send it straight to Google at a click away.
12. Make Sure Your Site Is Mobile-Optimized (Accelerated Mobile Pages)
A new era for front end developers started early in 2002 when Audi launched a site with a layout that adapts to browser viewport. Then Mashable called 2013 the Year of Responsive Web Design. Nowadays, it is mandatory you have a responsive design to ensure good user-experience.
A responsive website design means:
an adaptable screen resolution: the site can be viewed on different screen sizes no matter if it's portrait or landscape;
flexible media: images and videos are scaled;
liquid layout: the layout can change for each device as you can see in the next picture;
a different way to navigate: on the desktop, you scroll while on other devices you tap;
smaller sized graphics: on mobile devices, the images need to be smaller to load faster.
Also, you can see how the responsive website design works. For a desktop, it shows 3 paragraphs of text, for a tablet 2 paragraphs and for a mobile phone only one paragraph. Besides that, the desktop has a landscape format and the other devices a portrait format.
Nowadays, there are lots of tools and HTML codes to help you create responsive website designs and improve their load speed time. That is why the Accelerated Mobile Pages Project was born. The AMP is an elegant solution and simpler way to build web pages for static content that render faster. The nice part is that if your site doesn't use custom JavaScript and it's mostly static, you probably don't even have to create a second version of it for AMP. Every AMP document includes the AMP JS JavaScript library that delivers optimum performance by adding and validating a few important rules in your markup.
More information about AMP you can find in the next video:
13. Optimize Your Site for a Fast Load Speed Time
The load speed time and bounce rate go hand in hand. As long as your site has a low load speed page, your visitors will leave your site and may never come back. We live in the fastest era of technology, and some people live on the premises that every page on the internet must load in a blink of an eye.
Site speed is an important factor for ranking in the search results. You can verify the load speed time with free tools you can easily spot on the web. An example of this kind you can see in the next screenshot:
You can see how fast a page loads. For example, the site tested above loads in 1.25 seconds.
High load times can be caused by lots of factors, such as pages with poor code optimization, server or network problems, analytics codes and so on.
Another example of a Speed Test is the one offered by Google. Below you can see a screenshot of a site: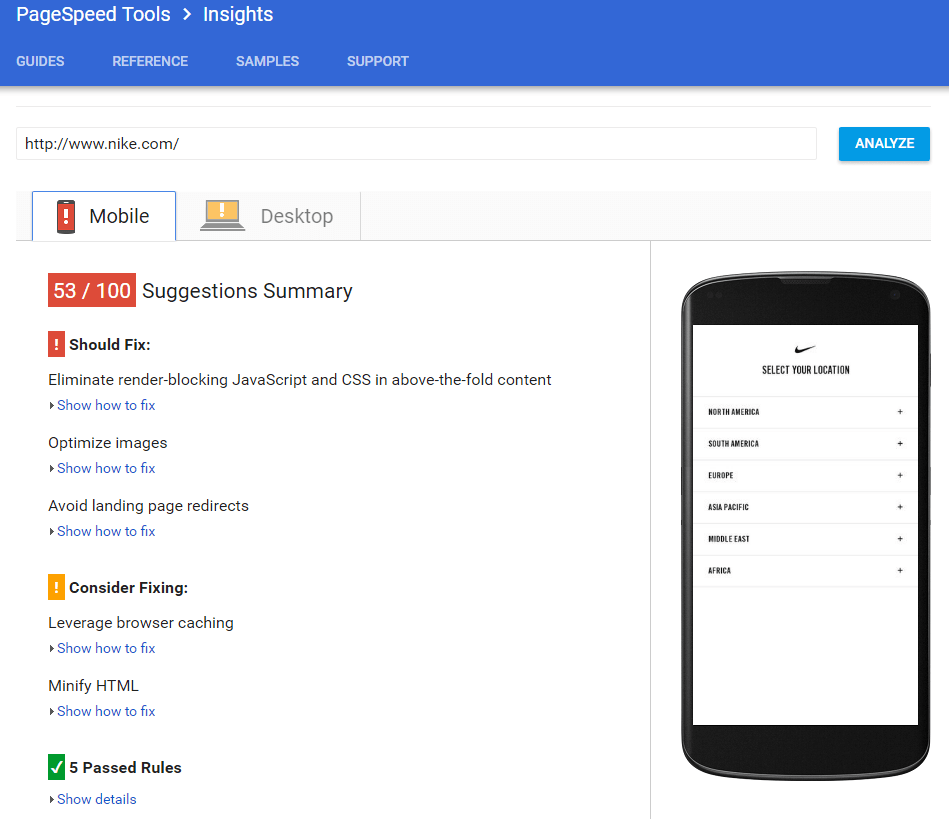 After the tool analyzes your site, you will receive a score out of 100 for the speed load page for both mobile and desktop. On top of all, you will see a list of suggestions and "how-to" guides to fix the issues.

After 1-2 weeks it is important to verify the site again if you've implemented the suggestions from the summary list.
14. Diagnose Your Site with Google Search Console Tools
Another important SEO task you should check is the connection with Google Search Console. If you haven't registered your site, you should check the guide to see how. If you have registered your site, you need to verify the message board in the left menu (see the screenshot below) to learn which are the first steps before you start making any changes.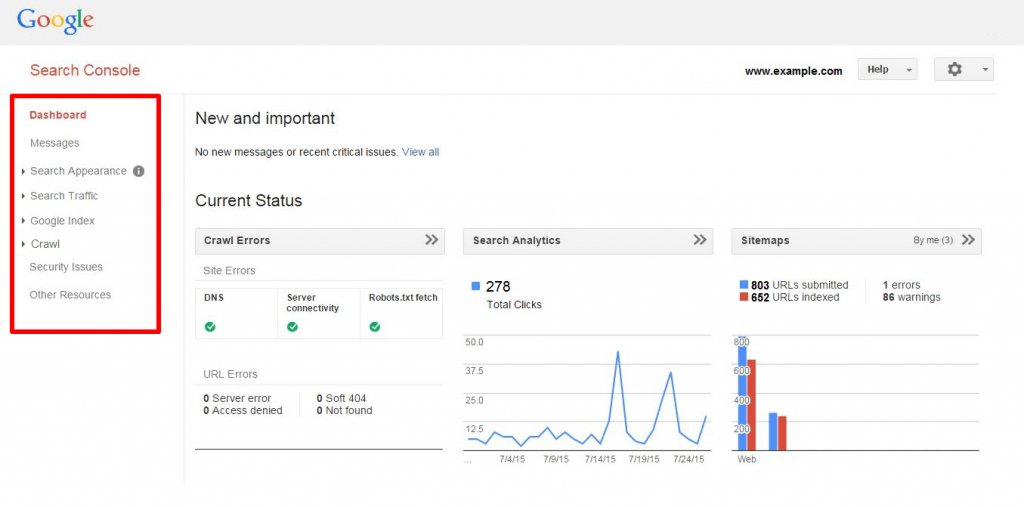 In the menu on the left you have 4 categories including search appearance, search traffic, Google index status update and crawl data. You should check each category and try to solve as many issues as you can.

If you have any question, there is a help center with all the information you should know about the tool.
15. Fix Crawl Errors in Google Search Console
The Crawl errors list is placed under the Crawl category in Google Search Console. While some sites may have a few crawl errors, others may have thousands. And there are some which don't have such problems. Below you will see an example of a site with no crawl errors.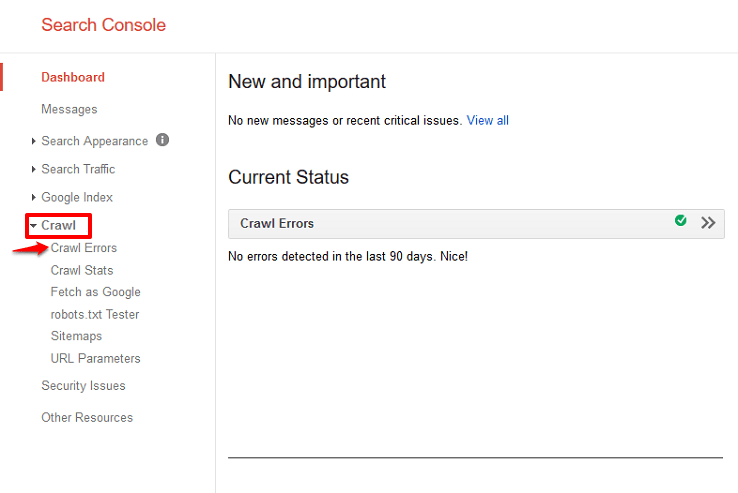 If you are lucky and have a site with no crawl errors, good for you. If you have a site which does have problems, there are ways to solve them. The site errors include DNS errors, server errors and robots failure. To resolve the first issue you could use one of the next options: Fetch as Google tool to crawl each link, check your DNS provider or make sure your server displays a 404 or 500 error code when needed.
If you have server errors, you need to see what type of error you've having. The Google support team offers another option:
Use Fetch as Google to check if Googlebot can currently crawl your site. If Fetch as Google returns the content of your homepage without problems, you can assume that Google is generally able to access your site properly.
If you are experiencing robots failure, you need to verify your robots.txt file. Make sure you check the file on a regular basis to never receive any errors in the future.
Besides site errors, there are 4 other types of URL errors on desktop including "server errors", "soft 404", "access denied", "not found" and one type on mobile, including "not found". You can see a screenshot below: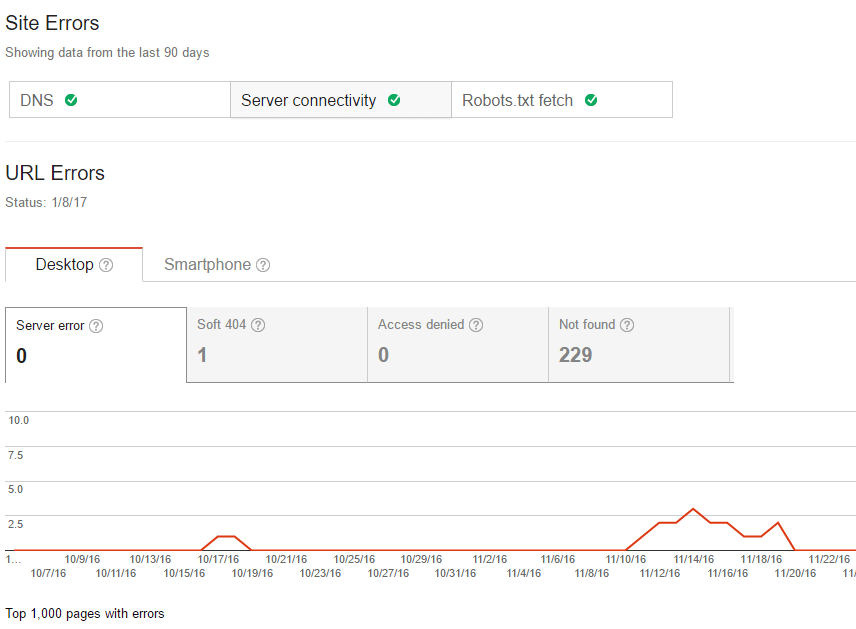 You need to check every link from the list and mark it as fixed.
16. Monitor Your Site's Indexation Status
As you've probably seen until now, Google Search Console tool came in handy for validating a few of the most important SEO tasks. And monitoring your site's indexation status is another thing you could check using that tool.
Below you can see a screenshot from Google Console with the index status.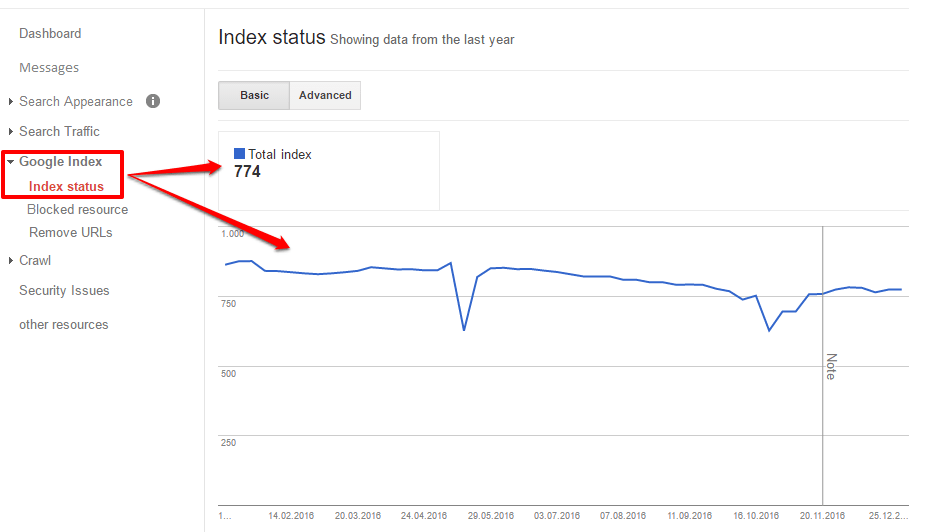 To have all the pages indexed in Google, you need to verify the crawl errors and fix them. Then you should use the Fetch as Google tool to manually send the URLs you'd want to index.
17. Focus on Your Audience's Demographics
Another important SEO task you need to check is focusing on your audience's demographics. Google Analytics can help you discover high-value information about your audience composition. Using the tool you can discover if the audience you've targeted is really the one that comes on your site.
In the next picture you can see a screenshot from Google Analytics with a demographic report: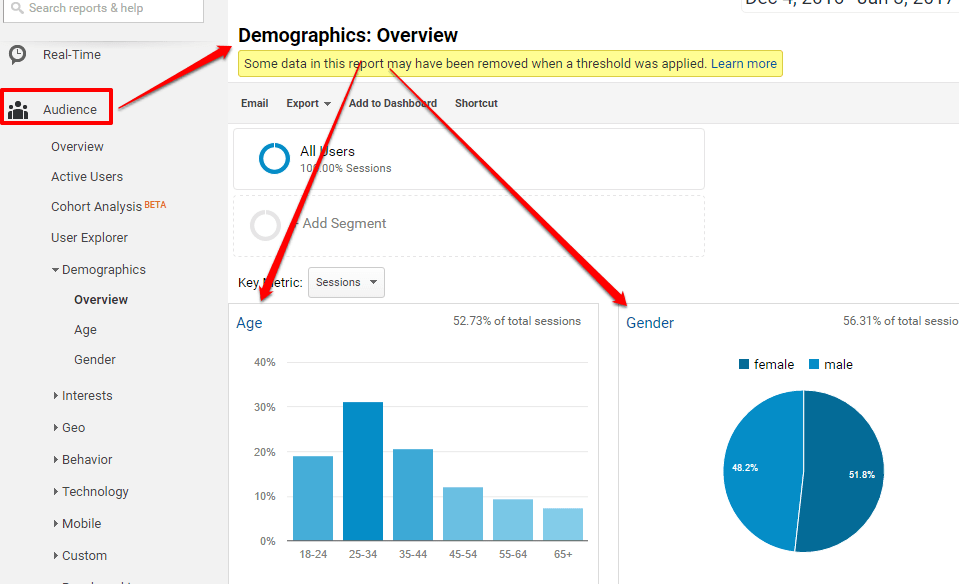 The statistical data you extract from Google Analytics will help you set up strategies to turn your visitors into customers by knowing what kind of creative content to write, what kind of media to buy, what kind of audience to use for remarketing campaigns. Knowing and understanding your audience is a key element in every business.
18. Keep Your Returning Users Under the Magnifying Glass
Don't close your Analytics account just yet. You can see the returning users on the main screen of Audience Overview as presented in the picture below.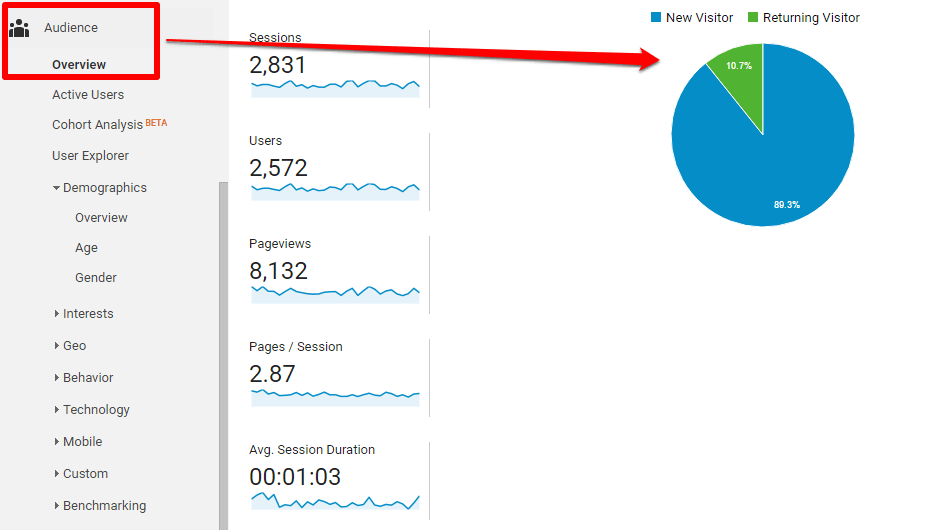 The number of your returning visitors is displayed along with the number of the new visitors. You can see the percentage for each group, and if you hover over, you'll see the actual number of visitors for each group.
The higher the number of the returning visitors, the higher the chance you've made an impression on them.
The returning visitors are the most valuable visitors because they know you, maybe they like you, and you have a higher chance to make them convert.

If you have a low number of returning visitors, it seems you might have a problem and can't capture their attention for a longer time. Maybe the information isn't displayed well on your site, maybe the page load time is slow. It can happen for various reasons. You need to make some tests and make a comparison between your site and your competitors' site.
19. Setup Your Goals in Google Analytics
You can set up goals in Analytics to keep track of your conversions. A goal can be a contact form, a request for an offer, a subscription for a product, a subscription to the newsletter, downloads, video plays and purchases. In order to keep your business growing, you should know where you stand.
Metrics aren't sexy but they are important – Neil Patel
In the following picture you will see where you can set up your goals.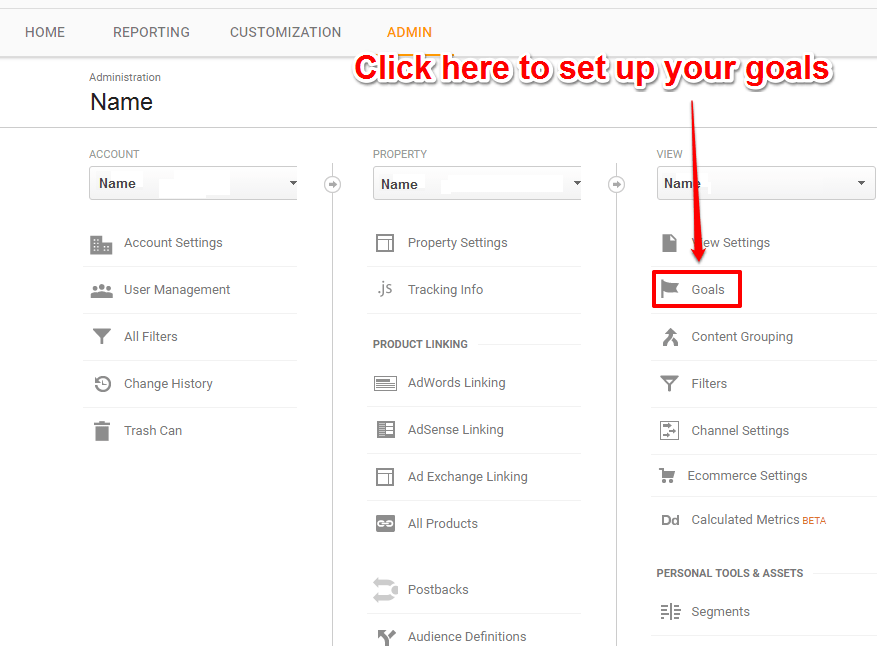 Define objectives and transform them into goals to help you build strategies to push your visitors down the funnel and improve your conversion rates.
To be a better SEO specialist you should set up SEO goals for:

destination page: to see how many people view a specific page;
page views: to see how many people viewed a minimum of pages on your website;
duration: to see how many people stayed on your website for a minimum amount of time.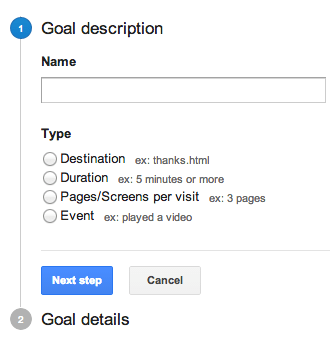 In the picture above you can see the possibilities you have to set up goals in Analytics.
20. Local SEO: Attract Local Customers
Local SEO started to gain more and more power on desktop and on mobile. You need to be more visible to your local customers. There are 3 elements you need to take care of: NAP citations, local reviews and claiming your business on Google My Business.
NAP is the acronym for Name, Address, Phone Number. You must be careful to have correct information displayed on your site and other sites.
If you have your NAP across the web on different websites, it's a validation you exist and your business is legitimate.
Local reviews can be gathered from your customers in a polite way by asking through a private email or message, without offering anything in return to manipulate what they declare. If you want to stand out and to get ranked higher, you should connect your business with platforms that offer the possibility to get reviews for your products. Yelp, TripAdvisor, Google and Facebook reviews are just a few examples.
Receiving numerous good reviews and a high number of stars can get you in the first positions and this could influence your customers.
Claiming your business on Google My Business is quite easy. You need to log in with an email address into Google and then fill in the information about your company name, address, phone number and business category.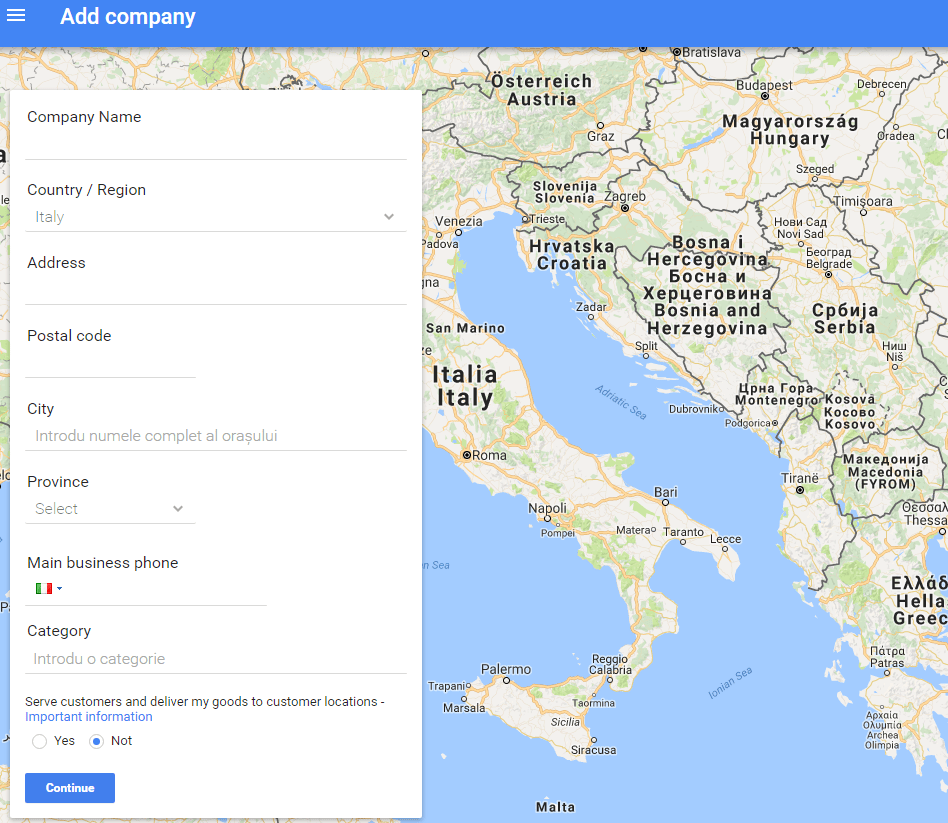 After that, you will receive a code in your physical mailbox with the instructions. It could be a few days until you receive it. After you validate your account, you will have to add information and pictures in your Google+ account.
21. Run a Website Audit Before and After Implementing SEO Strategies
If you have never run a website audit, it's time to do it now. Before you start making changes to your site or before you start implementing different strategies and after you've ended an important activity on your site you should run a website audit.

On the web, you can find tools to help you generate a report and keep track of the data you receive there. There are tools like cognitiveSEO or, Moz, Woorank and even Google Search Console that can help you generate substantial data after you ran an audit for your website.
22. Disavow Harmful Links to Keep Your Link Profile Clean
The purpose of the disavow tool is to tell Google not to take into consideration the harmful links (the links that don't observe the Google Guidelines). It is recommended to use the disavow tool with enhanced attention, in case of penalties or if you've checked your profile link and discovered links that aren't relevant or don't comply with the Google Guidelines.
Matt Cutts himself, Google's former head of web spam, argues in the video below that you should use the disavow tool even if there's not a manual action on your site.



The cognitiveSEO tool can help you evaluate the naturalness of each inbound link using the Unnatural Links Detection feature. You can import your disavow file or export it and send it to Google right from the tool. In the next picture, you can also see an example of a site with an unnatural link profile along with the most common unnatural link issues.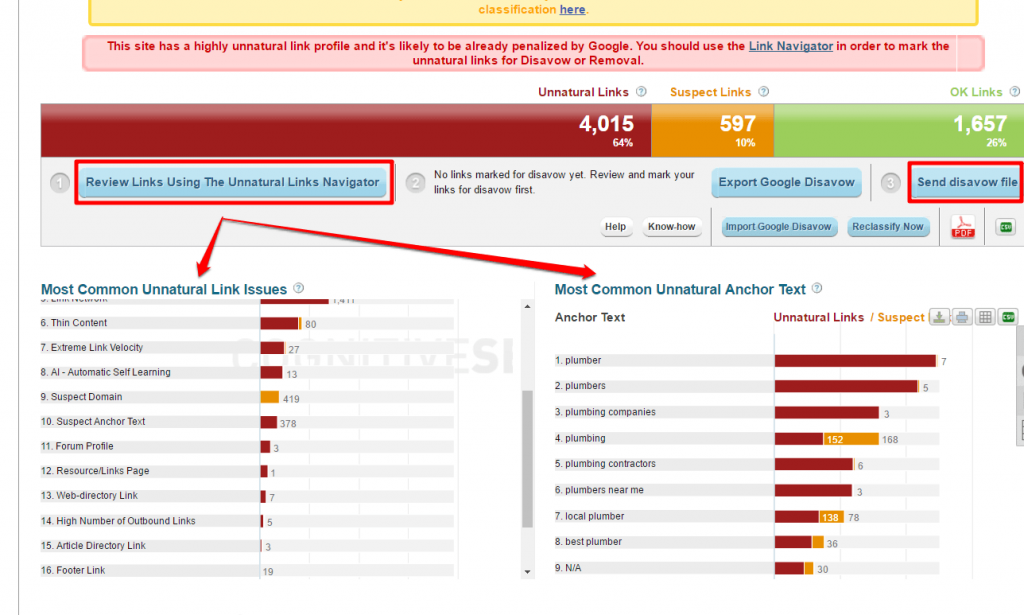 You can filter the links and see a list with those which are unnatural and suspect as presented in the next screenshot. For each link you can see why it is considered to be unnatural. For the example presented below the issues are: low influence link, in-content with suspicious pattern link and extremely low influence.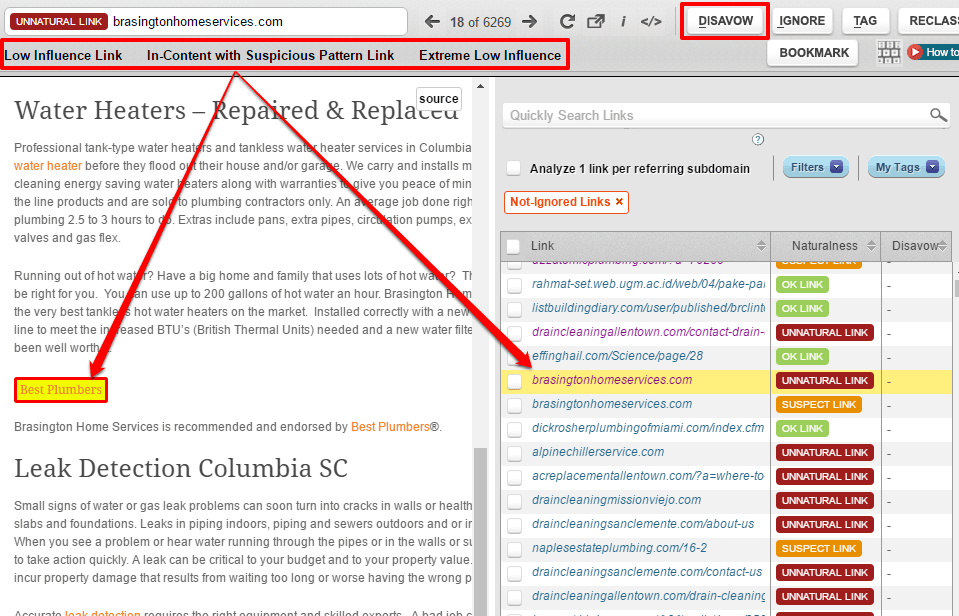 After you reviewed the link and saw it is harmful you have the possibility to disavow it. If you change your mind you can un-disavow the link before sending the file to Google.
23. Using 301 Redirects for Broken Links
You should verify your site to see if you have broken links by using a broken link checker regularly. Not having 301 redirects for pages with a 404 Error message will lead to losing link juice.
The cognitiveSEO explorer tool has a practical way of checking your website for broken pages. An example of this action you can see in the picture below:



A 301 redirect is the most friendly way for a webpage redirection. There are multiple ways to do this via code and htaccess redirect.
Conclusion
This checklist above includes the most important SEO tasks. I assure you that there are other numerous SEO tasks you should check, but these are the ones you should focus on first.

You should track and evaluate your SEO work to make sure you see some results. Always try to improve and strive to clean the site of bad links, broken pages, crawl errors, bad implementation techniques. Metrics are important even though nobody likes to keep track of them.

Don't do your work halfway. Follow the previous checklist and you should be fine. We'll be happy to hear the good news about the improvements of your sites. If you have any other SEO task you would like to add to this list, we'd be more than happy if you'd share them with us.


Photo credit featured image: www.etsy.com
The post 23 Most Important SEO Tasks You Should Validate Now appeared first on SEO Blog | cognitiveSEO Blog on SEO Tactics & Strategies.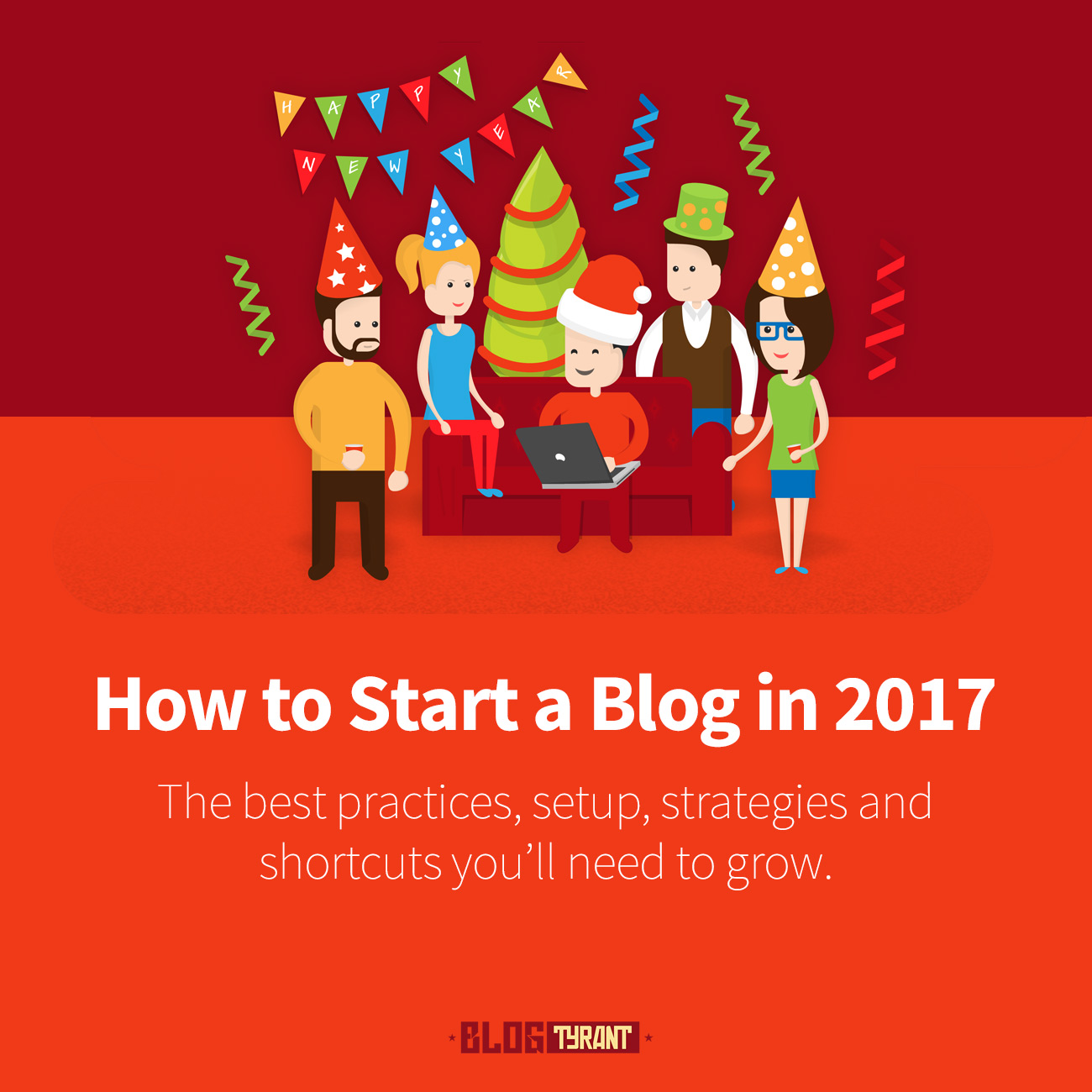 A few years ago we started publishing posts at the end of each year that tried to predict blogging trends for the year to come. This year I want to do things a little bit differently…
We'll start with my usual blog post on what I think will be important in the coming year, but then I'd like to turn it over to the amazing community here and ask you for your predictions about starting and running blogs, and the specific strategies you'll be focusing on.
I'm going to give a $250 prize to the best comment to go towards your blogging needs for the year. Hopefully the result will be a comments section filled with incredible knowledge and ideas on how to start and succeed with a blog in 2017.
Let's do it!
Starting a blog in 2017: What's changing and what's not?
Every year when I do these posts I notice how some elements of successful blogging stay the same, while others change and need to be updated.
There are the "golden rules" of blogging – tried and tested ideas and methods that bloggers and entrepreneurs have been using for over a decade now with continued success – and then there are the elements that change each year as technologies, trends and other related phenomena ebb and flow.
I'm going to try and touch on both of these in this article.
1. A blog is now a lot more than just a blog
One of the most common questions I get asked from new bloggers is whether or not a blog should be part of an existing website or something that sits separately.
For the last few years, blogs have really evolved from their original "weblog" format to a very professional format that does a lot more than just offering news and updates. In 2016 we have seen this go to all new heights with how sophisticated themes, plugins and addons have become.
This is one of the main reasons I continue to recommend that bloggers start on a self-hosted WordPress setup because the open source format allows you to change and evolve your site extremely quickly and easily as opposed to being locked into a free platform that has limited flexibility.
For example, sites like Nerd Fitness (which was once a content-only blog) have now evolved into multi-platform offerings that include community areas, stores, online live training videos, character creation, membership products, etc.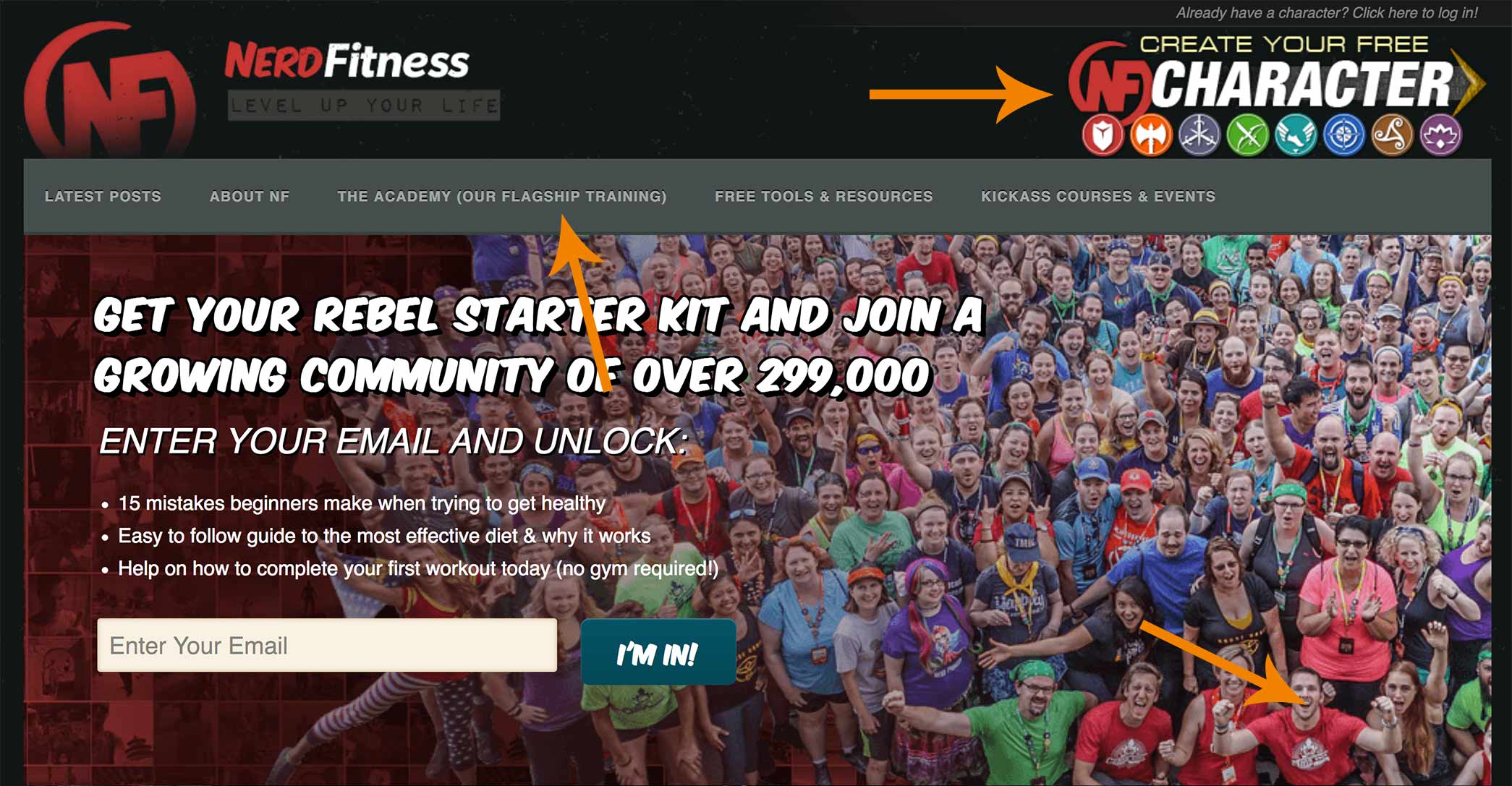 Steve (the one with the arrow on his face) has even taken this to the next level of holding a physical (and wonderfully successful!) annual camp. I often joke that he's not far away from his transformation into a legitimate cult leader!
If you take a look at many of the blogs that have survived the long term you will notice that they start to offer more than just the usual updates. Not only does it create a lot of value for your existing readers, these extra features attract new visitors who instantly find your brand valuable.
2. Understanding blogging SEO will become drastically more important
In the past you'd find that a blogger could get away with not knowing too much about SEO and still attract a lot of traffic if their content was excellent and social shares filled the gaps.
In the last few months, however, Google has been making some massive changes that are going to affect blogs in a really big way, and I predict that it's going to become even more important in 2017 (I'll be doing a separate post about this soon).
The main thing you want to be looking at is how the mobile version of your site impacts on how Google ranks you. Things like inconvenient pop up ads will soon be penalized in search, and the mobile will be the default analysis instead of the desktop.
There are also new technologies like Accelerated Mobile Pages which some blogs and websites are already taking advantage of. It's a whole new area of search optimization that, unfortunately, will benefit only larger sites unless we jump on board and learn about it.
3. Facts and helpfulness will be a vital point of difference
One of the standout features of 2016 was how quickly we entered into a post-fact era where science and truthful information seemed to become less important for news and media.
People now seem to embrace a cognitive bias openly when it comes to news and will, as an example, disregard whole newspapers like the New York Times as being "left wing elite propaganda" and instead choose a non-fact checked site that sits with their own agenda.
The trouble is that the algorithms that the web is built on encourage this kind of behavior. Veratasium explains in really well in this video.
What I think this means is that it is more important than ever for bloggers and social media wizards to do the right thing and produce content that is helpful, truthful and accurate.
A lot of people are scrambling to find trusted new sources of information and my hope is that it will lead to new blogs and content providers that are committed to making it in a fun and digestible way – you might even be able to make truth and trustworthiness marketable points of difference!
4. Speed will become more vital than ever
All around us we can see how things are speeding up. Have you ever noticed how ticked off you get when your favorite podcast or Netflix series is a day late? Well, services like Google feel the same about websites.
I'm predicting that 2017 will see a rise in the rankings of fast websites and those websites will also continue to perform better in terms of conversions as people become less and less patient with sluggish load times.
As mentioned above, we can already see Google giving preference to fast loading mobile sites with things like AMP and this will only continue to get more prominent as websites and blogs vie to be included in that section of search results.
To make sure blog as fast as possible look at how you use images, the configuration of your server with services like gzip and CDNs, and spend some time learning how to cache various aspects of your site as cleanly as possible,
5. Mailing list "bribes" will have to be more sophisticated
As more and more website owners, web entrepreneurs and bloggers realize the benefits of getting more email subscribers the more likely it is that subscribers will get fatigued.
Everywhere you look now you see different free courses, eBooks and other goodies that you can get for free when you sign up to a mailing list. This probably means that the old "get updates" is not going to be enough unless your content is on the level of Wait But Why or The Oatmeal.
A lot of bloggers are moving on to things like content upgrades where you offer a small download within a post as a way to enhance the value of that post. The catch is that they have to subscribe in order to get it by clicking on buttons like this:
Make a button like this one
Ultimately, I think the mailing list will continue to become more and more important for sustainable online business. A lot of services like Slack have been touted as the "email killer" but I'm still not seeing a mass transition away from the format.
Try to make email subscriptions a focus for your blog in 2017 because, as we're about to see in the next point, it can provide an extremely important protection.
6. Google will syndicate more content from blogs
If you're a small website or blog you'll find that Google can be your best friend one day, and your worst enemy the next. It's an unfortunate by-product of a service that is absolutely pervasive as well as brilliant in quality.
We all use Google as a way to drive traffic to our blog. The problem arises when we depend on that traffic too much and end up getting stung by a new update, algorithm change or penalty.
But what we'll see more of in 2017 is Google taking content directly from websites and blog and pasting it right there in the search results. Here's one example: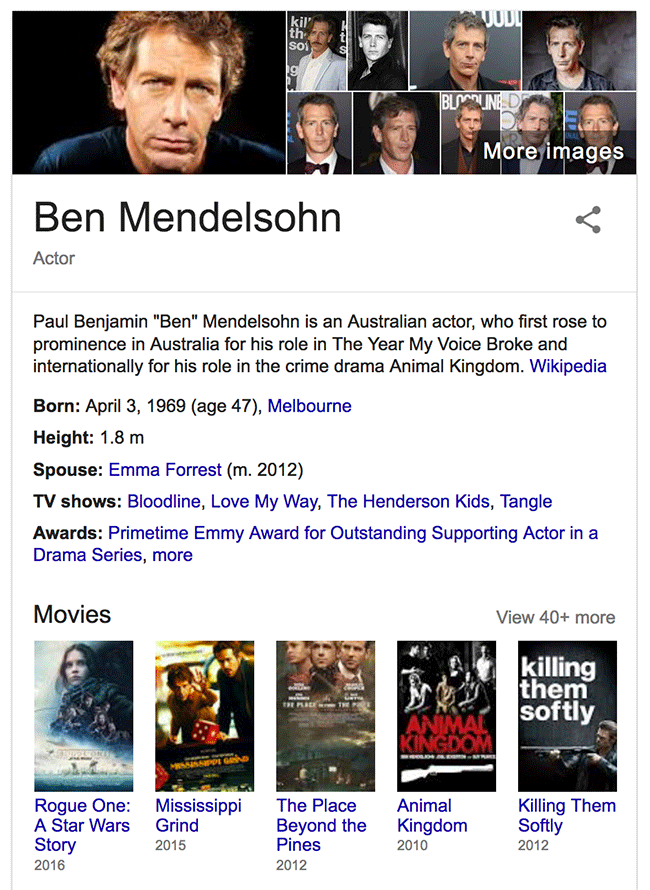 As you can see, the search for actor Ben Mendelsohn returns a little sidebar where Google have pulled information from sites like Wikipedia and IMDB. As a result, you don't actually need to visit those websites to get the information.
You can see this type of result with searches like sports results, movie times, and a lot of basic questions like "convert calories to kilojoules" will even produce a little calculator right there in search.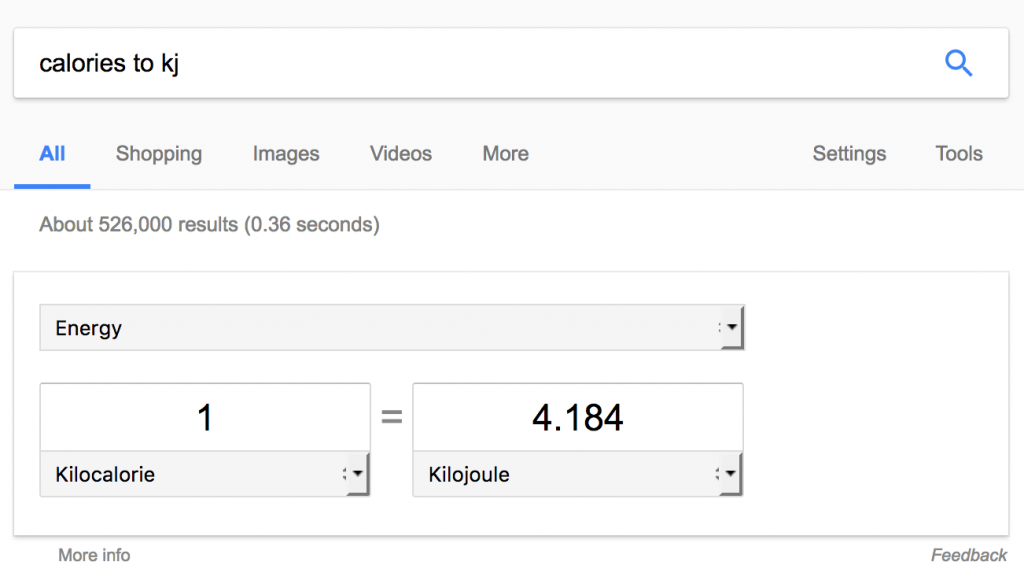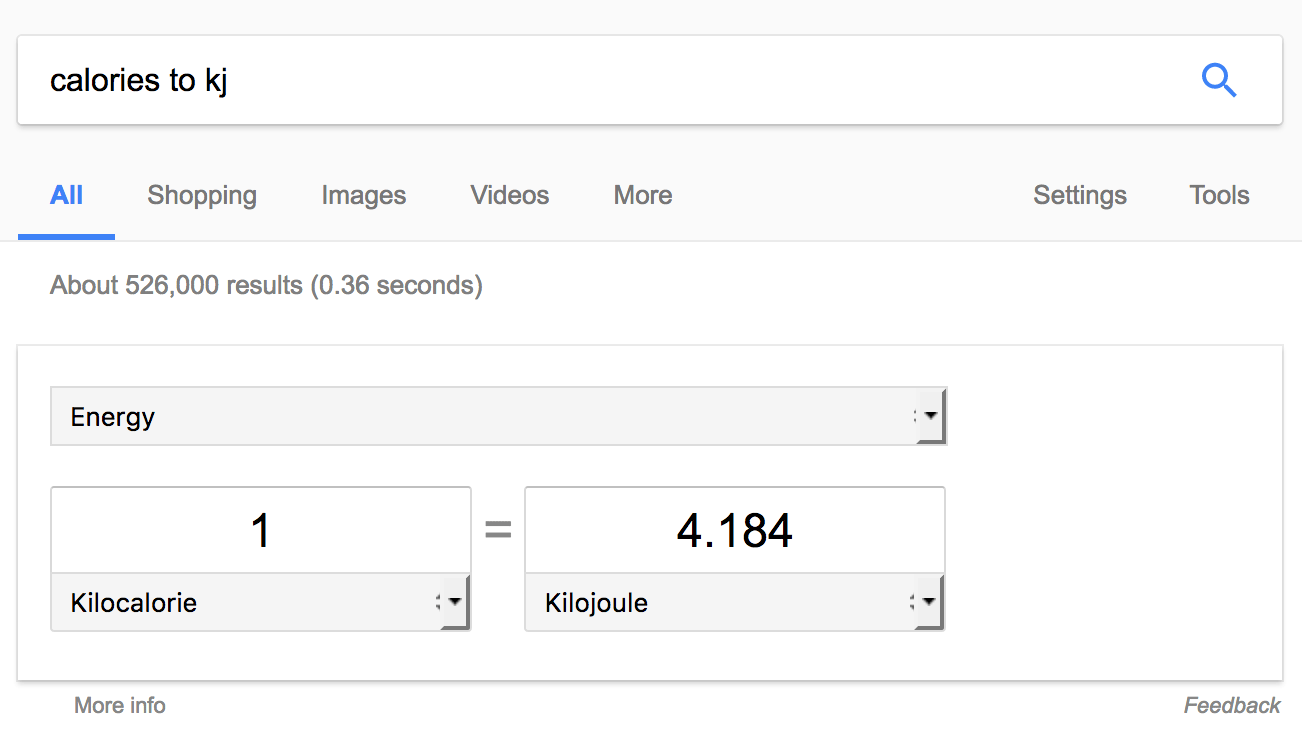 What this means is that you need to be a little bit careful if you have a popular resource that is easily scraped by Google as there is a high likelihood that they will display it directly in the search results if they think it will be faster and easier for their customers.
Of course, this might not be such a bad thing if it means that your content gets some extra graphical promotion above your competition but it all depends on how the click through rate is affected for your particular piece.
7. Security threats will continue to rise
Last year we saw a massive rise in all kinds of security threats, including one where half the East Coast of the United States got taken down in a DDoS that was vaguely linked to the election and/or Julian Assange and Wikileaks.
In my own smaller world, a relative had their entire workplace's network compromised when a staff member opened a link in an email that looked to be from an official postal service. The device was locked, held to ransom and a boat-load of personal data was stolen.
So what can we do?
Well, start by doing all the basic things like never opening links in emails, using two-factor authentication, keeping passwords different and strong, avoiding public WiFi, keeping software and anti-virus protection up to date, and using security plugins and protocols on your blogs.
Most importantly, however, is to make a backup of all that you do and all that is important in case something does go wrong and you need to re-load some stuff to a pre-attack phase. I would also highly recommend finding a trusted security expert or a firm like Sucuri that you can go to should something go wrong.
8. Teamwork will become more important than ever
If you read my post about threats to your online business you might be worried about producing enough quality content to compete with the growth in your niche. One way to take care of that is with teams.
For example, here at Blog Tyrant I have a designer who helps me with graphics, a WordPress expert who does coding and adds new features, a systems admin expert who deals with databases and security, brilliant video editors and photographers, etc. And that doesn't include any of the other bloggers I rely on for networking or cross-promo, or my accountant, lawyer, etc.
Really, there's no way to do it all by yourself and I feel so lucky to have such amazing people helping me out.
In 2017 bloggers will need to try and be more savvy with how they work with others. That could include collaborations, but mostly it will mean getting some really good staff on a contractor or part time basis to help you do some of the jobs that you don't need to be doing yourself.
Start by thinking about the things that take up a lot of your time but don't actually grow the business or earn you any money. These are the things you want to start with.
9. Long form content will change lives
If you have a look at the content that really made an impact last year it was mostly long form content that gave the reader something extremely helpful, and I think this trend will continue next year.
Sure, there were a lot of election and Harambe memes that got a lot of likes and shares, but the content that really seemed to make an impression on people was the in-depth article that spent a lot of time helping someone understand an issue or solve a problem they had.
But then there's articles like this one on marriage that got 20k shares, this one on Trump supporters that made me teary, this article about Sydney that got over a millions views, this article about how humans won't need to work soon that made me re-think my career path, or this article called I Used to be a Human Being which was one of the best articles I've ever read.
Some of these pieces took months to research and are 5,000 to 10,000 words long. Most importantly, they are genuinely helpful to the reader and have a positive motivation that aims to make sense of something scary in the world, or give people a new perspective.
My feeling is that in 2017 people will be looking for quality content that really helps change their lives. There's so much noise around us and when you encounter a piece like this you really stop and take notice. And, as the writer, even if you only help a few people I think it's entirely worth the effort.
10. We'll need to get better at using data
Even the newest bloggers have a lot of data at their fingertips. Your basic analytics account will show you thousands of data points each day, and when you start looking at split testing and other deeper statistics it can all seem a bit overwhelming.
The funny thing about data is that more is not necessarily better and a lot of people are starting to question how it is being used.
The same is true for anyone who is starting a blog in 2017 – there is a lot of data that you have access to and not all of it will be a valuable way to spend your time.
For example, you could spend literally your whole work week on keyword analysis trying to discover the best keywords to target for your next blog post. You could use SEMrush to check out all the competition, Google Adwords for traffic volume and ads spending and then still at the end come up with the wrong solution because you didn't factor in social shares, current trends, or the human element on the front end of those articles (i.e. what people will interact with at this particular point in time).
The same is true for internal metrics like bounce rate. You might spend weeks trying to get your bounce rate down by a few percentage points and as such have no real time left to craft new articles, network or provide value.
Personally, I'll be looking at a few key metrics that I feel are relevant to my business and then not worry too much about the rest. Not only does it take up a lot of my time, I also find it a little bit overwhelming and a bit deflating if I focus too much on numbers.
What would you say to someone starting a blog in 2017?
I'd really love to open up the comments now and hear the advice that you would give to someone who is starting a new blog in 2017. What strategies will you yourself be using? What trends do you think will come and go? And is there anything really, really important that I've missed? I can't wait to hear your perspectives.
I'm going to give $250 to the most helpful comment below so please take your time and give this post a share if you think it might help someone you know. I'll announce the winner on Facebook next week.
So here we are – 2017. New adventures, new dangers, and everything in-between.
Hopefully, you had a wonderful New Year with those that matter the most to you, and you're looking forward to a year that delivers as much as you wish it to.
This year, I'm personally looking to [hopefully] deliver more content to you that fosters deep discussion around central themes and topics, some of which will be morally ambiguous.
To kick things off, I'm curious how you'd decide who lives, and who dies if there were four options to choose from and you could only choose one.
If this is something you don't wish to answer, I completely understand. It's not exactly a cheery theme.
However, I don't want anyone to feel uncomfortable, so as I mention feel free to skip on leaving a comment with your answer if you wish.
If you do answer, just one "rule": there are no right or wrong answers here. I'm honestly just curious as to who you'd choose, and why – there will be absolutely zero "judging" your response.
So, with that in mind, let's jump in.
The Dilemma
You're walking along an off-road path in an otherworldly land when you come across four towers. At the end of the path is a large sign, and at the bottom of each tower is a smaller sign. You approach to read the large one:
Each tower holds a person. Each tower will crumble to the ground in less than five minutes. Your mission is to choose which one person lives, leaving the other three to crumble to their deaths. It is impossible to save all – read each sign under the towers to learn of the person within, and then make your decision.
You stagger back, horrified. You look at the towers and know the warning that you can't save everyone is true. However, you know if you walk away, all four will die.
Knowing that you can save at least one life, you start towards the first tower and begin to read the signs, one by one.
Tower One: In this tower waits a newly-married couple. They are both twenty-three years old and are looking forward to a lifetime of love, children, and happiness ahead.
Tower Two: In this tower waits a forty-year-old woman. She has just found out the daughter she had to give up for adoption in her early twenties has learned of her true mother and wants to be with her. She is looking forward to a lifetime of reloving her daughter.
Tower Three: In this tower waits a fifty-year-old man. He and his first true love have recently reconnected after thirty years apart and he is due to get on a flight to be with her. He is looking forward to a lifetime of love missed the first time around.
Tower Four: In this tower waits a seventy-year-old man. His wife of fifty years is in a coma and her life support is due to be turned off. If you choose him, however, she will be restored to full health. He is looking forward to a second chance to complete his life.
These are your choices. You have five minutes to decide, and then push the red button at the base of the tower whose inhabitant you choose should live.
Your time starts now.
The Ambiguity of Morals
As I mentioned in the introduction, there is no right or wrong answer here.
Each tower inhabitant deserves to live. Each has so much to live for, for very different reasons.
My curiosity lies with who you choose, should you decide to partake. Is it,
The young, newly-married and completely in love couple with everything ahead of them?
The mother who had to make the hardest decision a mother could, only to have a second chance with her daughter?
The man who gets something few of us rarely do – the chance at being with your first love for the rest of your life?
The elderly couple, whose husband gets to be with the love of his life as his wife "cheats" death?
We're faced with decisions every day. Rarely do they mean the difference between life and death, and thankfully so – I can only imagine how hard it must be in real life.
This dilemma, though, is almost parable-like. We know no-one dies in real-life based on the choice we make.
So, because of that, does that make your choice easier, or not?
Your decision awaits. I await your answer with genuine interest.
It's less than 10 days until December 31st. The end of the old year and the preamble to the new one.
A time when, traditionally, we make vows and resolutions to be "new" us in the next 12 months. You know the drill:
lose weight,

stop smoking/drinking,

eat less junk food,

work out more.
All good goals. All good things to try and do, regardless of the time of year.
But to say "this will be the new me" says the old, or existing, you is no longer relevant, and out-of-date.
And that's bullshit.
We get suckered into believing we need to be a new us to be the "us" we're meant to be.
Like having a smaller waist, or a bigger bicep, will suddenly make the things that are "wrong" with us go away.
Because, in truth, why should they go away in the first place?
Our flaws. Our faults. Our broken promises. Our failures.
Every one of them is who we are. Every one of them is what we use to do better. Be better. Live better.
If we don't have our flaws, we don't have measuring sticks on how far we've come.
And, unless we want to stagnate breathing the same air forever, we need to know where we've been to see how far we still need to go.
So, forget the "new me" mantra. Go with something that's real.
Something that's you.
By all means, improve you. Grow you. Revisit you. Remould you.
But don't lose the quintessential you in chasing something that's neither shiny or new when the light of the new sun breaks in 2017.
It's a sales push by marketers and retailers and corporations who tell you, "The old you sucks, and you suck for accepting it."
But they don't know the first thing about you. Fuck 'em, and all their lies.
You're just fine the way you are. You just need to work on realizing that.
Here's to you, and your wonderful, imperfect self in 2017. Slainte.
You've probably heard (and not just once) about the issues both Facebook and Google are facing with regarding "the fake news". But not only digging deeper into this matter and putting the fake news issue into the light of truth interests us. We need to approach this subject from our website's point of view; what influence does the fake news matter exert on our website? Will I be penalized if I am linked from a fake news sites? Will Google deindex or penalize that website as well? These and many other questions related to fake news subjects are going to be tackled in the following lines.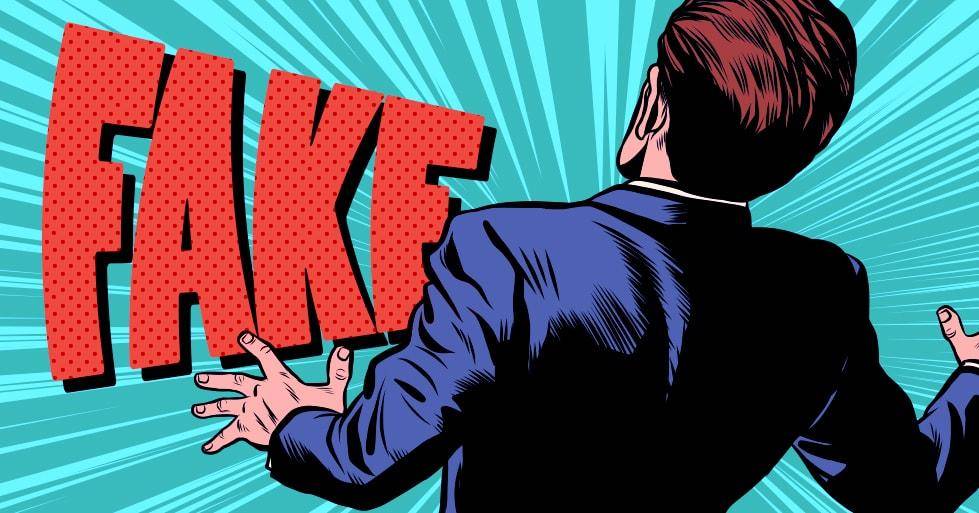 Hope you've grabbed your cup of coffee, turned your fake detector on and, hoping you'll take the time to browse through all our article, here are the article's touch points:
Downgrading Google News to Top Stories – How Did Google End Up in This Situation?
Forgery. Counterfeit. Copy. Sham. Fraud. Hoax. Imitation. Mock-up. Dummy/ Reproduction. Name it as you want, it will still mean the same and it will not change the fact that parts of history, politics, sports, economics, etc. have been at some point touched by fakery or were under the suspicion of forgery. Therefore, it's almost impossible for the news category, which presents information on all major subjects, not to be affected by "fraud".
Whose fault is it that we are getting our news feed bombed with fake news? The editors? The publications? Google for allowing them to rank highly? The readers for consuming that piece of content?
The truth is that the situation is far more complex that we might think and at this point throwing blames might not serve us much. At the end of the day, Google works based on algorithms that are trained and perfected by us, the users. Or isn't it so?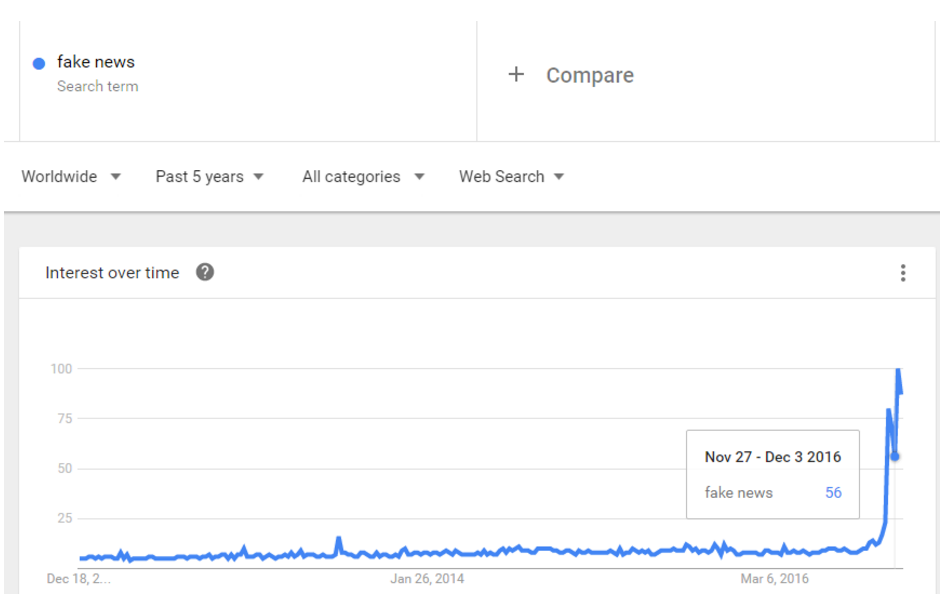 In the past, Google made us familiar with "In the News" section where, as the name states, there were presented the main news from different regions of the world, news coming only from news sites reviewed and approved by Google. Moreover, Google's search results sometimes included a "News for" box in its search results, like in the example below.
Yet, in October 2014, due to Google's desire to have a more diverse range of voices, "In the News" category suffered some severe changes. Besides the traditional sources, Google started listing stories from Reddit and blogs. Nothing wrong with that, you might say at a first sight. Yet, judging by the screenshots presented below, one might change their mind about the relevancy of the data presented on "In the News" category. It's not only that the results are surprising; we get absolutely surprising results every day from renowned publications. Yet there are news appearing twice coming from the same source or news including the "F" word.
We do not know for sure whether out of these considerations only or coroborated with the fake news issue we are going to discuss in the next chapter, Google rebranded its "In the news" section into "Top Stories" (which sounds devoid of the authenticity responsibility). Yet, Google claimed that this change was purely made due to design considerations to make the news box on desktop match that on the mobile version. As you can see in the screenshot below or already may have noticed from your own SERP, this is how "top stories" looks like now.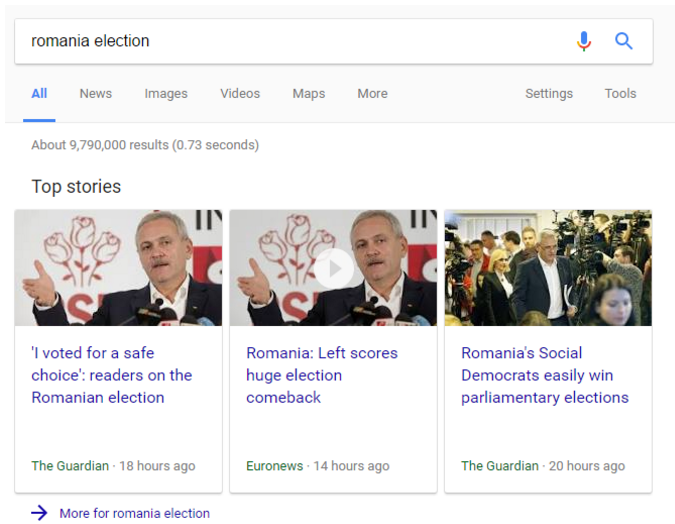 Fake News Appearing in Google
You might have overheard these days – more than you wanted maybe – the issue with fake news appearing in Google's "In the News" category (now rebranded Top Stories). Although there is a lot of controversy around this subject, things are quite simple. Or they should be.
On the "In the News" category, a section which we tended to trust as we believe that only vetted, reliable sources should appear, there were listed some highly important fake news.
The most known is probably the one related to the USA final Election count which stated that Donald Trump won both popular and electoral college, a false information easily dismantled by the facts and numbers presented by the US Government.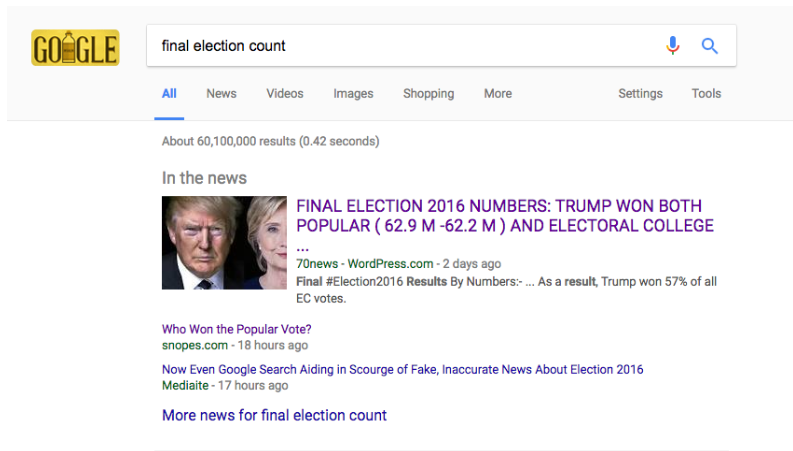 I am far from the position of taking sides; yet, I cannot help myself from wondering if it's totally Google's fault for presenting this fake news. Don't get me wrong; it's definitely its fault for promoting it top of the page on the "in the news" category.
Yet, if it hadn't been on that section and we had seen that news elsewhere, would we have figured it out that it was fake news?
Probably not. And what does Google do better if not learning from its users' behavior? Once again, I am not trying to take sides but only invite you to take a few steps back and remember that Google is a machine that works on algorithms trained (mostly) by its users.
Some interesting news (we like to believe it is true) highlighted the fact that the top 20 fake news stories outperformed real news at the end of the 2016 campaign.
You might say that this is Facebook or Google's fault and they should solve this matter as soon as possible. And you would be right. This is why we are going to see in the next chapter how Google handled the situation.
We cannot consider ourselves not to blame for the increasing appetite for breaking fabled news and our decreased interest in double checking from several sources when hearing news that might raise some question marks.
Labeling Fact-Check Articles in Google News
As a response to all the controversy, in October this year, Google launched a new feature, fact check, which will add a label next to news stories in search results.  As we found out from Google's blog, rigorous fact checks are now conducted by more than 100 active sites, according to the Duke University Reporter's Lab, sites such us BBC's Reality Check.  They seem to collectively produce many thousands of fact-checks a year, examining claims around urban legends, politics, health, and the media itself. As you can see in the screenshot below, there is a "fact check" label when presenting stories similar with the one that might interest us.
It seems that a site that wanted to be included in the Google News section went through a lower-level algorithmic check rather than the algorithm for Google Search. This means that it was easier to add fake news into the "in the news" section than adding spam content directly in the search results. This was probably another reason why this "fact-check" label was needed.
Even so, Google's search results are not editorially vetted.
However, Google's algorithms do a good job at sniffing out fake as Google is clearly set up to catch "spam." But however we would look at things, Google's algorithms will likely never be 100% perfect at telling which information on a website is accurate and which is not. One thing that we must keep in mind is that Google is really trying to wipe fake news from its platform and adding the fact check label could be a fix for that. As Google's CEO, Sundar Pichai declared:
From [Google's] perspective, there should just be no situation where fake news gets distributed, so we are all for doing better here.
Will Google Penalize Your Site If You Are Linked from a Fake News Site?

We've turned the fake news story up and down so far. But, as we find it hard not to think things from an SEO point of view, this question keeps on popping out:

What about the backlinks coming from fake news sites?
Can they get a site owner into trouble?
Can a site owner get a Google Penalty due to those links?

I know you might prefer a yes or no type of answer, yet, fortunately or not there are only few things in life where things are black and white. Most of them come in grey. And this is the case for links coming from fake news sites as well.

When we talk about Penalties, the Google Quality Guidelines automatically pop out in our mind. Or it should. And this happens because link related issues, including link schemes, are the ones that get us into trouble, as you can see in the screenshot below.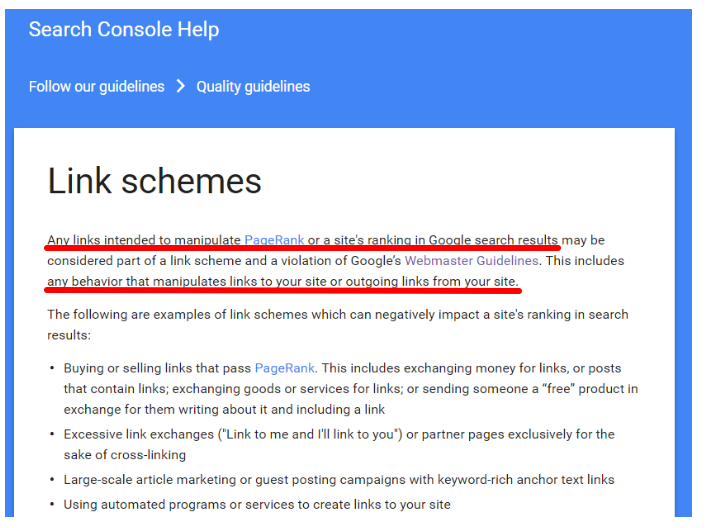 Yet, trying to define a link scheme might sometimes be hard and not very conclusive.
So let's assume that a fake news website links to you.
Will your site get penalized by Google?
It depends.
On what?
Let's see; is your backlink profile entirely made up of links from fake or untrustworthy sites? Then yes, I think it's fair to say you might have a problem.
Do you have only one or a couple of links coming from false news websites? In this case I might be tempted to say that you are on the safe side.
If Google determines that a certain website promotes false news or is untrustworthy it does not necessarily mean that this will affect you (except the part where your entire site's backlink profile is built on such websites). The truth is that false news websites are doing a really good job in disguising themselves into trustful sources. Therefore, it might happen for anyone to be happy when receiving a link from a news source, honestly believing that is a good domain that linked to them. Take a look at the website below. It looks like a legitimate news site, not a fake one, right?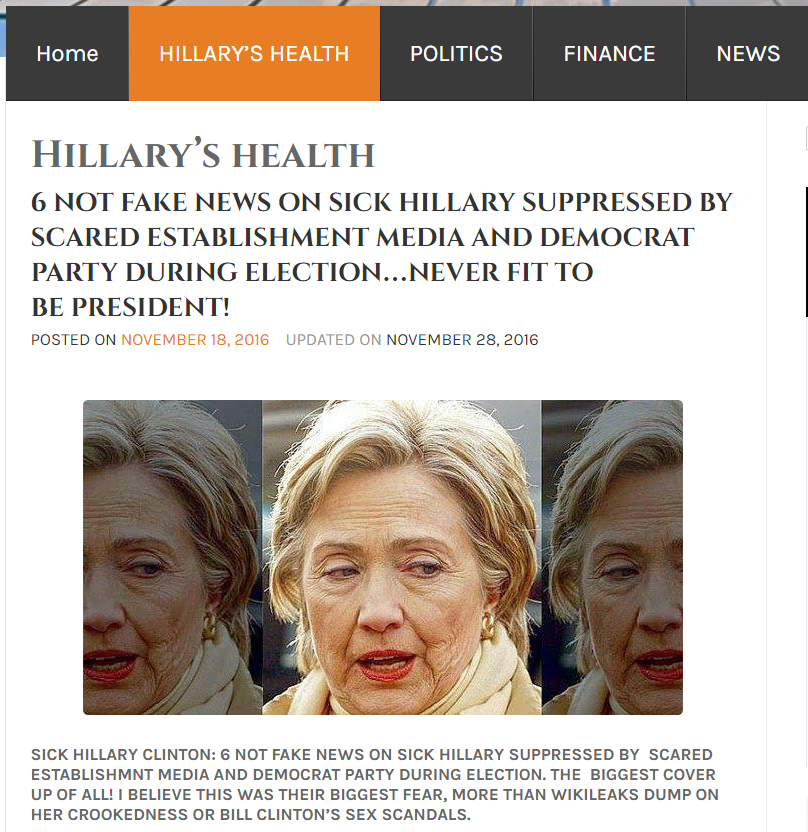 The irony is that being on the top of the trends these days, false news website can even do you some good. The fake sites are earning a lot of media attention right now and they are being linked a lot; therefore, having a connection with them might bring some link equity to you as well. I hope you won't understand from this matter that it is OK to be linked from fake news websites. We are only trying to highlight the effects that these sort of links might have on your website.

To sum up, before starting a massive disavowing or link removal procedure on all links coming from news sites just because you might consider them false, we advise you to think things through and carefully look at all the sides of the coin.


Should I Ask a Fake News Site to Delete My Links from Their Site?

As stated above, before sending link removal requests and disavowing links you should think contextually. Is my backlink profile invaded with links coming from fake news site? Then yes; a removal or disavowing process might be necessary.

Yet, if this is not the case and you have only a few links coming from such sites, you might still be worried about your situation. And to give you a short answer to appease your worries, we consider that, if they come in small quantities and they are out of control, asking fake news sites to delete your links is not necessarily a must. And here is why:

Given the fact there are so many fake news sites that look "natural" and are designed with great skill, it's understandable why someone could be fooled into thinking they are reading a factual news story rather than a made-up story.
It's also understandable why a fake news site can contain links to other completely legitimate sites, like yours.
And we are far from trying to find you excuses if you are in the situation of having links coming from such sites. But sometimes it seems very hard for a human curator to distinguish from a false news site and a real one, let alone an algorithm.
There are situations where highly reputable sites are linked from fake news sites. As you can see below.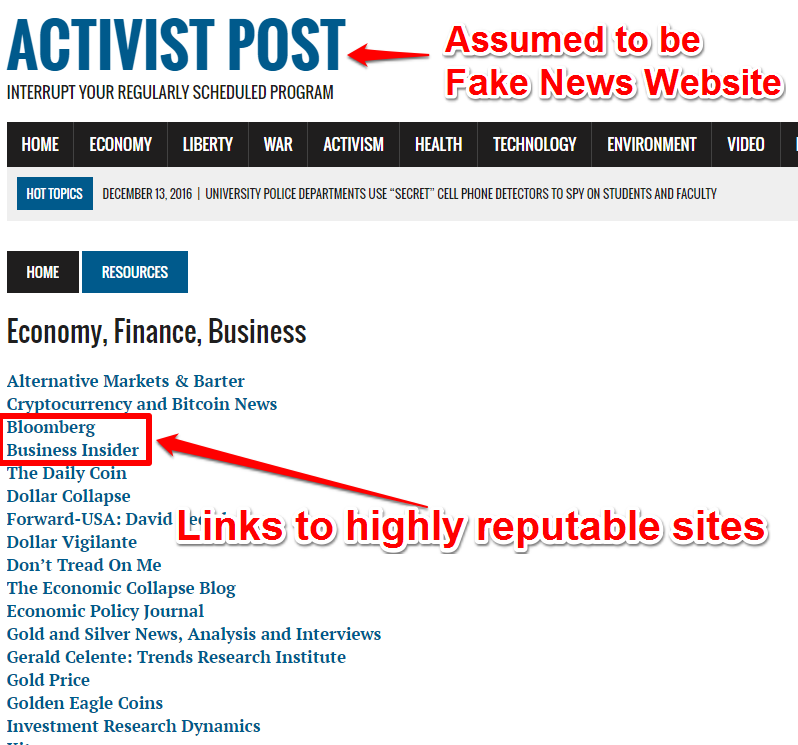 Will Google Deindex/Penalize Fake News Sites?
Google is trying its best to wipe out the fake news from the top stories category and its search results as well. And if you think this is a measure with which Google is limiting the first amendment's freedom of speech, I invite you to read our final chapter Fake News versus Relative Truth.
As mentioned above, Google is adding a "fact check" label for more accurate and trustworthy results.
Google is not explicitly labeling a site as being a "fake news" website.
Also, it's very hard for Google to determine the intent or reasoning behind a fake news site. And, as good as Google might be regarding spam, it's not very good at catching nuances. For instance, you can see below how the search results for the final election keyword looked like at the end of November, a month after Google installed the "fact check" label.
Indeed, the fake news site that stirred all the controversy remained on the first page of results. It's true that it is not on the top of the page and it's also moved to the second page of results for searches on "final vote" or "final election count." Yet, it was still there.
Google has a real challenge in figuring out whether something is actually true or not as it can also be misled by those who accidentally or deliberately post material that seems to be true but is not.
Yet, as much as Google might want, for the moment, we tend to believe that it is very hard to get fake news penalized. As mentioned before, such penalties would be difficult to be applied by a human, let alone a limited algorithm.
Will Google Show Only Vetted Sites in the News Category?
With the introduction of the fact checked label and the latest changes, we believe that this is what Google is trying to do: to have only vetted sites appearing in the "top stories" box.
It's hard to believe that this will be an efficient method of stopping fake news from appearing.
Automatically assessing whether something is actually true or not is still a goal far to achieve.


Conclusion: Fake News versus Opinions and Relative Truth

There is another highly debated issue when it comes to categorize news as fake and that is the relativity of truth. With the risk of boring you, allow me to shortly present this matter.
Usually, when someone says that truth is relative, what they are actually saying is that there is no absolute truth.
What does this mean? That some things may appear true to me but not true to you. The concept of "relative truth" might sound tolerant and open-minded but upon closer analysis, it is not quite like that. I like to believe that no sane person says, "Gravity works for you only, but not for me as I do not believe in it," and proceeds to jump off tall buildings believing no harm will follow.

Certainly, there are some statements that are relative. For example, "Canada has the coolest hockey team in the history " is a relative statement. I bet a US hockey fan might think differently but even other people not in the matter might think differently as we do not have an absolute standard by which to measure "coolness." However, the statement "the Canadian ice hockey team won the gold medal at the Sochi 2014 Olympics game" is not relative. It is either true or false, based on objective reality.

To sum up, what we are trying to highlight is the fact that generally speaking, opinions are relative. But when it comes to news that present observable and measurable facts, there is no place for relativity or finding excuses for the fake news existence. These are not opinionated editorials we are talking about but actual factual news that we all (hopefully) want to get rid of.
The post How Fake News May or May Not Impact Your Site's Rankings appeared first on SEO Blog | cognitiveSEO Blog on SEO Tactics & Strategies.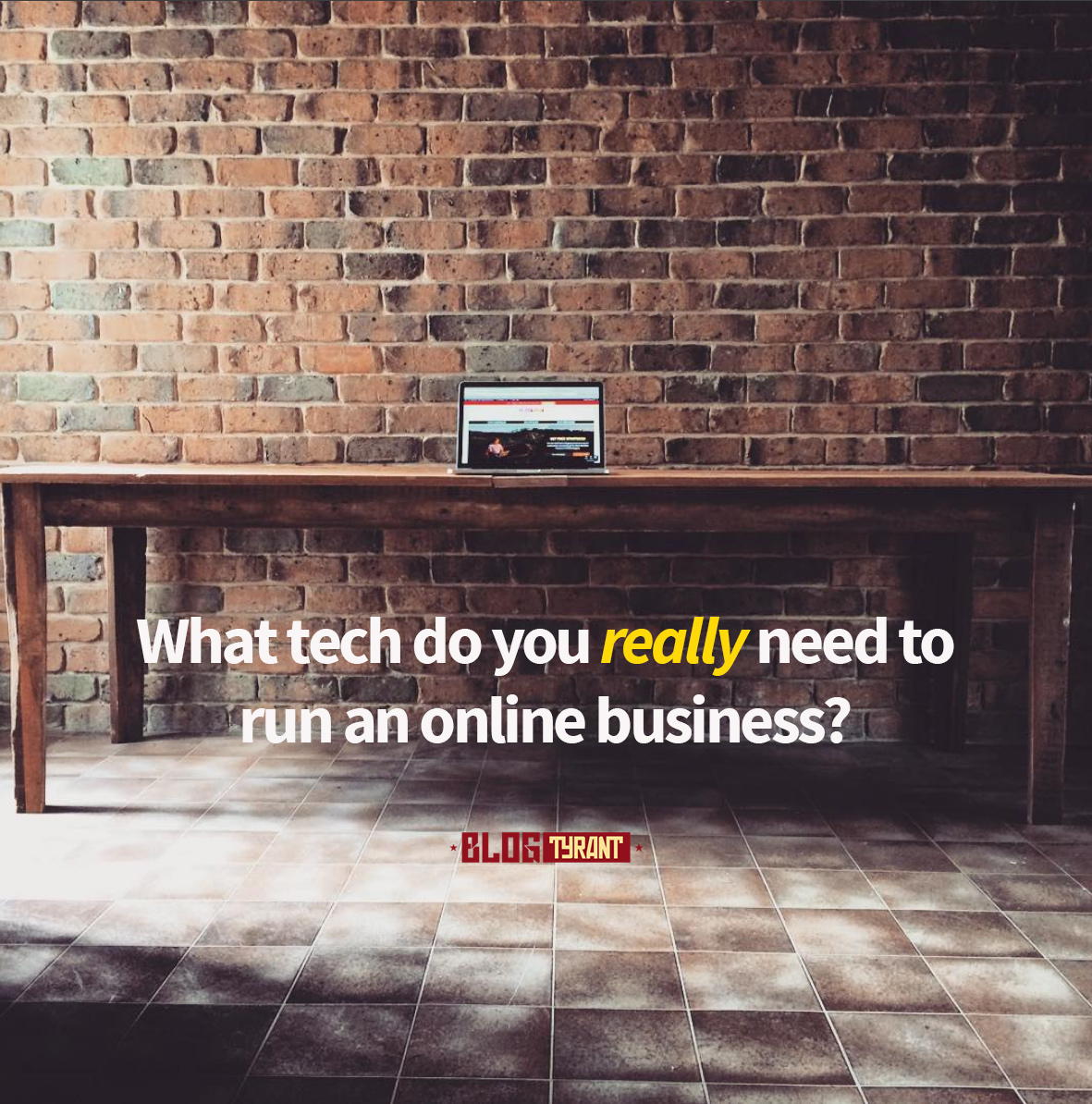 If you want to start a restaurant or a hair salon you're going to need tens (or hundreds) of thousands of dollars worth of equipment before you can even open your doors. But online businesses aren't quite the same – especially if you work from home and start small.
Sure, there are some larger tech startups that needed millions of dollars of capital before they get up and running, but for most of us the barriers-to-entry are a lot lower.
Seeing as I regularly get asked about the technology/equipment that I use to run my blogging company, I thought I'd do a post highlighting what I think are the essentials, and what you can leave behind.
Let's take a look.
NOTE: None of the links in this post are affiliate links as I didn't think it would fit with the "feel" of the subject.
Essential tech: are we being misled by marketers?
In today's world we are bombarded by marketing (up to 5,000 ads a day!) and as such it can be very hard to determine what is a necessary purchase and what is something we've been artificially convinced that we need.
For example, I am constantly amazed at how many people line up to get a new iPhone when an updated version is released – especially when the latest version is only minimally different from the previous.
It's just not necessary, and it is a tremendous waste of resources.
My heart melted a little bit when I got this Facebook message last week:
"Hey Ramsay, I have been reading your blog for quite a long time. I want to start a new blog very soon. By the way, I am a teenager. There is something I want you to help me with. I want to buy a laptop to start my blogging and I want to know whether I should buy an expensive laptop or not."
Definitely not.
As you can see in the photo up the top, I like a pretty minimal work space. I also try very hard to be responsible with my purchases – but I am not "cheap" when it comes to getting something that will make my work more efficient, effective or beneficial.
When you're looking at buying something new for work, have a long think about whether it is truly necessary/beneficial for making money, or whether you've been tricked by a clever advert that doesn't perhaps have your best interests at heart.
The tech/equipment you need to run an online business
The following is a list of tech that I use ranked with some level of importance, timing and upgrade-ability. Remember, these days "equipment" does not just refer to physical items but also some services, software, etc.
Some people will be able to get away with less than this, others will need more. My hope is to debunk a bit of the unnecessary and just show what has worked for me in a simple way.
The tech I recommend includes:
1. A reliable Laptop or PC (not a phone or tablet)
Importance: Critical Price: Medium to Expensive Timing: From day one
A reliable laptop or PC is vital if you want to run an online business. Of course, you don't need to have a $3,000 MacBook Pro to run a blog, but you might need some good processing power if you are doing tasks that require a lot of juice like video editing, gaming, etc.
I started my company on a secondhand laptop and then upgraded to a $600 gaming PC that I built myself. That PC lasted me almost 6 years (along with another very cheap laptop I got) until I upgraded to my current MacBook Pro, and I really only got that because my company went through a big growth period at the same time as the Australian Government offered a new tax break for equipment purchases.
The main thing you want with a computer is reliability, speed, security, and the ability to do your specific tasks. If you're only writing articles for a living then don't get an Alienware gaming rig. You'll need to be able to access it regularly (like, not sharing it with a family during work hours) but it does not need to be expensive.
2. Reliable Internet, router, and mobile plan
Importance: High Price: Medium Timing: From day one
The next thing on my list might not seem that important to most people, but it is a part of my work that I have wrestled with for years. I've lumped a few things together as they all relate to web connectivity.
Australia, by default, does not have as fast Internet as the USA, and mobile data plans are expensive. That is slowly improving with the National Broadband Network and cheaper mobile pricing, but even this week I have spent at least an hour on support calls with my Internet provider to get a faulty router replaced.
Secure WiFi with fast upload and download speeds can drastically improve your business's efficiency. For example, I stopped doing HD videos years ago because I just couldn't be bothered with the upload time when the speed was under 0.5 mbps per second. The last week or so it has jumped up to 25 mbps per second and, as such, that whole platform is opening up again.
If you travel a lot you will also want the ability to tether your phone's data as public WiFi is inherently insecure and shouldn't be used. You'll want to shop around and get a good plan that gives you lots of downloads and coverage areas. This can increase the cost.
I pay a premium price for faster internet and a top level router/range extender because it genuinely helps me get more work done. Weigh up the pros and cons for your own business before you lock yourself into one specific carrier or setup.
3. External hard drive/online backup service
Importance: High Price: Cheap to medium Timing: Within the first few months
Once you start a business you'll need to backup many different types of files. For example, you'll want to keep your financial records safe for as long as you're required by your local authorities, and you'll also need to back up assets like logos, images, photos, programs, websites, etc.
There are two options when it comes to back ups: offline and online. Offline options are usually more expensive initially (purchasing a device) but work out to be cheaper overall as you're not paying for subscription services. Of course this depends on your business's needs and the data you're trying to protect.
The best bet is to have both an online back and a physical local back up. For example, I have my company's online assets backed up to two totally different servers in case anything goes wrong, and we also use a LaCie external hard drive for other things.
Start with free/cheap services like DropBox, Google Drive, etc. and then assess how much it'll cost to back up things you absolutely cannot be without and do them first. Then slowly start adding more budget for things as you grow and produce more data and want to keep local backups for.
4. Camera (and associated equipment)
Importance: Medium Price: Medium to expensive Timing: As soon as it's smart
A camera can be an incredibly useful tool for many online businesses. The good news is that these days you can do most blogging photographic tasks with the camera that is built in to smartphones. In fact, the camera in phones like the iPhone 6s and upwards is more than enough for things like product photos, video recording, talking head videos, etc.
If, however, you want to take your photos or videos to the next professional level and you have the budget to spend, a good DSLR camera and some sound recording equipment like a lapel microphone can be extremely handy. Personally, I wouldn't recommend doing it right away unless you have a lot of training in the medium as it will take up a lot of time that might be better spent on other tasks.
Remember, you can always find images for your blog using other methods, so it's a good idea to weigh up whether the cost of a camera will pay for itself in branding, etc. in the near term.
5. Photo editing software
Importance: High Price: Cheap to medium Timing: As soon as you can
Photo editing software like Adobe Photoshop or Pixelmator are an extremely important addition to any online business. Re-sizing photos for your posts, adding logos, manipulating graphic, and even drawing on screenshots to show coders are all regular tasks that you'll have to do.
Of course, you can always get these types of tasks done on sites like Fiverr, but after a while it becomes a lot quicker to just do it yourself. Thankfully now Adobe has a subscription service so you don't have to spend thousands getting the software all at once.
If that really isn't in your budget, consider at least a browser extension or free app that will allow you to edit images and mark them up in a simple way.
6. Mentally and physically supportive work area
Importance: Critical Price: Cheap to medium Timing: As soon as you can
More and more research is showing how bad sitting still is for our health – some studies showing it's worse than smoking. But, unfortunately for most bloggers and online business people, you'll need to spend a really long time at your desk if you want to make it work. Make sure you have a computer set up that is good for your spine, neck and wrists. That might mean a screen up at eye level and a keyboard that is at a better angle than your laptop.
It's also crucial that you support yourself mentally. That might mean taking time to work in a cafe or somewhere out of the house, or it might mean getting set up in a room with lots of natural light. Vitamin D deficiency is an issue for most people who work indoors during the day. I highly recommend spending a bit of money to get your workplace set up in a way that supports your health over the long term.
7. Servers (website, email, data storage, etc.)
Importance: Critical Price: Cheap to expensive Timing: Day one
Your various servers are the life blood of your online business. You need equipment that is affordable, reliable, secure and fast. And while it can be a little bit of a learning curve initially, it's vital that you start learning about these things early. The good news is that we can pay a company to do all of these things for us.
For your website/blog hosting I always recommend that people who are starting something new get their own domain name and host so that they can have full control over the back end.
The same is true for your mailing list database which, for a lot of online businesses, is going to be the basis of your promotions and stability over the coming years. It's important to capture, test, and store those leads with a company that you enjoy and trust.
Now, a lot of people do opt for their own data and email servers (including one presidential candidate), but I personally don't have any experience with that. If you do I'd love to hear about the advantages in the comments.
8. Statistics and reliable reporting
Importance: Pretty darn important Price: Cheap Timing: Day one
I'm often surprised at how many websites, blogs and online companies guess at what is working for them. This is often because they don't have a good analytics platform installed, or they didn't install it early enough. This is a big mistake, especially if you ever want to sell your website or blog or get investors (they'll want to see stats from day one), or spend advertising money and know what's working.
Remember, the website aspect of your online business is only one element that you need statistics and reporting for. You'll also want a place for record keeping, taxes, invoicing, etc. and you want it all to spit out reports that are accurate and time saving. This is not something you should be spending all day on and, as such, spending a bit of money to get the right tech can be a business-saver.
Start with free services like Google Analytics for stats and Open Office spreadsheets for your accounting and then slowly begin to upgrade to things like SEMRush, Clicky, and whatever taxation software your accountant recommends so that you are in sync with him/her.
9. Security software
Importance: Critical Price: Cheap Timing: Day one
Another non-optional is some security software for both your website and your computer. It's so important to keep your data safe, and with rates of cyber crime increasing each year, it's now more critical than ever before to make a cheap investment in this area.
For computers it's useful to have programs like MalwareBytes and HitmanPro, and for WordPress installations we want things like Bulletproof Security, Wordfence, Sucuri Firewall, etc.
Of course, these things are all null and void if you're not up to date with basic security protocols like not clicking unknown links in emails, using the same passwords on multiple sites, keeping software and browsers patched and up to date, never using public WiFi, etc.
The truth about essential tech for online businesses
The honest truth is that you really don't need much tech to run a successful blog, website, or basic online business. I know plenty of people who have made millions from their laptops.
Of course, each industry is going to need different things, and it's also not wise to ignore those requirements because you are trying to be minimalist with your requirements.
The best bet is to try and start small with the essentials and then slowly build up your tech assets based on what you need. And always try to use as little as possible, recycle, and try to offset your company's footprint. It's not always realistic, but we can try.
What have I missed?
Any post like this is bound to be missing some integral elements. Do you have a particular piece of tech that you use in one of the categories above? Or perhaps I missed something entirely?
Please leave a comment below and let me know.
The internet is a scary thing. Who knows what you could find out there, on the dark side. You must be very careful to avoid being a victim of the numerous SEO mistakes that exist on the internet, such as the defective management of site links, short content blogs, flash content, poorly written content, missed title tags or meta descriptions to slow website speed, deindexation of your site, blocked content on CDNs, ignored social elements and so many more.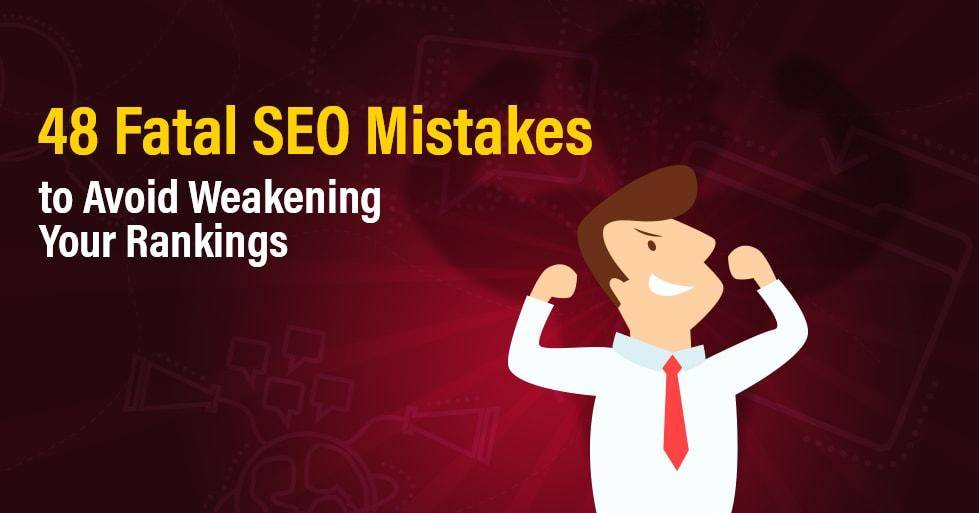 We've prepared an exhaustive list with the most common SEO mistakes you need to avoid in 2017, and not only. Check them out and tell us what your biggest mistake was and how you managed to solve it.
CONTENT OPTIMIZATION MISTAKES
TECHNICAL SEO ISSUES
BAD ADVICE & NOT REALISTIC EXPECTATIONS
1. Writing Poor Quality Content Won't Rank Your Site Higher in SERP
The rules for collaborating with a dishonest SEO company apply when hiring an untrustworthy copywriter or buying content from who knows where.

How can you avoid this mistake?

Quality content might be a hard thing to achieve, as it requires work, just like other valuable practices. I mean some people are doing it, why can't you find someone fair to work with? You must search for a copywriter on authorized sites, not a freelancer that you saw on a site with a high amount of commercial ads.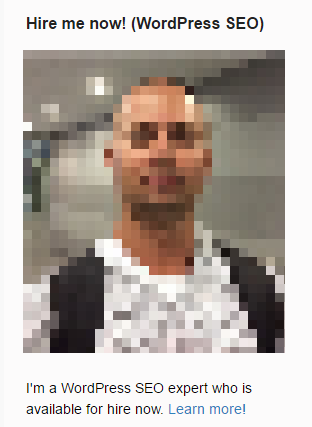 The relation between you and the SEO company must be based on trust. All the hard work will be rewarded, and you won't risk getting penalized for black hat SEO techniques.
You need to get rid of all your poorly written content.
2. Not Researching Your Niche and Keywords is Bad Practice
Not researching your niche and not researching for keywords opportunities is not only an SEO mistake but also reflects a bad management practice. If you don't know your niche, you might bring irrelevant visitors to your site and increase the bounce rate.

How can you avoid this mistake?

By searching and discovering your niche you will find out what its needs are. Therefore this will help you to do a deeper analysis to understand how to trigger the intent. After a rigorous understanding, you could search for keywords to bring them onto your website and finally make them convert.

Another important thing you need to do is to understand which are the keywords that sell and the ones that inform the user.

You could bring value to your keywords if they are chosen and optimized correctly.


On the web you can find lots of tools that can help you to choose the right keywords or get ideas for new keywords; the most used one is Keyword Planner offered by Google. You can spy on your competitors to see how they are doing and improve your business online by taking advantage of what they are missing. One way you can do that is by using Brand Mentions, a free tool designed to help you with competitor spying.
3. Optimizing for the Wrong Keywords Will Never Get You Results
Wrong keywords might be those that fall into another activity profile. For example, let's say I sell toothpastes and I have a blog where I write weekly. On my blog, I have articles where I used keywords like "how to choose a toothpaste", "toothpaste for sensitive teeth" and so on. At one moment I find some interesting news about toothpaste for dogs and I want to write an article about that, using "toothpaste for dogs" as a keyword. I must think twice if it's appropriate. Perhaps, I shouldn't as my audience wouldn't be interested in that matter; or even if it were, it would probably apply to a very narrow niche.

Another type of wrong keywords could be those that are not connected at all with your website profile or the interest of the user. For example, you have a site about cosmetics and news about the Pokemon game is trending in the world wide web . I don't recommend you to write about that just to receive traffic on your site because it's irrelevant. I'm not saying don't to take advantage of the trends, but you must be smart and see if you can do that because you could quickly become an epic fail and pollute your website.

You will confuse the visitors, and they might never come back to your site.

How can you avoid this mistake?

After you've come to know your niche and searched for the keywords, make sure they are relevant. Optimizing for the wrong keywords will only "bring" you traffic loss.
First, you need to think about the topic and then search for the best-suited keyword after you analyze very well the suggested keywords list (try Keyword Planner from Google for that). It is highly important to see if the keyword you chose is relevant for your users/customers. Is it something they might be interested in? Is it suitable for your content? You will never get the results you want if you target the wrong keyword.
4. Using Similar Content in the META Tags
Another common mistake is using similar content in the META Tags. These tags include meta titles, meta descriptions, and even meta keywords. It is hard for the search engines to choose what page to show from your website if you are using the same keyword or title. Remember that Google lists the results for your query in almost a second. Google might not show the result you want for that query. And another thing you should remember is that Google values uniqueness.

How can you avoid this mistake?

You should register your site with Webmaster Tools (know now as Google Search Console) to see the pages which have duplicate meta description, meta titles and this can help you to write different content on each page.

5. Missing Title Tags and Meta Descriptions
You should always write title tags and meta description otherwise, you miss being shown correctly in SERP and increase your CTR. You can lose traffic and ranking if you don't optimize these two elements. They are crucial because if they are written correctly, you can persuade as many visitors as possible to enter your site. So little can do so much. So why not try to do something if it's for your own good.

How can you avoid this mistake?

If you are using an open-source content management system such as WordPress or Blogger, you can install plugins to help you to optimize your content better. The most used one is SEO by Yoast, and it looks something like this: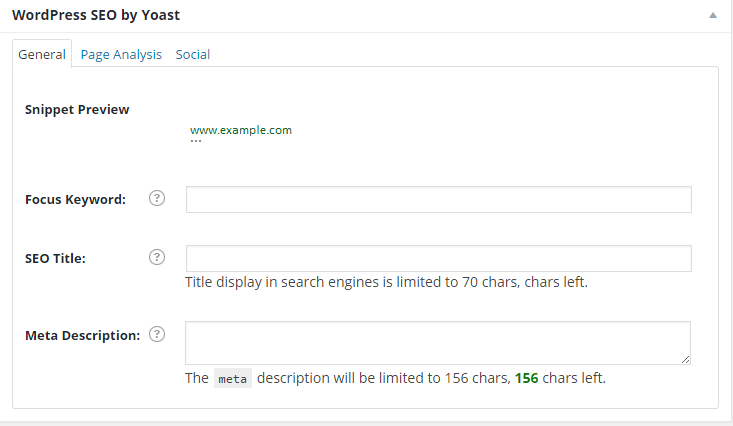 If you have a site written using programming language, you should have HTML tags for titles, descriptions, and keywords.
6. Missing Alt Description for Image Optimization
Not having alt descriptions for images is an SEO mistake because you will lose substantial traffic from image search. And it also shows you act like a novice.

If you are using alt description, you can guide the search engines understand what is that picture about and "help" it to appear in the Image search for the right keyword.

Images have an important role on a page because they are visually more attractive and if they are properly optimized, they could have higher visibility than the content. You can see an example of this kind below. The first screenshot is for the query search, where you can see that "bran Schloss" is found on page 3 in Google.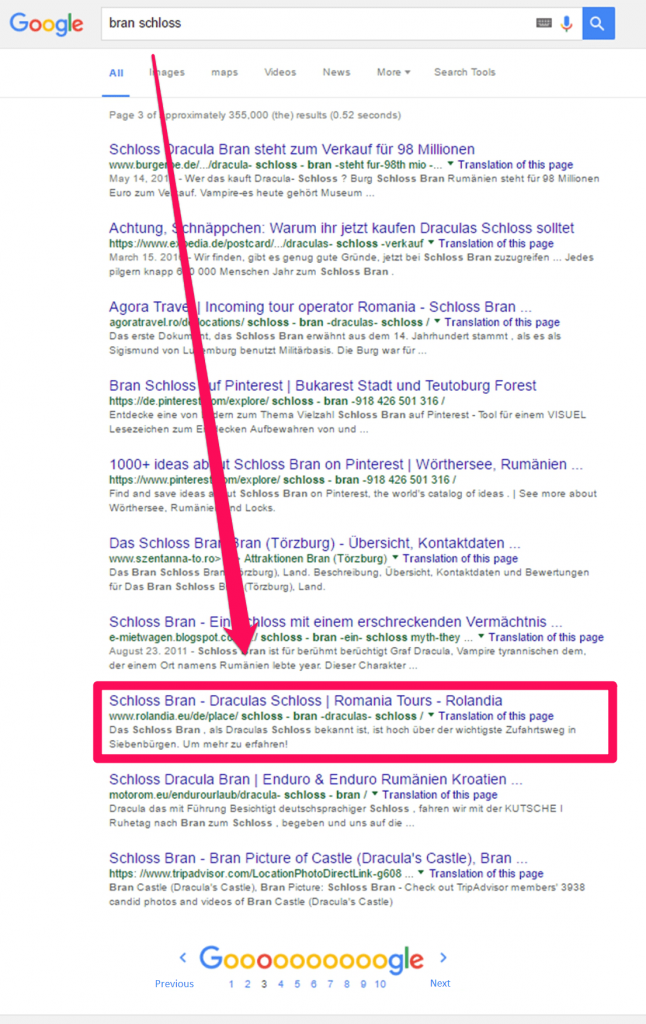 The second screenshot is for the image search, where you can see that the picture for the same keyword "bran Schloss", corresponding to the same site, is found above the fold.




The best practice would be to have a strong content, correctly optimized and supported by an optimized image. I encourage you to use the keyword you'd like to rank for in the name and alt description of your image.

How can you avoid this mistake?

You should include the alt description for every picture, and you can do that by simply add alt="here you can write your alt text" to your image tag. This is an example:





If you have an account on WordPress or Blogger, it is much easier. Here is an example of how you can write your alt text in WordPress: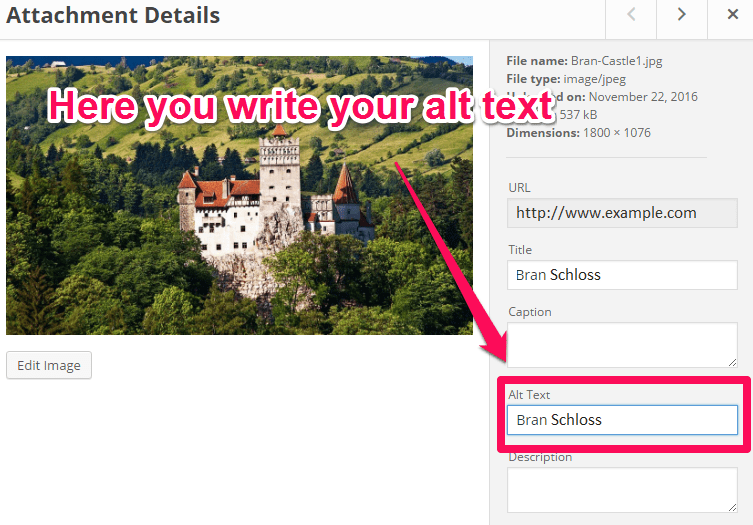 7. Optimizing Just for Short Tail Keywords Won't Bring You Traffic
There are two types of keywords: short tail (1-2 words) that are usually broad keywords and long tail (more than 3) that are more specific.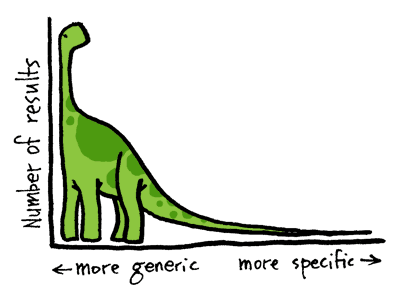 If you have a site optimized just for short tail keywords, you might not get the traffic you want because the number of results for that query is vast. You shouldn't use very specific keywords either because nobody might look for them.

How can you avoid this mistake?
You should search in the Keyword Planner for the best-fitted keyword for your type of content. Also, you can start typing the keyword in the search engines to the see the suggestions and the number of results for it.

Another thing you could do is spy on your competitors, see what keywords they are using and discover on what page they are ranking.

I understand that it is hard to find the right keywords, but if you do your job right, you'll be thanking yourself later.
8. Ignoring Local SEO Won't Differentiate You from Your Competitors
Why is ignoring local SEO a mistake you might ask? Well, when you or a friend of yours search for a restaurant, for example, don't you look at the physical location or opening hours, or maybe a phone number to make a reservation. You can find on Google Maps all that information.

I searched for "restaurant in Boston" on Google and here's how the first-page result looks like: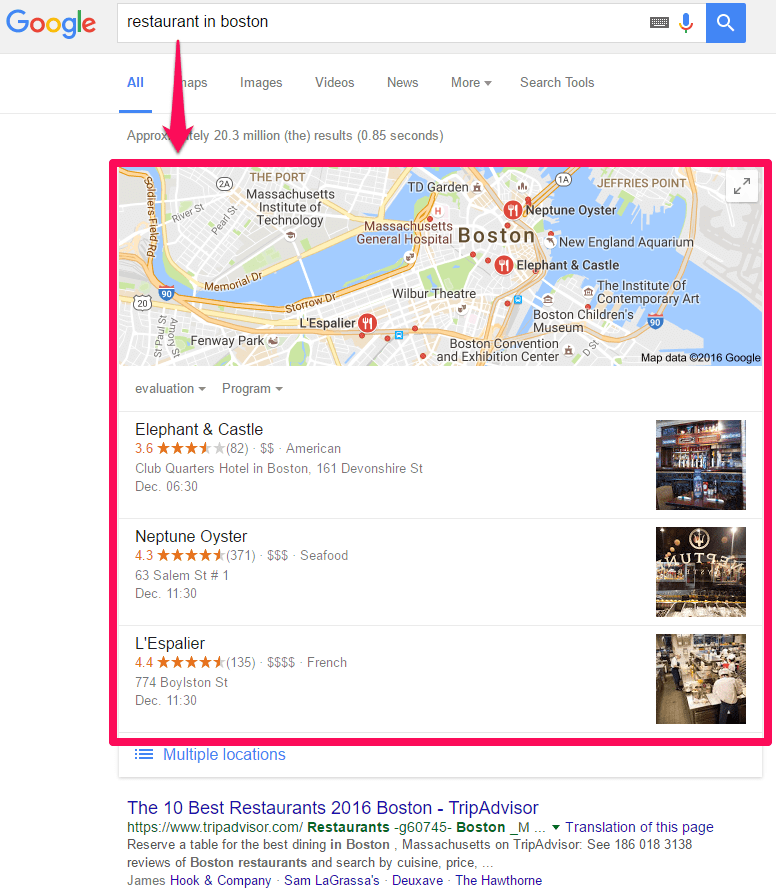 You can see that the first results are from Google Maps where you can choose from a list of restaurants, based on location, reviews of whatever choices you might have.

If you search for a particular place/restaurant/business you could find a lot of information right from Google, without having to make a single click on a URL. Here is an example of this kind for "Neptune Oyster", a restaurant in Boston.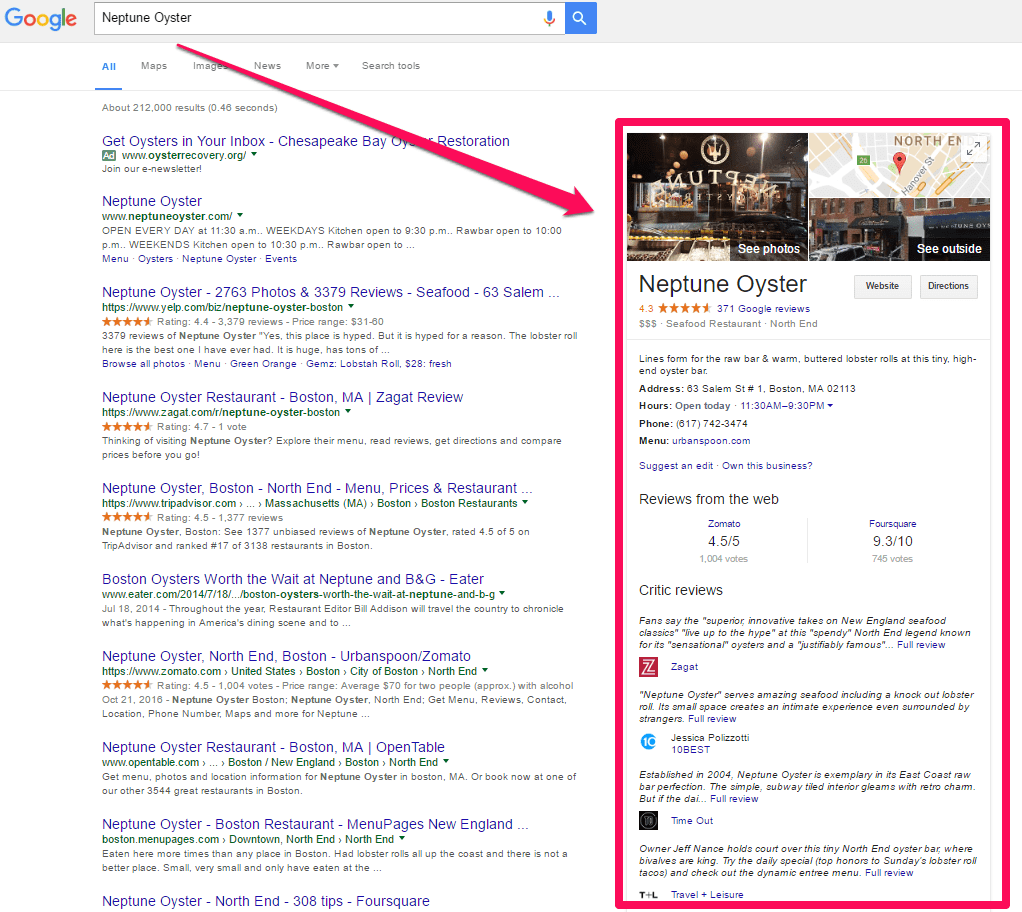 So yes, it is a mistake to ignore local SEO because you might lose an important quantity of customers in your physical store, restaurant or business and visitors on your site, ultimately.

How can you avoid this mistake?
It's quite simple, despite what others say. You should create a Google My Business listing and fill out the information. Also, you can optimize your landing page with local SEO keywords within your title tag, H1 tag, URL, page content and image alt description.

Another best practice is to create accounts on Yelp and Tripadvisor to receive reviews. You can, also, search for other authority sites that offer local business listing.
9. Optimizing for Extra Long Tail Keywords with No Traffic
Remember what we've talked earlier about that type of keywords that are too specific. Well, here we are again with an extensive explanation. Let's say you have a business and sell trips in Transylvania; you shouldn't use keywords such as "haunted hunyad castle tour transylvania". They are too long, too specific and you can see in the Keyword Planner tool the query has almost no searches on Google.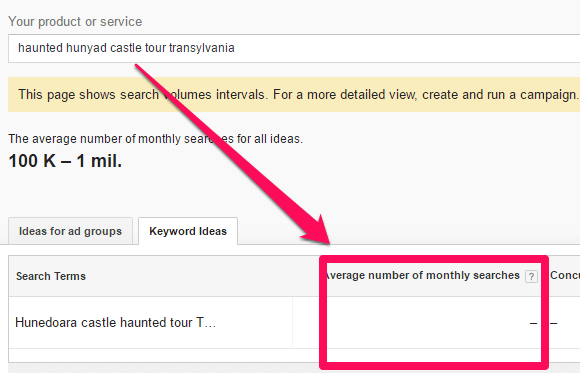 How can you avoid this mistake?

Use Keyword Planner to find keywords that are relevant and have searches, so you can receive traffic on your site. In addition, you can search on Google for that specific keyword to see how many results it shows you.
10. Leaving Title Tags Automated Won't Help You Increase your CTR
Automated Title Tags are those types of titles that are generated instantly after you wrote the title of your topic. You can change them for a more compact version of it. Title Tag is an essential element in the SEO world. Set it right and optimize it correctly.

How can you avoid this mistake?

For example, if you have a post titled "Best Case Study of 2016: 10 Inspiring Tips to Help You to Start Writing Content Your Audience Love" you should change it to something like that: "10 Tips to Help You Write Content Your Audience Love".

You can have an idea about how the first title will look in the SERP by checking the next picture:



This is the preview for the second title:


If you keep it up to 60 characters you are safe, it will appear nicely in the search results, and you won't risk getting cut off because it doesn't exceed the limit.
11. Writing Short Form ContentWon't Build a Long-Term Relationship with Your Customers
If you write short content (maximum 400 words) with little information about a topic, it could be a mistake because you might lose quality links and traffic. We've made a study on this exact matter, to see which type of content ranks better: long or short. Except the fact that you might be placed on better ranks, the longer the content, the more you give them the feeling of trust and the more you can help them by answering their questions.

How can you avoid this mistake?

The most important thing is to create useful and long form content to say everything you know about that topic. You must find out how long your content should be for your audience and keep it entertained.
12. Optimizing Multiple Pages for the Same Keyword – content cannibalization
To someone who is an SEO novice, keyword cannibalization might happen. It is a mistake because you can confuse the Google bot, who might not choose the right piece of information to show in the search results.

How can you avoid this mistake?
You must be careful when you optimize your content. I encourage you to use a "rel=canonical element". Also, you could try using SEO by Yoast to optimize your content because it tells you if you have chosen a keyword for that article and that it has been used once before so you can avoid keyword cannibalization.
13. Not Adding Keywords in the Heading Tags
This can also be a mistake because search engines make a connection between the content and the words written in the heading. H1 is the most important type of heading, and you should use it just once during a piece of content.
How can you avoid this mistake?

This is how HTML Headings look like:



And that is how you can see them: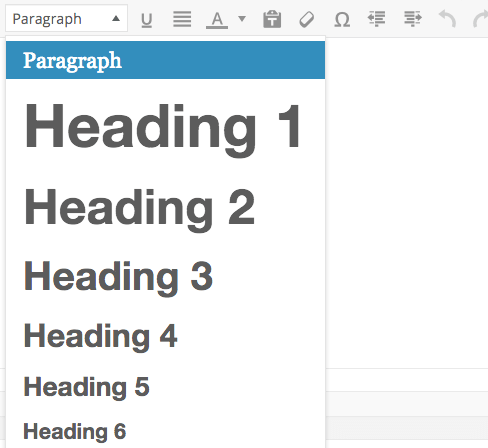 You should add keywords in your heading tags whenever possible. It helps you to rank better, gain quality traffic on your site, and it is a sign of relevancy and good optimization. However, you must not abuse this practice.
14. Stopping Search Engines from Crawling Your Site
There could be cases when you accidentally stop your site from being crawled by the search engines because of a robots.txt error. It can happen when you launch a site and forget to remove its blocking. There are cases when Google decides to show your site even though there is a no index meta tag in the page's HTML code.

Former Head of Spam Team, Matt Cutts, talks about this particular situation in a video. He says that the Department of Motor Vehicles (DMV) from California had a robots.txt file that blocked all the search engines. Google saw that a lot of people linked to this page with the anchor text "DMV" and when someone typed the query in the search results Google discovered that the site was relevant for the users. Therefore, the page appeared in the search results even though the page wasn't crawled.
How can you avoid this mistake?

You need to check your robots.txt file to make sure it's correct and, also, because most of these files include sitemap.xml that increase the speed of bots crawling.
15. Deindexing Your Website Needs to Be Solved
Usually, deindexing your site might happen when you're updating your site and fail to place the no-index tag in the head of your site:
This is just an example:




How can you avoid this mistake?

You must be very careful to the changes that your site goes through. Make sure you check the elements of site code. Some tools can help you with that and show you what changes you've made. You can search for Versionista, OnWebChange or NetWatcher.
16. Migrating Site without Using Redirects
If done right, 301 redirects have the ability to solve some big problems for a site. They offer an elegant design instead of an obsolete one, have a better user experience and most important, keep the link juice.

And yes, it's a mistake if you want to migrate your site and don't use redirects because you'll lose your visitors and all the link juice.
How can you avoid this mistake?

You need to check all the URLs that are redirected. You can do that by accessing your server. Verify the report, download the excel and look after the URLs using VLOOKUP function.
17. Creating Loop Redirects Is Creating Bad User Experience
Having a loop redirect can happen if it is a server configuration issue and a page has multiple redirections. This issue can appear in browser with this message "Error 310 (net::ERR_TOO_MANY_REDIRECTS): there were too many redirects".


How can you avoid this mistake?


One solution, also suggested by Google, is to delete cookies. Another solution is to check your .htaccess file, because if you don't keep this file clean, it might crush your website really bad. You should look for too many redirecting codes and try to clean the file.
18. Canonicalizing Irrelevant URLs to Avoid Content Duplication
Canonicalization is a hard word to pronounce, but a practice not so hard to use. If you have a business about cats and your site is thecat.com, but also www.thecat.com, www.thecat.com/ you need to help Google understand which is the original content with you rel=canonical tag. Not using the tag you might encounter, involuntarily, content duplication.


How can you avoid this mistake?

You can easily step out the content duplication area by using this code for every version of your website URL to redirect them to the original site.

Because search engines rely on offering better user experience, they rarely show two versions of the same website in the search results. There might be those particular cases when you search for a query, and the search engines show maximum two results that send you to the same website. That happens ONLY when the site has high authority, and it's relevant to your query (but that only the search engines could decide based on their algorithm).
19. Blocking Content on CDNs Leads to Traffic Loss
CDN stands for Content Delivery Networks. We must not forget that using CDN improves the speed of a site. But, if it's not properly implemented you might risk blocking the crawling of the subdomains entirely.

Nowadays, it's common for organizations to block domains or IPs. We live in a world that changes a lot from day to day, and there are political, geographical, cultural boundaries and much more. But, if you blocked content on CDN and didn't want to, you will lose traffic.

How can you avoid this mistake?

To avoid this mistake, you should be careful and use the SEO setting offered by CDNs and include the canonical tag to the duplicated files through CDNs' different domains. If you want to be sure if the Googlebot can access the files you can use the feature "Fetch as Google" from Google Console.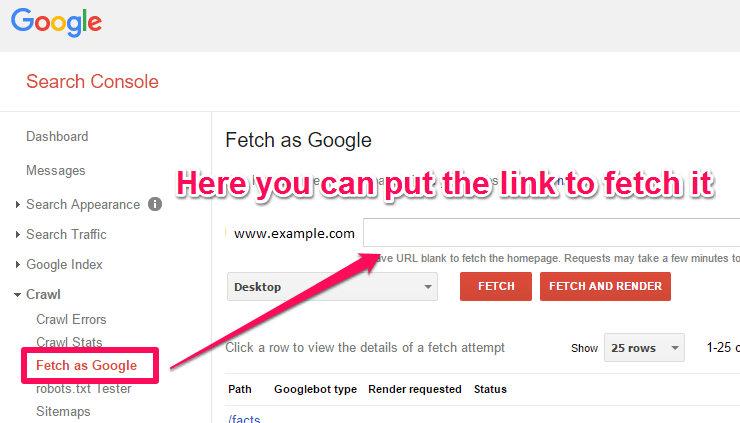 20. Depending on Ajax & JavaScript to Feature Content on Websites
Using AJAX to display content was a big hit back in the days, but in 2015 Google announced that it would no longer support the AJAX crawling scheme because it uses too many resources to render the websites and it was a challenging practice. It's not a question whether Google can or cannot crawl the sites using AJAX or JavaScript, but there is a slight possibility it will show HTMLs with no content. It will look something like that: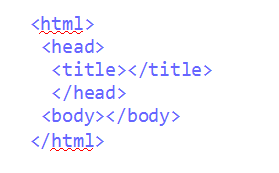 Depending on AJAX & JavaScript to feature content on a website is not necessarily a mistake, but it shows you are not offering good user-experience and it's an example of bad practice.

How can you avoid this mistake?

You should rely on HTML and not on scripts. Google suggests you use the principles of progressive enhancement to built content:
If you're starting from scratch, one good approach is to build your site's structure and navigation using only HTML. Then, once you have the site's pages, links, and content in place, you can spice up the appearance and interface with AJAX. Googlebot will be happy looking at the HTML, while users with modern browsers can enjoy your AJAX bonuses.

Of course, you will likely have links requiring JavaScript for AJAX functionality, so here's a way to help AJAX and static links coexist: When creating your links, format them so they'll offer a static link as well as calling a JavaScript function. That way you'll have the AJAX functionality for JavaScript users, while non-JavaScript users can ignore the script and follow the link.
For example:

21. Having a Slow Website Speed Could Drastically Decrease Conversions
Having a slow website speed is a mistake because you will create a bad user experience which will lead to losing traffic and eventually to killing conversions. The reasons why you have a slow site speed could be:
not optimized images;
not minifying CSS and JavaScript files;
not reducing server response time;
using plugins;
fail of making pages to tell browser not to cache.
How can you avoid this mistake?

Here are some solutions for the reasons mentioned before:
compress your images;
minify CSS and JavaScripts files;
avoid plugins to prevent content to be visible on other platforms.
You can check if your site is having a slow speed if you analyze it with the GoogleSpeed Tool. Below you have a screenshot to see how the report looks like.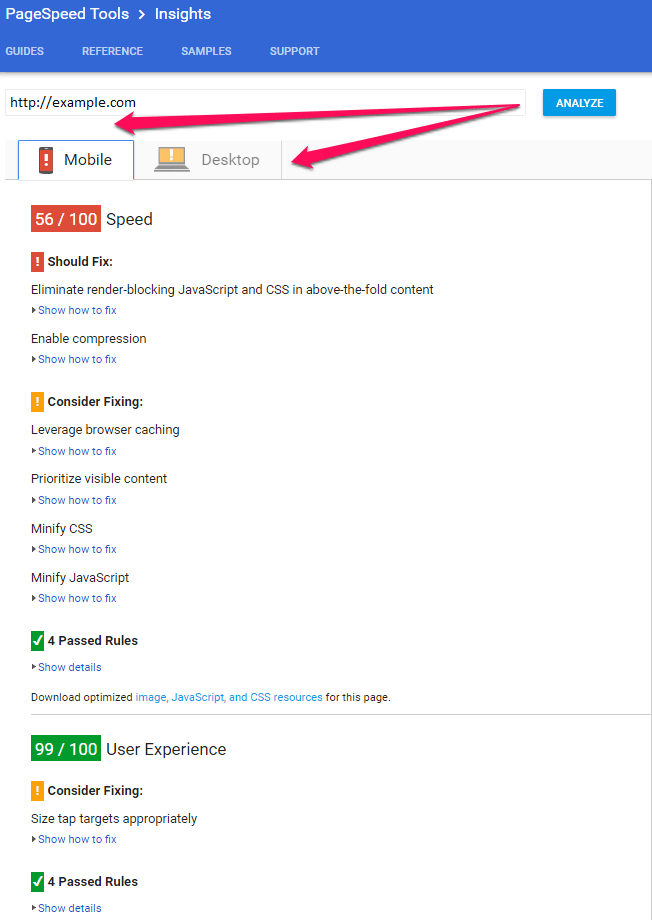 You have a score for both mobile and desktop including specific solutions and recommendations to improve the speed and the user experience.
22. Creating a Flash Site Without a Redirect to the Html Version
Just like Ajax & JavaScript, Flash content might have an appealing design, but it's difficult for search engines to render and show it correctly because a spider can't read that type of content and therefore can't index it. It's a mistake to use the flash content if you don't provide an HTML version.
Flash is good for enhancing a story, but not for telling it.
(http://www.webconfs.com/)
How can you avoid this mistake?

If you insist on using flash to create your content, the right way to do it would be to build an HTML version. A tool that helps you to optimize flash content is SWFObject 2.0.
23. Not Showing a 404 Error When It Supposed To
Google checks if your site has a 404 page and encourages you to create useful 404 pages. It's important to return a 404 status code to respond to the request and telling it that the page cannot be found.
Since forever, the internet has changed regularly. So has your business. From the beginning of a site until the version it is today it has suffered changes and some URLs may have too, or maybe they were written with mistakes somewhere on the web. Imagine that when you click on that type of link it shows a standard 404 Error without any support to find what you searched for. Something like the example shown below: How can you avoid this mistake?

Wouldn't it be great if you or someone who is a specialist redesigned it to have a pleasant appearance and to be in harmony with the whole site/brand? It 's nice to have a custom 404 page because it can minimize bounce rate. A personalized 404 page could look something like this: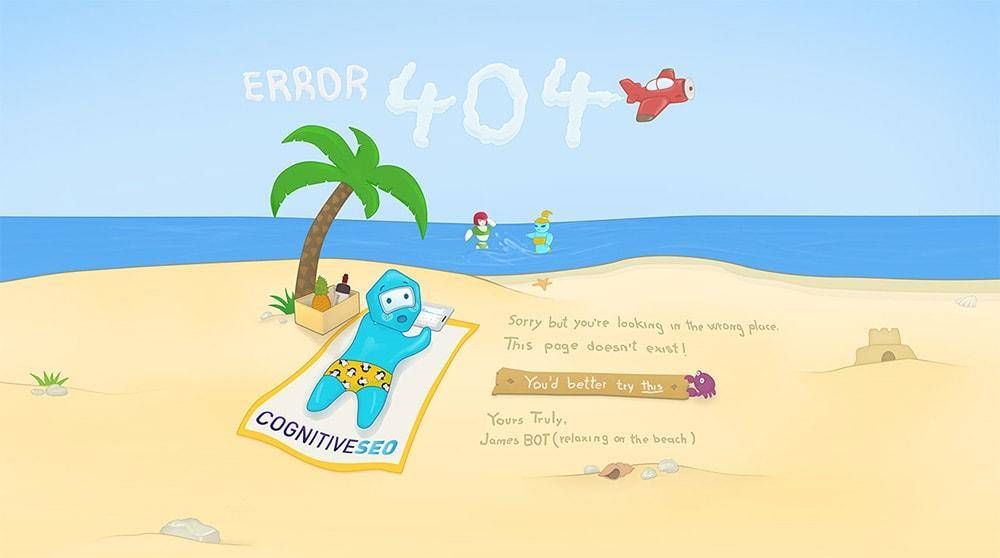 24. Not Using 301 Redirects Will Lead to Losing Link Juice
Remember what we've said about the importance of the redirect when you migrate your website? That rule applies to all the URLs that you change. The visitors will go to a 404 page if you don't redirect them and it's a pity to lose them if you have a choice not to.

Here is a simpler way to understand how 301 works: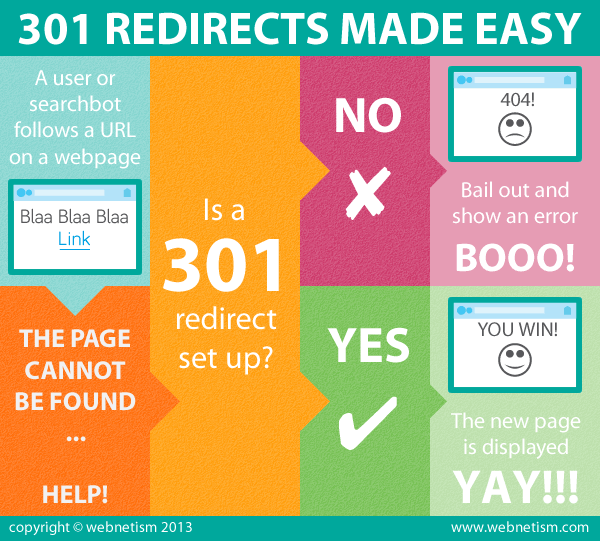 How can you avoid this mistake?

Depending on your ISP you can find instructions for every situation you are in by reviewing these methods to implement URL Redirection via code and htaccess redirect.
If you have a 302 Redirect set, the code tells everyone (bots and visitors) to pass from page A to page B, but without the link juice. If you have a 301 Redirect, it moves the visitors, the bots, and the link juice permanently. The 301 redirect must be on the original server to receive the request and send everyone to the new location.
25. Compromising Content for an Appealing Design
There are lots of people who value design more than content. Of course, the look is an important aspect, but you shouldn't compensate it with content. You must bear in mind that there are people that might not trust your site if it has an ugly design. Even worse, you might have a website with bad user experience. The content is what brings your visitors on the site. If you have a great design, maybe you used flash content just to make it more captivating and make it more beautiful, but the site loads very slowly, sometimes the content isn't displayed as it was designed to, that's not very appealing, isn't it?

How can you avoid this mistake?

The first thing you should do is not to compensate. If a beautiful design comes with lots of problems, such as slow website speed, bad user experience, HTMLs with no content and so on don't accept it as it is.
The second thing you should do is to have an appealing content. Afterward, try to make a nice design for your site. Collaborate with a designer that knows what you want and what's best for you and your site.
26. Indexing Pages You Shouldn't
Maybe you had pages such as a thank you page, privacy policy page or Terms & Conditions page that you didn't want a user to enter and it got indexed.

Also, there are pages that have no clicks and bring no value and therefore damage the ranking of the whole website.

How can you avoid this mistake?


First, you need to check the indexed pages from your website using Webmaster Tools or Google Console, as you can find it now. Then you should identify which pages have low rankings and are underperforming and in the end you need to no-index them. You can do that by implementing a page level Meta Robots tag and placing tag. But be very careful not to push the limits. This is the whole procedure to prune your own content.
27. Poorly Managing Your Sitelinks
If you don't have information about your business and contact details on your site you won't have sitelinks on Google. On the contrary, if you have them and don't add information to make them more relevant you risk giving bad user experience to your visitors. This is an example of poorly managed sitelinks:

How can you avoid this mistake?/

Even though Google doesn't say how to get sitelinks, it encourages you to have an account on Google My Business just to be more visible and maybe receive sitelinks.


The Search Console Support Team says that you could avoid poorly managing your site links. Here's what you could do:
There are best practices you can follow, however, to improve the quality of your site links. For example, for your site's internal links, make sure you use anchor text and alt text that's informative, compact, and avoids repetition.
28. Not Designing a Responsive (Mobile) Site
Having a website that is not mobile-friendly could easily lead to traffic loss or to a high bounce rate because people don't waste time on zooming in and out. Google took action regarding sites that have a mobile version through the Mobilegeddon algorithm update. Therefore, mobile friendly is now a must if you want your website to be visible in rankings.

How can you avoid this mistake?


You can find lots of methods to make your site more mobile friendly. The easiest way would be to have a site on a WordPress or Blogger platform because they already come with a mobile friendly design. But if you want something personalized you should seek the guide for every software your site is built on.

For more recommendations on how to do this you can check Google Developers .
29. Having Annoying Newsletter Pop-Up on Every Page
Having annoying newsletters pop-up on every page proves that your site has bad user experience. Also, it is a mistake if you have a pop-up right after a user enters the site. Timing is crucial if you are using pop-ups. Not only can you become irritating very easily, but you could also make them never come back to your site.
On the contrary, did you know that 20-70% of website visitors will provide their contact details when 'good pop-ups' are used?


How can you avoid this mistake?

To prevent this mistake, you need to check the code and see the triggers for that pop-up. Secondly, you need to pay attention to the timing of your pop-ups.
Remember that "less is more."
30. Linking to Untrusted Sources Could Damage Your Link Profile
Linking to untrusted sources is a shameful SEO mistake. It could happen to you if you don't have SEO experience or if, you collaborated with dishonest SEO companies that sold you blind promises or used black hat techniques.

How can you avoid this mistake?

Although the internet is a big world and you might never know for sure which sites are bad and which aren't, you can find tools to help you with that. However they are not 100% percent accurate.


If you have outbound links, you must place the rel=nofollow tag so that you won't pass the link juice from a questionable site or SEOed site or a site with problems in general. If you already have inbound links from questionable sources, you could review and check them by using the Unnatural Links Navigator feature from the cognitiveSEO tool.

From now on you should follow Google's Guidelines to stay on the White Hat SEO side so that you won't get into trouble.
31. Having Multiple Broken Pages
Having multiple broken pages is a sign of bad user experience and Google might not treat your website very well. A site may be losing traffic and rankings because of the broken pages.

You can check if you have broken pages by using cognitiveSEO's explorer tool. By using it you can see the estimated lost link juice. Below is an example of a very large site with multiple broken pages and link juice lost from million of links.
How can you avoid this mistake?

You should either repair or redirect the pages with the 404 error. But first, you need to see what content used be on that pages. Maybe it was the URL for a product you don't longer sell or maybe you've done some changes to your site, and some URLs suffered.
32. Using Underscores in URLs
Using underscores in the URLs is a mistake because it is harder for crawlers to understand what that URL is about. It is a bad practice, it doesn't follow Google's guidelines and it shows you're not trying to perform better and bring improvements to your site. Also, it might not be very "readable" to humans.

How can you avoid this mistake?


If we follow the recommendation from Google's guidelines about the URL structure, we should use hyphens (-) instead or underscores (_). Also, Google says we should use punctuation to help it understand what that URL is about. For example, it is better to have https://www.example.com/blue-shirt.html than https://www.example.com/blue-shirt.html.
33. Including Query Parameters in URL Structure
In the next picture you can see an example of a URL with query parameters:

The almighty Google recommends to keep the URL structure simple, and yes including query parameters in the URL is a mistake, a bad practice. The reason is offered by the Search Console Support Team:
Googlebot may consume much more bandwidth than necessary, or may be unable to completely index all the content on your site.
Not only is it harder for the Googlebot to find out what a URL with query parameter is about, but so it is for the visitors. Below you can see an example of this kind.

How can you avoid this mistake?

In order to improve the readability of a URL, you must understand what the scales are.

Consider blocking the URLs with dynamic queries. Create a robots.txt file to help Googlebot to block the pages that have this kind of problem. Then check to see if you have broken pages and redirect them. Make sure you follow Google's Webmaster Guidelines to stay on track.
34.Collaborating with an Unreliable and Dishonest SEO Company
Mistakes like hiring an inappropriate SEO company never go out of style (for those who practice it). We even wrote an article about this. In the online medium, you can find lots and lots of shady companies that are offering SEO services at low prices or high prices and promise to rank your site number 1 in no time. Unfortunately, the owner of the site will lose time and money for practices that will only damage his site. An example of unnatural link profile generated from the "work" of a dishonest SEO company could be seen in the next picture: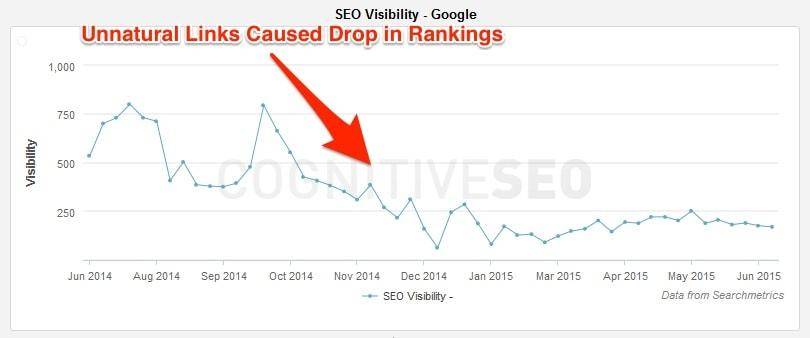 How can you avoid this mistake?


Luckily, if I can say so, you can also find tools to monitor their activity and to see if they are doing a good job. The cognitiveSEO tool can help you out with this. You can see some important statistics in the Unnatural Links History chart and also in the Link Velocity chart and much more. In the latter, you can discover if you have an unnatural profile when there are different spikes on various time frames.
35. Ignoring Recommendations from an SEO Company or Professional
It's a mistake to ignore recommendations from an SEO company of professional because their pieces of advice are concrete and will help your business to grow. Not to mention that's why you hired them in the first place. They are specialists and know better how to make your site rank better, perform better.

If you have an in-house SEO and hire a company or professional in this area, this situation refers to you, too. There are times when you follow your in-house SEO recommendations, instead of following the ones you received from the specialist you hired and then complain you don't see any results.

Matt Lacuesta, an SEO strategist at a marketing agency in Denver, makes a good point about the situation presented above.




How can you avoid this mistake?


You must accept that the SEO Company is there to help you. Then, you should talk about the recommendations and together find the better way to make them work. It's ok to have an opinion and express your concerns but don't start with a NO. It's all about the attitude.
36. Expecting Immediate Results Is Unrealistic
We all want results, but expecting immediate results is just not possible. If you belong to this group of people, you need to change your attitude or quit because that's not a healthy way of running a business or working for one. Even when you go to a restaurant, you need to wait for the food to come. You need to wait for almost for everything in life, for that matter. And some things require more time.

How can you avoid this mistake?

Understand that the rules of SEO always change, the internet is evolving, and so are the techniques and strategies for running SEO. If back in the days we were writing for the search engines to rank better, nowadays we write for the user and help him with answers; just like the next picture proves.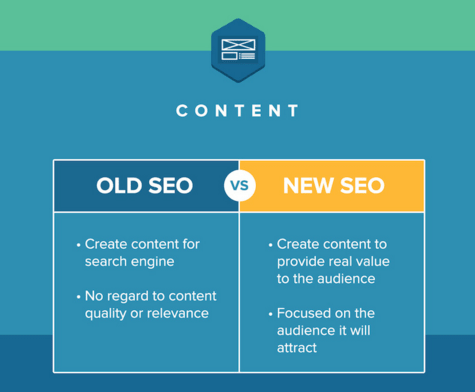 37. Not Tracking Your ROI/Analytics Data
Let me paint you a picture. You write a relevant article for your business. You are super excited after you finish it and share it on Social Media and other platforms where you are connected. In the end, you don't know how many people clicked on the link to read your article or what actions they took after entering your website. How could you know what kind of content works and not? Not tracking your analytics data and not having an account on Google Analytics is like you're like driving with your eyes closed.

How can you avoid this mistake?

Consider signing up to Google Analytics so you can track your data, discover insights about your audience and its behavior on your site. You can see what content works better and brings higher traffic; find out who your audience is and see demographics, interests and geographic statistics; set goals to see the number of conversions and much more.


After you signed up to Google Analytics, you need to add the Analytics tracking code on your site. There are instructions about the proper way to install it. You can install the Tag Manager browser extension to verify if you've placed the code from Analytics correctly into your site. The code should always be in your theme's header.php right after the tag. After you've set up the tracking code, you should receive statistics for your website.

A tip for the long run is to make an audit of your site from time to time to understand your audience better and to help you take actions based on your data.
38. Not Protecting Your Staging Environments
A staging environment is the last phase before production for final testing. In the next picture, you can visualize the main stages of a project. All scripts and procedures are configured in the staging environment. Therefore, protecting it is crucial.

How can you avoid this mistake?

There are multiple ways to protect your development sandbox. The first choice can be to have a robots.txt file to block search engines' access to crawl it by using this code:
User-agent: *
Disallow: /
The second choice could be to have the 'noindex' tag in the robots.txt:
User-agent: *
Disallow: /
Noindex: /
Another suggestion is to set a password with an .htaccess login and the last one is to have an IP address restriction by editing the .htaccess file:
order allow,deny
allow from 123.456.789.012
deny from all
39. Missing Hreflang Tags
The hreflang tag helps Google to show your site in the country (and language) of the visitor. So it is a mistake if you don't use it. Check this example to understand better why it is so. Let's say you have a business in France and a site in French, English and German. Your site doesn't use hreflang and doesn't show its content in the right language. If a visitor from Brazil who knows only Portuguese and English comes to your site, he might leave it immediately because it appears in French and he doesn't understand a word.

How can you avoid this mistake?

You need to place the hreflang tag within your site in the head element. The code snippet looks like that:



If you have a site translated into multiple languages, you need to write the tag for each language using abbreviation. For English it is en, for French it is fr, for German it is de and so on.

Having the tag on your site will decrease the bounce rate, improve your conversions and increase the time spent by visitors on the site.
40. Not Having an HTTPS Based Site
HTTPS is an internet communication protocol used to protect the confidentiality of the visitor's data (personal information). The abbreviation explains it very well: Hypertext Transfer Protocol Secure. It's a mistake if you don't switch from HTTP to HTTPS because it might discourage your visitor when they need to make a payment through your site or send their personal information through a form.

How can you avoid this mistake?

Google encourages you to have an HTTPS based site because it offers 3 key layers of protection: encryption, data integrity, and authentication.


You need to install a security certificate on your server after you read the documentations and you know everything to need to in order to implement it. You should get your certification from a certificate authority who can offer you support. Then you should update your tags and all the content you need from the HTTP. The next step is to use redirects to the HTTPS. After that you should crawl your site with the HTTPS URLs to make sure you don't have broken pages. Make sure you have a server that supports HTTP Strict Transport Security (HSTS).

All the instructions you need to take in order to make the change to HTTPS are here .
41. Ignoring Social Elements Is Preventing Your Business from Having a Higher Audience
A couple of months ago we wrote on article of the influence of social signals in rankings (http://cognitiveseo.com/blog/11903/social-signals-seo-influence/) Ignoring the social signals is a mistake because you could lose traffic and ranks and who likes that? Besides, having social presence you will prove you have a good reputation and gain recognition and visibility. You can promote your content much faster and reach to your audience easily.

How can you avoid this mistake?

You can place Social Media icons on your site to make the content easily shared on various platforms. They can be located to the left of the article or the bottom or on the top, depending on they way your site is structured. This is an example of social buttons within the content: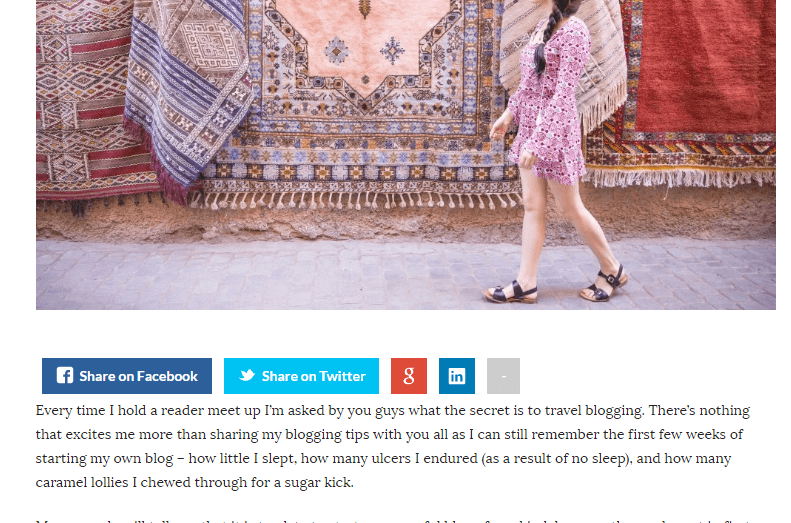 You can also find social icons in the footer of the website so you can easily connect with the brand and explore its Facebook or Twitter page or any other page. This is an example of footer social icons:





You don't need to make an account for every Social Media channel; you can choose what would be best for your business. You can start with 2 or 3 to see what's working and then decide if you continue with those based on your results and engagement and then add another account, drop another. If you have a big team, you can afford to make multiple accounts if your business allows you to.


Another thing I encourage you to do is to look at your competitors and see what they are using. Be careful with what you are communicating on those pages because each one of them can be used for a particular type of content. Choose your tone, select the language you will communicate with your audience, so they understand your messages, join groups to share content and bring people to your page, talk with the people that leave comments and take advantage of trends to engage them.
42. Neglecting Website Makeover & Website Maintenance
If you neglect your website and fail to keep it clean, without errors, broken pages and other bad user experiences you might lose an important part of your visitors. It proves you don't care about your site and therefore your audience and you don't want to be better than your competitors. I bet you don't want a site similar to the one from the next picture, would you?

In the screenshot presented above you can see that all the text is in the left side, leaving more than half of the screen black. You can't understand what it is written on the site, the font is too smaller and you can easily lose your interest in reading all that information.

The good part of the website maintenance is to see what isn't performing well, what bugs you should take care of, the broken pages you've collected and so on. The part that's not so pretty is the time you need to take care of this issues. If you care about your business, you shouldn't think "This is fine as it is. If it worked ok until now, it will come from now on, too. Why should I bother if the money comes?" Well, if the money comes now, who says it will until you get old? Maybe in the future, you won't have the time and resources to correct the mistakes that have gathered over the years.

How can you avoid this mistake?


You can make an SEO audit to see which are the things that need to be improved. There are tools to help you with that. One of them is offered by cognitiveSEO. Besides the things you can do with the tools you need to evaluate the design of your site whether it's user-friendly or not (if it looks old you need to change it). Also, you can spy on your competitors and see how their site looks like and what you can do better than them.
43. Not Using Canonical Tags
Not using a canonical tag will lead to duplicate content and it could easily fall into a black hat SEO technique. If you have a site about socks and it's called sockssocks.com and www.sockssocks.com is also yours, and so is sockssocks.com/index.html or www.sockssocks.com/index.html you should use the rel=canonical tag.

There are indeed cases when the tag is mistakenly placed in the . Make sure it's not the case for you by looking at the page source. If it's in another place except for the head, it won't be taken into consideration.

How can you avoid this mistake?

You should use the rel=canonical tag to give a hint to Google to know that the sites the are one and the same. This is the code to set the URL you mark as canonical:


It is possible to have only one canonical URL for each page so be careful you have only one. If not, the tag will be ignored. Something else you should know is to include the tag in the of the page or in the HTTP header. Another thing you should do is to make sure the rel=canonical URL is shown in search results and not in the duplicate URL.
44. Not Registering Your Site with Webmaster Tools
It's a mistake if you haven't registered your site with Webmaster Tools because you can't receive information about your site. Google and Bing have created these types of tools for webmasters to improve their site's performance and usability. It doesn't cost you anything to have an account on these platforms and it is an easy way to receive suggestions. You need to know that Webmaster and Analytics go hand in hand.
Marketing without data is like driving with your eyes closed.
Dan Zarrella
How can you avoid this mistake?

For registering your site with Google Console you can use the recommended method and these are the steps you need to follow:
Log in with an email address on Google
Add a property in Google Console
Enter your site, let's say my site is http://www.example.com/
A new page will open with the instructions for site verification
Download the HTML file which is shown there. It looks something like that [googlea000aa00aa0aaaaa.html]
Load the file in your site, http://www.example.com
Confirm you've successfully uploaded the file by visiting http://www.example.com/googlea000aa00aa0aaaaa.html from your browser
Click Verify
You have an alternate method where you can choose to add an HTML tag on your site, to sign to your domain name provider, to use your Google Analytics or Google Tag Manager account.

The easiest way is to add an HTML tag. You will receive a snippet of code that you need to place in the section, before . If you are using WordPress or Blogger, it is pretty simple. You go in the Editor Area and look for the header section on the right. After you inserted the tag and updated the file, you need to go back in the Webmaster Tool and click on verify. If this message appears "Congratulations, you have successfully verified the ownership of https://example.com" then you are ok, if not it means you didn't copy the tag where you should have.

For registering with Bing Webmaster Tool you need to sign up with an outlook email account and follow these steps:
Add your site www.example.com
You will receive the instructions for this in your account
Click on Verify
There are three ways you could register your website to Bing Webmaster Tool:
Submit sitemap to Bing
Insert the tag you receive in your default webpage in the section
Add CNAME record to DNS
The easiest one is to add the HTML tag, following the instruction I gave for inserting the tag for Google Console.
45. Focus Only on Google And You Might Be Missing New Customers
It's a mistake if you are focusing only on Google because your audience might come from Yahoo and Bing, also, even though Google is used by a high number of people. Maybe your visitor could use Bing on desktop and Google on mobile; you may never know if you don't search and look for opportunities.


How can you avoid this mistake?

You can register your site in the Bing Webmaster Tool, sign up for Bing Ads to connect with leads, create online ads with AOL advertising and so on.
46. Chasing PageRank Is Obsolete
It's a mistake to chase PageRank because, since April 15, 2016, Google removed the PageRank score from the Google Toolbars. It took almost two years for Google to take this decision. The PageRank score was useless because it hadn't been updated for a long, long time.

How can you avoid this mistake?


Focus on all the suggestions mentioned above to make your site better, follow Google's Guidelines to make things right, stay away from the black hat techniques, accept and implement the recommendations from SEO companies and specialists (if you're working with any).
47. Neglecting Search Engine Guidelines
If you are one of those who is neglecting the search engine guidelines you need to stop and listen to the specialists because they want to make your site better. SEO rookies tend to make this error.

You can see that for every mistake I told you until now there is a small line between good and bad and without even noticing you could make an SEO mistake. The right answer for these mistakes stays in the Search engines' Guidelines.

How can you avoid this mistake?


If you aren't familiar with the guidelines, you need to read and understand them in order not to fall into the wrong practice. Check the Google Support page or the Bing one and choose what topic you want, follow the answers to your questions, read the documentation.
48. Not Including a Blog in Your Website
Although not a mistake in itself, not having a blog could lower your SEO efforts. A blog is an easy way to talk from a personal side and show there is a person behind the brand/site/business. You can talk with your visitors, answer their questions and build a relationship with them in order to trust your business.

How can you avoid this mistake?

You can connect with WordPress or Blogger to easily create a blog and connect it to your current site. You can choose to customize a template to be brand aligned, you can make your own topics/categories, you can create profiles for multiples authors, you can track the analytics if you're connected with a tool, you can be present in the blogosphere, you can create blogging campaigns, you can easily create new content to let Google know you are doing your job right.
CONCLUSION
Mistakes can happen to anyone, but make sure you notice and correct them. You can correct them if you are permanently monitoring your website; if you respect the guidelines; if you stick to the white hat SEO techniques; if you're thinking in SEO terms; if you're looking outside your site – in the web 2.0 world, in the competitors' garden, at the trends, news and many other places to inspire you. Lots of ifs to make sure you're on the right track.
The post 48 Fatal SEO Mistakes to Avoid Weakening Your Rankings appeared first on SEO Blog | cognitiveSEO Blog on SEO Tactics & Strategies.