Belief, Ego and Remarkability

Everyone has greatness in them. The challenge is how we express it. We can…

Learn More

How to Start a Food Blog and Change the World

Want to learn how to start a food blog? I might be able to help with that. You see, every now and then a new niche comes along and absolutely dominates the internet. Each one is slightly different, but over time you start to notice the common strategies and ideas that work for each one…

Learn More
Always remember that your first dollar online is always the hardest. So we are here to help you earn your first dollar, up to your first million online.
Everyone has greatness in them. The challenge is how we express it. We can push ourselves to rise to the challenge, or we can encourage others to greatness.
By doing this, we can encourage ourselves at the same time.
Everyone also has an ego.
Some are kept in check – some are left to rage uncontrollably. Some have a happy medium in-between.
Are our ego's stopping us from being remarkable?
Often we don't like to admit we don't know something. We want people to think we're invincible, that their trust in us is warranted.
That we are the fountain of knowledge to their stream of questions.
But we're not. None of us.
But that's not a bad thing.
We are who we are because we learned what we know.
How did we learn that? From those that knew and wanted to share.
Not keep it to themselves as leverage over everyone else. Not use it as a power base over less-informed people. Not use it to stroke their own ego.
Ego's are natural. We're human beings – we like to feel we're important in some way or another. And we are – each and every one of us.
We all do great things every day. Does that mean we're better than others that do "lesser" things?
Can you define lesser? Is there such a thing when it comes to offering hope through belief?
I don't think so and I know I'm not the only one.
Look around you. There are people that could have huge ego's if they wanted to.
People that continuously encourage others to challenge themselves to be better.
People that are selfless in their determination to make life better for those that need it the most.
People that have taken an idea and ran with it to make it their own.
These are the people that could have ego's but don't.
So what ego's are stopping us from growing? What ones are putting us in a pen and keeping the gate locked? You might recognize some.
Business leaders. Your employees are your currency. Offer them a voice for their ideas, not a muzzle.
Educators. Your students are the leaders of tomorrow in the brains of today. Don't silence their probing – encourage it.
Business consultants. Your clients are counting on you. If you don't know something (which sometimes you won't), admit it. Agree to find the answer together and make something truly great.
We all know people who offer belief. People who offer hope.
We also know (often in equal measure) people who crush that belief simply through distorted ego.
Sometimes it's deliberate; sometimes it's not. Either one is just as powerful as the other.
Belief is hope. Ego is the wall that can block that hope.
How you scale the wall is up to you.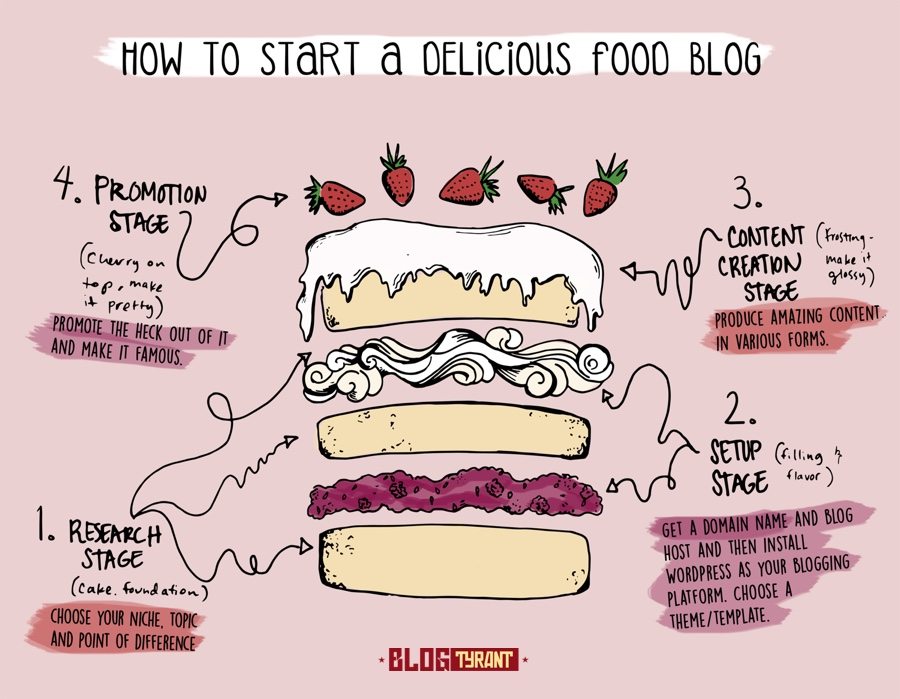 Want to learn how to start a food blog? I might be able to help with that.
You see, every now and then a new niche comes along and absolutely dominates the internet. Each one is slightly different, but over time you start to notice the common strategies and ideas that work for each one equally.
At the moment food blogging is massive.
That means there is an enormous opportunity to be successful but, in actual fact, it's also an incredible chance to change the world for the better.
This is a big one so get a cuppa and warm up your scrolling finger!
NOTE: This post contains a few affiliate links. If you purchase something by clicking through to one of my partners I earn a small commission at no extra cost to you. In fact, it usually saves you money! Thanks for the support.
Overview of how to start a food blog
If you're just looking for the broad strokes here's one way to do it:
Research stage – choose your niche, topic and point of difference.
Setup stage – get a domain name and blog host and then install WordPress as your blogging platform. Choose a theme/template.
Content creation stage – produce amazing content in various forms.
Promotion stage – promote the heck out of it and make it famous.
Bonus world-changing stage – This is where we look at how a simple blog can make a big difference.
I'm going to give a rough overview of all of these stages in the hope that it encourages you to do further research and really make a solid plan for your new food blog.
1. Research stage: choosing a topic for your food blog
When you are thinking about starting a food blog you really want to know your topic intimately.
As blogging becomes more and more popular, it's a lot less likely that you will see much success with "general topic" blogs that focus on a lot of different things.
What seems to be doing well are blogs that have a unique niche angle.
Even better is when you mix that unique angle with a personal story and journey. That is when you start to get into solid branding territory.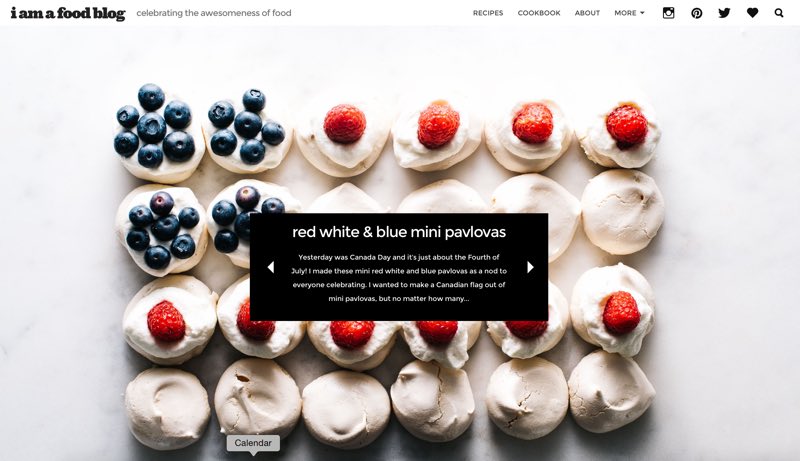 One of my favorite examples is I am a Food Blog by the very talented and funny Steph. Everything she does is infused with her own personality and taste and, as a reader, it's very hard not to delve further into the blog if not to just look at her beautiful photographs and see what other crazy concoctions she's come up with!
The main thing you want to ask yourself at this stage is: how can I be different from the rest?
Think about things like:
What do I love about food?
What are my strengths and weaknesses?
What blogs inspire me and how can I be better/different from them?
How can I help my target audience?
What is the end-goal of this blog?
Before you start thinking about making money or anything like that, you really need to be solid on your own topic and branding. These types of questions will really make your long-term blogging progress much smoother because you'll have guideposts to keep referring back to.
Remember, you don't have to be fully planned out in order to get started. Some rough goals and ideas are enough at this stage. I spoke to my good friend Jen (on the right) from The Food Curators about getting started:
The initial idea came about when we were in Thailand, googling our hearts out for amazing cafes and restaurants. We are big travelers, and have specific taste when it comes to food and coffee (it has to be epic). We started compiling lists and images of the wonderful places we'd been to, to save for our friends and family (who are ALWAYS asking us for our travel tips). From there, we thought we could share it online as a collection of our foodie adventures, recipes and favorite places. It's very personal to our lives and tastes.

Initially we started with just an Instagram feed, and once we looked into it, we set up a WordPress based blog. We purchased a domain, used a free template and asked a friend to install it for us. Without much experience in website setup, we fumbled our way through this process, delayed it a couple of times due to indecision and asked our contacts for advice. Once we started posting, we felt a little more confident about how we wanted it all to look and feel, and the sort of content we wanted to produce.

Since then though, we've invested a little more into the design, template and overall aesthetic of the blog. We're kind of obsessed with it. It becomes more refined all the time, and the only way to get better at something is to just do it."
Sure, it would be nice to have an entire business plan, marketing budgets, and branding ready to go but, usually, business doesn't work like that. Sometimes it's important to get started and learn on the run.
Spend a whole day visiting as many successful food blogs as you can and try to think about what makes them interesting or different. Keep a list of the ones close to your own topic and come up with ways you can be better, different and more comprehensive.
2. Setup stage: hosting and publishing your food blog
Once you've decided on what you're going to write about you then need to actually set up your blog.
This is the stage where a lot of new bloggers feel a bit overwhelmed and get stuck. It's a bit of a steep learning curve but, in all honesty, the setup process is actually pretty simple.
Every good, professional blog needs three elements:
A unique domain name
This is the .com or .net thing that people type in their browsers in order to find your blog.
A reliable web host
This is where all of your files, content, images, etc. are stored. When people type in your domain name it looks up your server and shows them your blog. Here's some FAQs about hosting and what it involves.
A blogging platform like WordPress
This is the thing you login to in order to write your posts, upload images, etc. Once you've purchased your domain name and web host you can install WordPress for free with just a few clicks.
A lot of aspiring pro-bloggers get stuck at this stage because they don't want to pay the fees associated with getting their own host. Here's a quick video elaborating:
There are a lot of free options out there for new bloggers but I always recommend that people avoid them because when your blog starts to grow you really need full ownership and control over that asset. With a free blog there is a good chance you don't own it, can't sell it, and often don't have access to the back-end.
These things are essential.
I recommend BlueHost (affiliate link) as a good starting option for new bloggers. You get free domain name registration for a year and a discounted rate for being a Blog Tyrant reader.
Once you've purchased your domain name and web host you then need to select a WordPress theme that suits your needs.
It's important to remember not to dwell on this stage too long because you can always change your theme and tinker with how it looks. Don't let this part prevent you from getting setup.
When choosing a theme there are a few options available to you:
Get a free theme
One of the advantages of an open source platform like WordPress is that there are literally tens of thousands of free themes to choose from. Some of them are awful, some are great. Just go to your WordPress dashboard and click Appearance > Themes and then start browsing through the demos.
Pay for a premium theme
Premium themes are those designed by experts to serve a particular purpose. They are usually visually more appealing and come with a variety of functions. I think Theme Forest (affiliate link) is a good place to start looking.
Create a new theme
If you want to make sure that your blog looks completely original you can pay to have someone design and build it for you. This is usually an expensive option and can take weeks or months to complete. I recommend only doing this when your first blog is making money and is ready for a more professional touch.
When selecting a theme you really need to think about how you are going to be using it and what you want readers to think and feel when they visit. This means taking into account things like colors, typography, photo areas, blog readability, ability to edit logos, etc.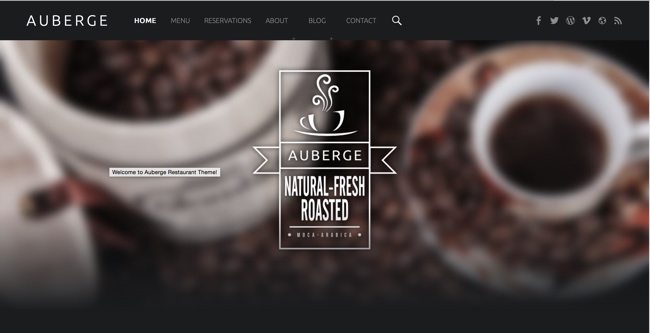 The Auberge theme is a good example of a beautiful free template designed specifically for food blogs. It has a heavy emphasis on photography but also allows for things like recipes and blog posts centered around food. And having been downloaded over 40,000 times you can be assured that it works.
That being said, you might not want to use a theme that has been downloaded 40,000 times and instead opt for something more unique. Yes, that is a legitimate concern, but you also have to remember that when you change the logo, colors and add your own photographs it is going to start to look a lot different.
3. Content creation stage: producing amazing stuff
Without a doubt, the most important part of any blog is the content.
And that content can and should take on many different forms – written posts, photographs, graphics, quotes, tools, videos, podcasts, etc.
Of course you don't start off doing all of that at once, but rather gradually start to add and expand as you get bigger and want to tap into readers who consume your brand in different ways.
Start at the end and work backwards
One of the best tips I can give you is to start with the end result and work backwards.
What that means is that you come up with a rough plan for your blog in terms of what product you are going to promote or where you'd like to see it in a year's time. You then work backwards and create very specific content that helps you get you to that position. Most bloggers do the opposite – they make content and then wonder what product or end-result to insert later. It's messy.
Here's an article about blogging strategy that can give you a full picture of how you can develop a plan like this in a few simple steps.
Make your own stuff
Another really important thing to do is try to make as much original stuff as you can.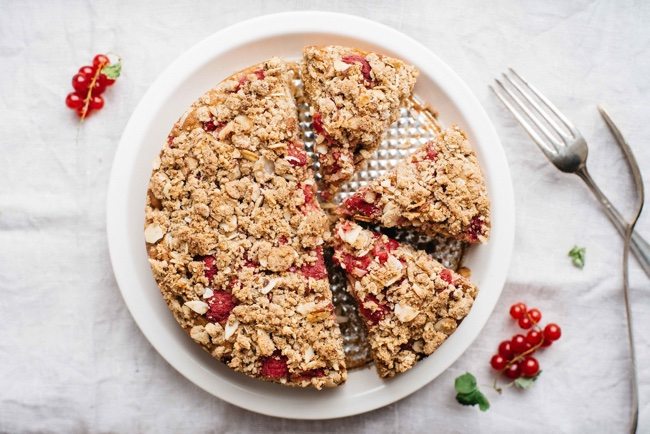 For example, if you look at a successful blog like Dolly and Oatmeal you'll see that the recipes and photos as all done by Lindsey herself. There's no stock footage – it's all lovingly created from scratch.
Google loves this kind of effort, and so do readers. Here's a bit more about blog images and best practices that might be useful for this.
Remember that unique angle?
When we were talking about deciding on your blog's topic we spoke of the importance of a unique angle. Actually, it's here in the content creation stage that it becomes most important.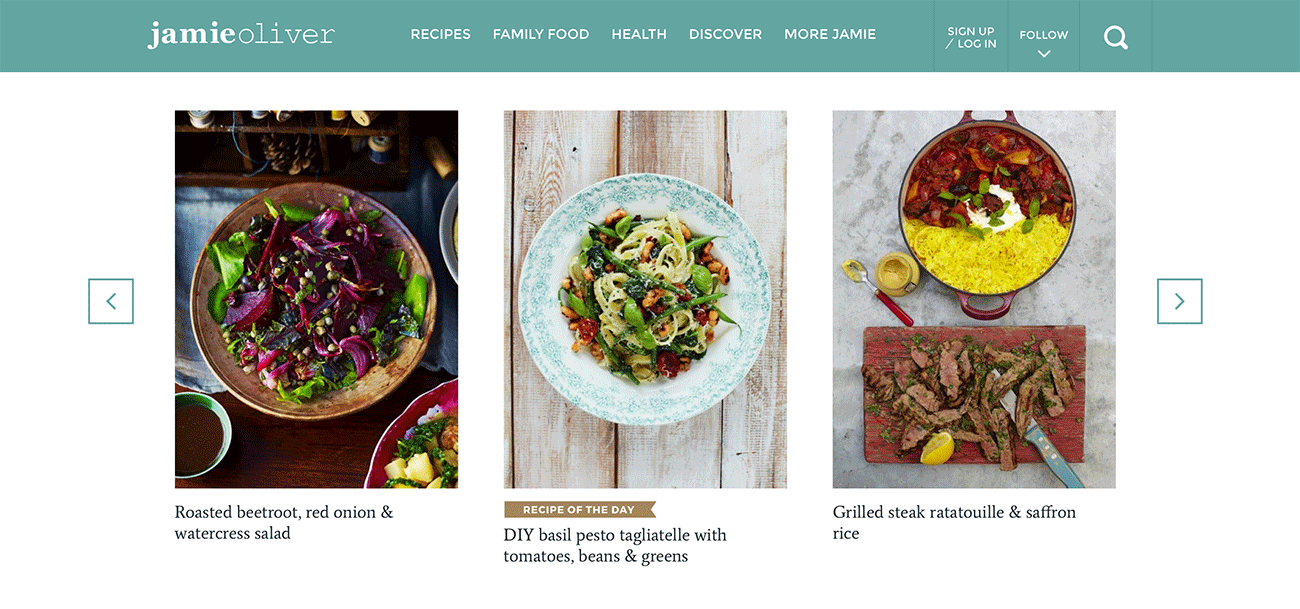 Do you remember when Jamie Oliver first became famous with the Naked Chef TV series? He went from a local lad to international celebrity off the back of a new style of relaxed, messy, unpretentious cooking. He literally changed the way food is cooked around the world (and olive oil sales!). But it all happened due to a personal brand that was different to the usual stuck up, old-fashioned cooking. He has a pretty handy website and foundation, by the way.
You don't have to be original with your blog, but it's important to find a way to be memorable. Try and make sure that everything you do from your logos to your content to your emails all fits in to one branded message.
Focus on a free giveaway and valuable mailing list
Giving something away for free is still a really powerful way to grow a business online. The best part? It's is relatively inexpensive to set up and works in almost any niche. The more email subscribers you have the better your blog will do in the long term.
The idea here is that you create a free eBook or course and then offer it as a "bribe" for people when they sign up to your mailing list. The course or eBook then gets delivered automatically when they sign up, and you start building a mailing list that you can use to promote future blog posts and products to.
Try to have a valuable and highly relevant giveaway relevant ready on your blog as soon as it goes live and start collecting email subscribers. That list will be very important.
4. Promotion stage: finding the right audience
When it comes to a successful food blog you essentially have three ways to find traffic, customers and a long term readership:
Google traffic
Getting traffic from Google is a fantastic way to grow a business. It is, however, extremely hard to find for most new bloggers due to the intense competition. It takes time to build, but you can pay to use their ads program.
Social networking sites
Sites like Pinterest, Instagram, Facebook and Twitter can be really huge for blogs – especially if you have a lot of nice photos or content that is easy to digest and share. Again, there is advertising programs for all of these.
Traditional media
A lot of bloggers discount traditional media as being expensive and out of date, but it actually works really well. A feature in a magazine or newspaper will still send you an immense amount of traffic, and can totally transform things for your blog.
So how do we actually go about getting traffic from these sources?
Let's take a look.
Getting optimized for Google search traffic
Firstly, you want to make sure that your blog is SEO optimized by following Google's best practices. This is a huge topic so I recommend that you follow this guide to getting traffic from Google and keeping up with the major SEO updates and what Google is looking for.
It's important to note here that you shouldn't get too obsessed with SEO. A lot of bloggers devote too much time to this and as a result don't produce enough good content. But that is what Google wants to see. Most of the time, if you focus on strong, unique, and helpful content you will tick 80% of the SEO boxes along the way.
We should also remember that relying on Google traffic can be dangerous. There's no guarantee that they will keep you at those top ranking positions and, if you drop off, your business could be in trouble.
Figure out which social networking sites suit you
Make sure you remember this: you should not be on every social networking site.
Think about it – we have Twitter, Facebook, Google+, Pinterest, Instagram, Snapchat, Vine… the list is endless. The thing is, if you focus on being active and prolific on all of these sites you won't ever have time to focus on creating content and growing your business in a more sustainable way.
So what do you do?
This comes down to a mixture of research and testing. Spend a day looking at the biggest 20-30 blogs in your niche and have a look at which social networking sites seem to work best for them. Don't just focus on followers (those can be faked) but look at how engaged the audience is, how many times things get shared, and how it causes interaction on the blog itself.
Then set yourself up on these and start testing for yourself. The results are always going to be different depending on the brand and target audience, but over time you will start noticing which one hits the spot and you'll be able to focus on it and get more detailed with targeting, ads, campaigns, competitions, etc.
Getting offline to promote your online presence
One example of this that I've seen in the food blogging world is The Food Curators (again) – I regularly see Mel and Jen on buses around town.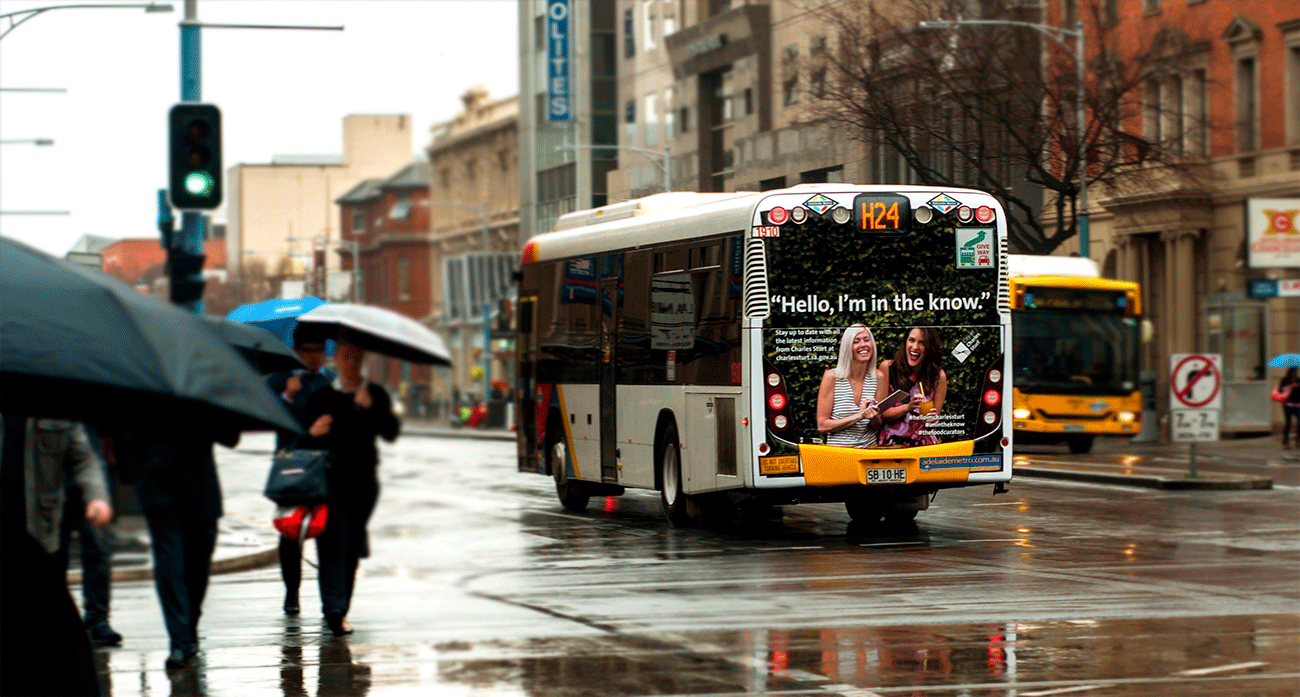 They've also manged to team up with local supermarkets in the past, which is a really clever way of making sure their blog gets seen by an audience who might otherwise have never encountered the website. It's a great mix of online and offline promotion.
There are so many other things you can do in the offline world. For example, if you visit local restaurants or stores to review them, make sure you give them your business card and then email them when you positive review goes up. That's gold for a cafe, and they'll usually share it with their social networking pages. Free promo.
It's also good to remember that a good old expensive publicist can do wonders to help you launch a business. An article in a traditional newspaper about your exciting new food blog can really jump start a career.
You just need an angle.
5. Bonus stage: change the world with your food blog
We talk about making content useful and helpful a lot here on Blog Tyrant, and with a food blog you have an actual opportunity to change the world for the better.
With a population of almost 7.5 billion people, food has now become a major issue for our world. Especially as we battle with healthcare and climate change issues, the way we produce and think about food has become more important than ever.
And it really comes down to one thing: meat.
Recent studies have shown that reducing meat consumption is one of the most important things we can do for a planet that is struggling with greenhouse gas emissions, water shortages, and healthcare costs.
Animals bred for meat have an incredibly harmful carbon footprint. They need to be fed (and that food needs to be grown and watered and shipped), watered, shipped, killed, refrigerated, trucked to stores, stocked in stores, etc. Adding to this is the fact that the methane gas produced by livestock during their lifespan causes major damage.
Food bloggers can be incredibly influential when it comes to encouraging people to eat less meat each week, or at least sourcing their food from local, ethical producers. Whether you care about climate change or not is one thing, but I think everyone agrees that factory farming and live exports are awfully brutal practices that we should give up.
Blogging can help to bring about these changes.
So, if you start a food blog, I encourage you to write about these topics.
Create more exciting vegetarian recipes, promote ethical and vego restaurants, and show people that there are good alternatives to a super heavy meat diet. Nobody wants to read an aggressive and preachy vegan blog though – so make these issues fun and approachable and gentle.
I don't think anyone is going to change a long held belief by reading a blog post, but helping to spread awareness might plant a few important seeds.
Any advice for someone starting a food blog?
I'd really love to know whether you think I've missed any key points for people who might be starting a food blog soon. A lot of blogging niches overlap, so I'd love to hear whether you have any tips for a newcomer who might be trawling through the comments for advice. Please leave a comment with any feedback, or anything at all that might be useful.
From the moment we can, until our moments are no more, we're forever chasing shadows.
As children, we chase the shadow of ourselves that the streetlight throws in front of us.
As teenagers, we chase the impossible date with the most popular boy or girl.
As adults, we chase the dream job that never happens, or the pot of gold we never reach.
We know – subconsciously or otherwise – that some shadows can never be caught, and yet we chase them anyway.
And the damage is catastrophic.
People chase after opportunities around the world and watch marriages collapse because of it.
People chase popularity online and see children forget who they are.
The damage gets done; and yet still we chase the elusive shadows.
Some shadows we catch, and it makes the chase worthwhile.
But for how long? The make-up of a shadow means it's always on the move – can we afford to always be on the move too?
We all make choices every day. Some have a clear outcome, some don't.
The clear ones may not be the most rewarding financially, but money never cured a broken soul.
The non-clear ones live in the shadows, and the thrill of the chase appears again.
Some of us succumb; some step away and accept the futility of chasing that particular shadow.
There's nothing inherently wrong with chasing shadows; there is something inherently wrong chasing futile shadows.
Alfred A. Montapert once said,
Nobody ever did, or ever will, escape the consequences of his choices.
Our shadows are our choices. Our consequences are the future and the past of these choices.
Make sure you're choosing wisely.
Earlier this year, we saw the tragic news that a silverback gorilla named Harambe had to be shot dead when a toddler fell into the gorilla's enclosure at Cincinnati Zoo and was dragged by Harambe around the enclosure.
Officials at the zoo made the heartbreaking decision to shoot Harambe, noting their belief that the boy was in danger.
"It's easy to say things should have been done differently after the incident was over and the child was safe, but people making those criticisms don't understand primate biology… and the danger the child was in." ~ Thane Maynard, Director, Cincinnati Zoo
The child was taken to the hospital, and – by all reports – wasn't seriously harmed.
Because of this, literally, hundreds of thousands of people took to social media to express their disappointment/sadness/anger/disgust (delete where applicable) at both the actions of the zoo, and the parents of the child.
Because we all live in a perfect world where nothing happens in an instant, and painful decisions need never be made.
Puh-lease….
Whose Shoes Are You In?
In the hours and days following the death of Harambe, there was a massive backlash against the parents of the toddler who fell into the gorilla's enclosure.
Cries of, "Terrible parenting!", "Hold them accountable", "The mother should lose her job!" and more have been bandied around.
Personally, as a parent of two young children myself, I wonder how many of these crying foul are themselves parents.
Because trust me, no matter how good a parent you think you are, all it takes is a split second for you to become "a bad parent".
My wife and I have two kids, our son who is six and our daughter who's four.
Like any kids that age, they love to explore, push boundaries, experiment, and push beyond what they already know of the world.
That means they can be walking with you one minute, running away the next.
Splashing in the toddler pool one minute, racing toward the deep end the next.
Pushing their bike beside you one minute, cycling away from you like a world racing champ the next. Until they crash, which my son did in fine style last week…
The point being, a split second is all it takes for kids to potentially wreak havoc on either themselves, someone else, or you. Maybe all three.
Because that's what kids fucking do!
And no amount of "Best Parent in the World" badge that the Internet Hate Mob (IHM) believes every parent should adhere to is ever going to change that.
Any parent knows how their kids are essentially ninjas in waiting, just looking for the exact moment they can escape our grasp.
Any parent that says, "My kid is always under control" is either a great fibber, has a distorted sense of reality or is someone with an immense imagination.
And that's not a criticism, just a simple fact. Don't believe me? Ask your own parents on how under control you were as a kid…
Mistakes Happen, Tragedies Occur, Hate Solves Nothing
Make no mistake, this whole tragic event is exactly that – a tragedy.
A beautiful, endangered species has one less gorilla in it today to keep the population going.
A zoo had to make the terrible decision to kill one of its animals. And believe me, good zoos treat every death of one of their animals as a huge personal loss.
A mother has essentially had to go into hiding because of harassment and threats.
A toddler may just be beginning a journey of nightmares and flashbacks about the day in question.
Questions have been raised, along with suggestions made.
Why did the parent(s) not have better control?
Why did the zoo not have better safety set-ups?
Why did Harambe have to be killed? Why couldn't he have been tranquilized?
I've shared my thoughts on the first point. The zoo would be the best to ask about the second, and whether it was a valid question or not.
As for the third, experts say it would have taken 3-5 minutes for any tranquilizer to kick in.
Given that a silverback has the strength of eight grown men, and could (would?) have become agitated with the dart in him, 3-5 minutes is a long time for a four-year-old child to survive.
For anyone to survive. 
Of course, the IHM negate this and say the zoo should have taken that chance.
Fine – jump into a gorilla enclosure, ask the zookeeper to shoot the largest one with a tranquilizer dart, then see how well you get on in there.
Don't want to find out? Didn't think so.
Instead of blasting the zoo and the parents, and questioning their right to even have children, let's look at how we can truly avoid tragedies like this in future.
We can all point blame. We can all point fingers. Truth is, none of us know what would happen until it happens to us.
No amount of hate and vitriol towards the toddler's mum is going to bring Harambe back.
No amount of "justice needs to be served" is going to change the fact that, for a split second, a child managed to escape his mum's watch.
No amount of "justice needs to be served" is going to change the fact that, for a split second, a child managed to escape his mum's watch.
And no amount of keyboard warriors is going to change the fact that this is a shitty situation all round.
Rein in the hate. No-one wins there.
Long content or short content? Which one is better? What is the case? The more the merrier, or less is more? Well, the answer is rather complicated and needs a bit of unpacking. If you are looking for a short answer you need to know that there is no such thing. Long and short content alike can be better, depending on the context and on your needs: rankings, conversions, followers, popularity, authority, engagement, keyword optimization, etc.
TL;DR – This is quite a large study. If you don't have time to read it all, you can browse through the main take-aways.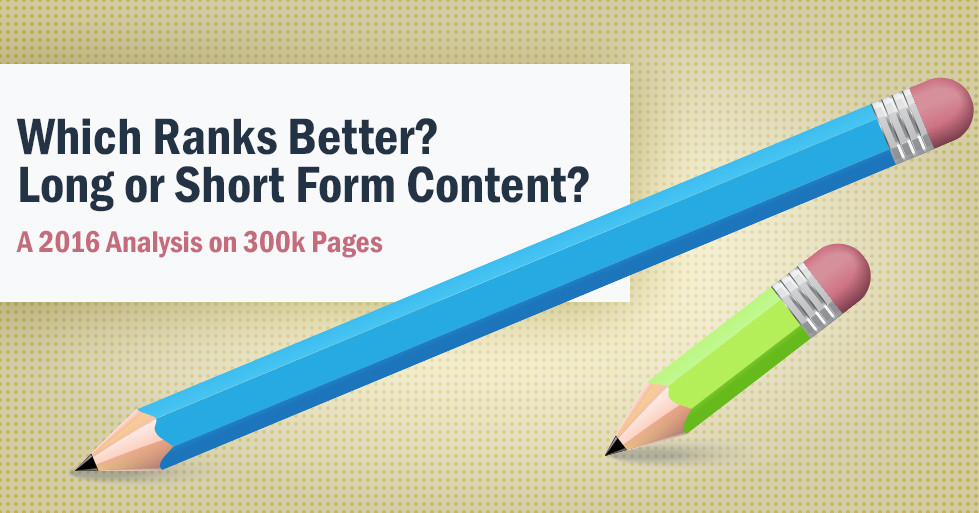 How We Did the Research & Other Relevant Studies
There's an often cited quote attributed to Blaise Pascal (and a variation of it attributed to Mark Twain) in reference to a letter:
I have made this longer than usual because I have not had time to make it shorter.
Pithiness aside, the quote is a very good illustration of how saying more with fewer words is not only more rewarding, but can also take a lot more effort and time.

Therefore, in order to decide the winner, long or short content form, first we should ask ourselves what our goal is and only afterwards decide. Yet, we've made this decision a bit easier for you as we've conducted a very in-depth study on approximately 300k pieces of content, randomly chosen, that rank on Google on positions 1 to 10. We've used the Pearson correlation coefficient to take the best out of the aggregated data.

We wouldn't want to bore you with technical details of the research, yet, please allow us to motivate this current research. Except the fact that we always want to keep our readers up to date with the latest findings in the digital marketing area, documented and written by ourselves, we found this study really necessary. There aren't recent studies (or at least we didn't find any) on this matter and in a digital marketing world where "content" is a term so widely circulated we felt the need of a in-dept study that could reveal what type of content is helpful and why.  There are some interesting studies  on this matter, yet they are from three or four years ago.

The results of this study will definitely help you figure out what type of content strategy would work for you and why. Without further introduction, I'll let you grab a big cup of coffee and a notepad as you might want to note things down.

Long or Short content – Which One Is the Winner in Terms of Rankings?
Long or short? Which type of content is the winner? Well, if you're looking for a brief glimpse, the chart below is a pretty accurate visual representation of the answer. It's not a perfectly linear relationship, although there are some clear linear segments. At least for the first 5 rank positions, one could assume that, on average, shorter articles are better correlated with a higher rank.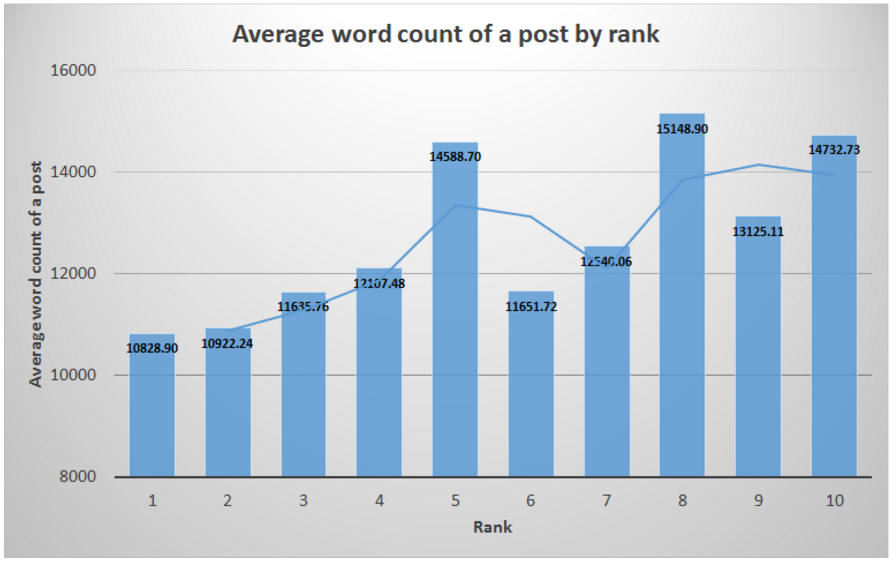 It would be, of course, inaccurate to infer from here that posting shorter articles than your competitors will get you higher up through the rankings. Not just because the data for ranks 6 through seem to invalidate this conclusion, but also because "short" and "long" are not clearly defined. For instance, should you prefer a 20-words article over a 1.000-words article? Intuitive judgment would say that doesn't seem to make sense.
In fact, in order to be able to draw a valid conclusion from the data analysis, we should first break it down into categories. Which is what we did, by looking at clusters of articles, based on ranges for certain lengths: 0 words, 1-50 words, 51-100 words, 101-500 words, 501-1000 words, 1001-5000 words, 5001-10000 words, 10001-100000 words and >100000 words. What does the landscape look like when divided like this?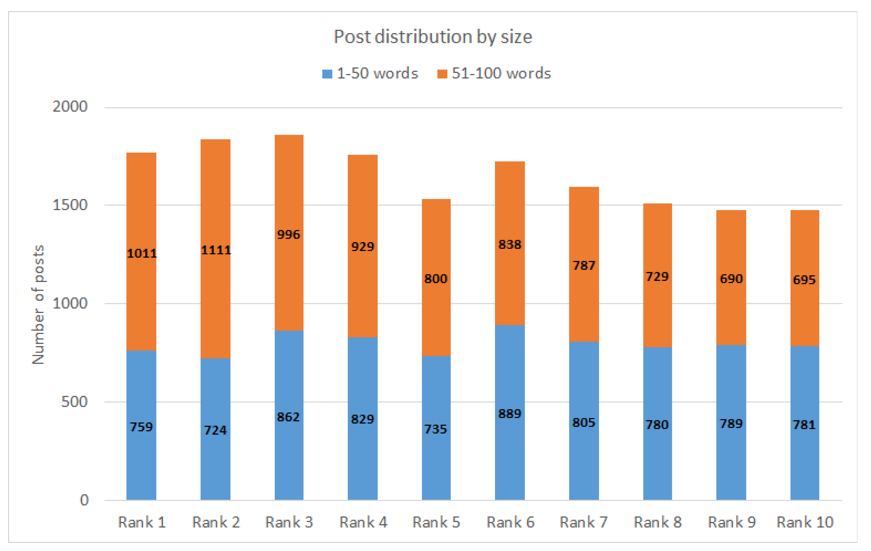 We can look at these two post size intervals (measured by number of words) as a somewhat special case. A hundred words is not a lot of space to detail a topic, so for all intents and purposes, these posts are likely to fall under specific categories (social network updates, for instance, are known for their brevity, whether it is sought after or ingrained in their design).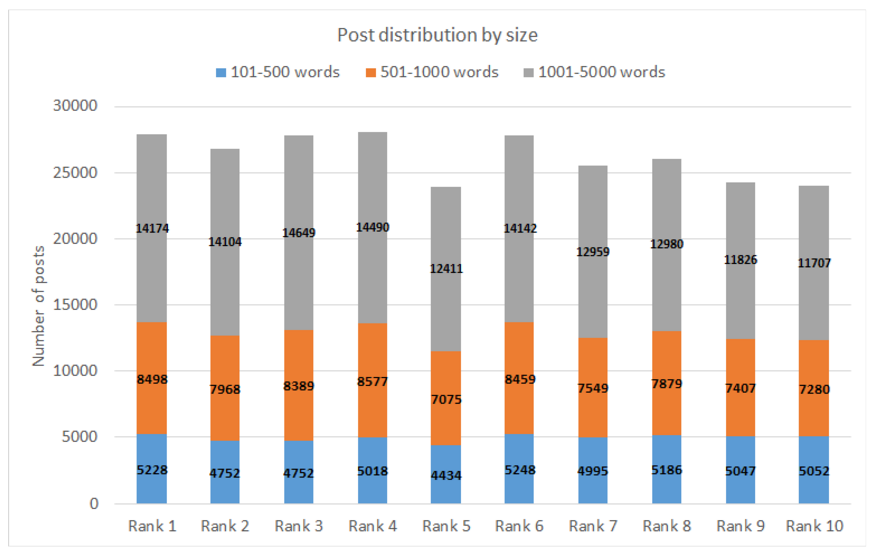 This is, without a doubt, the bulk of the content. Mid-size to long-form posts, they allow for at-length development of a topic. It could be news, opinion or analysis – either way, there's a high chance we're dealing with quality posts.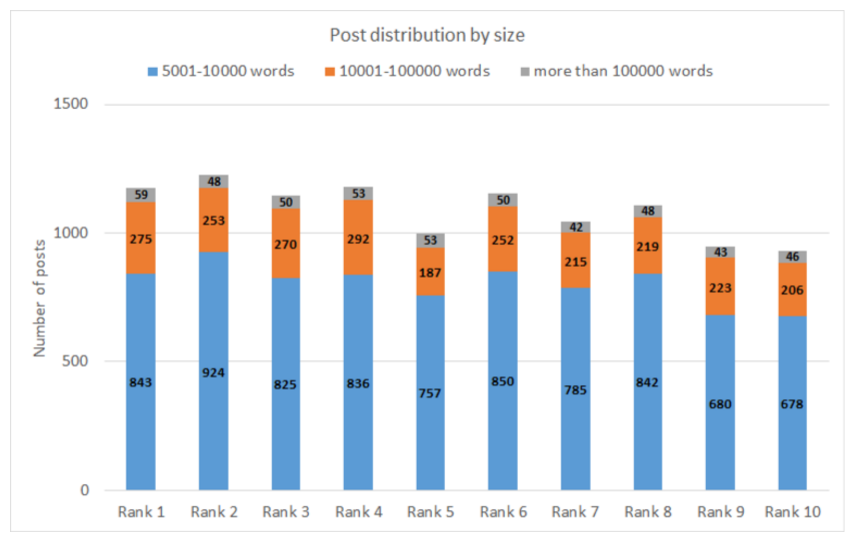 This is, again, a special area. Posts that go beyond 5.000 words are rare and the more they increase in size, the rarer they get. Some of these posts could fit comfortably into a magazine, while others have a size that's comparable to a thesis or dissertation.
As you'd expect, most articles are between 100 and 5.000 words. There is a very small percentage of articles under 100 words (just over 5%) and a very small amount of articles over 5.000 words (a mere 3.5%). So even though we'll look at most of these ranges, we're mainly interested in the ones that represent the largest percentage of the data.
So let's first take care of the edges. Articles with over 10.000 words are articles that are rare enough (both in size and content quality) that would probably warrant a separate discussion (in fact, most BA or MA thesis are between 10.000 and 100.000 words and most doctoral dissertations are limited to around 100.000 words or less, so any blog post that's larger than that has earned a separate analysis).

We'll begin, then, with articles which range from 1 to 50 words. In fact, before you take a closer look at the chart below, bear in mind that this paragraph fits in this range, by summing up exactly 40 words.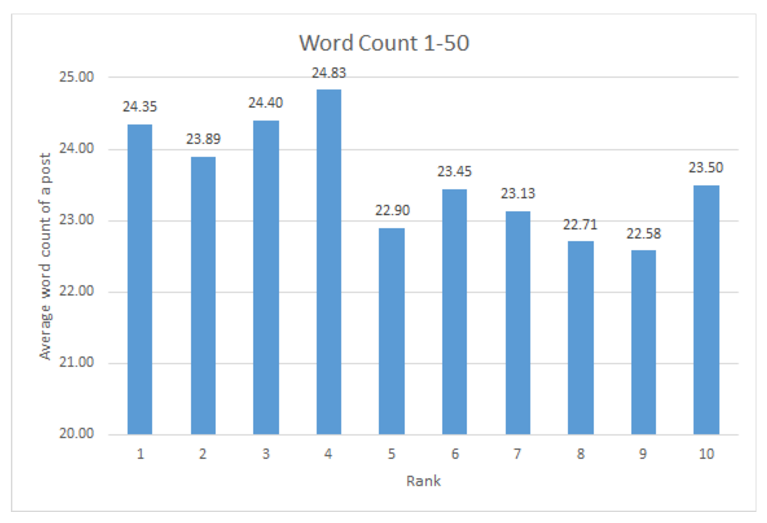 So if this is the size of content that we're talking about, it's no wonder that a conclusion is hard to make. We're basically looking at micro-content here. Facebook posts, Google+ headlines – this is what can ideally fit within this range. A conclusion about what works best is difficult to make, because there's very little variation (a 2.25 range between the lowest and highest value) and all average values are within less than 2 words away from the median value across all ranks.
Basically, this is a very even playing-field and as long as you are around the 23-word mark (give or take), you are on solid ground. Incidentally, that sweet spot is also the middle of the overall interval, but given what the interval is, that's likely to be a coincidence rather than something to read into. The Pearson Correlation Coefficient between the average length and the rank is medium to strong (-0.71), indicating a potential negative correlation. And if we are to ignore some hiccups in the chart, it sounds about right: a slightly higher number of words might be better. But then again, if you have to choose between a 22-word title and a 25-word title… that's probably not where the ranking difference will come from.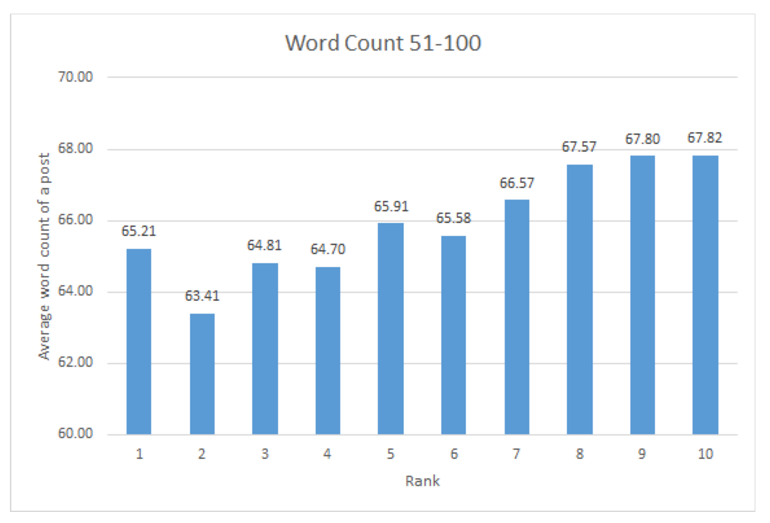 Tweets and title tags are considered among the prime examples of content that can fit comfortably within this range. Compared to the previous interval, you can notice a much smoother trend (if you ignore the first 3 ranks, it's actually a fairly linear trend). It makes sense in context, too. Tweets and title tags, on the other hand, are already short by design, so if you want to compete with others the only way to stand out is to make them no longer than they need to be. There's another good indicator that shorter is better. Median and mode are the same (56), but they're both lower than the average, suggesting that there's actually a lot more instances of fewer words rather than more words. The Pearson Correlation Coefficient between the average length and the rank is really strong for this interval, at 0.9, proof of a linear positive correlation: higher values (for number of words) are associated with higher ranks.
Of course, things are still pretty close. The range for the averages is 4.41 (corresponding roughly to a 7% variation), so there are probably other things at work to take into account. But so far, this is the first significant relationship that we've seen.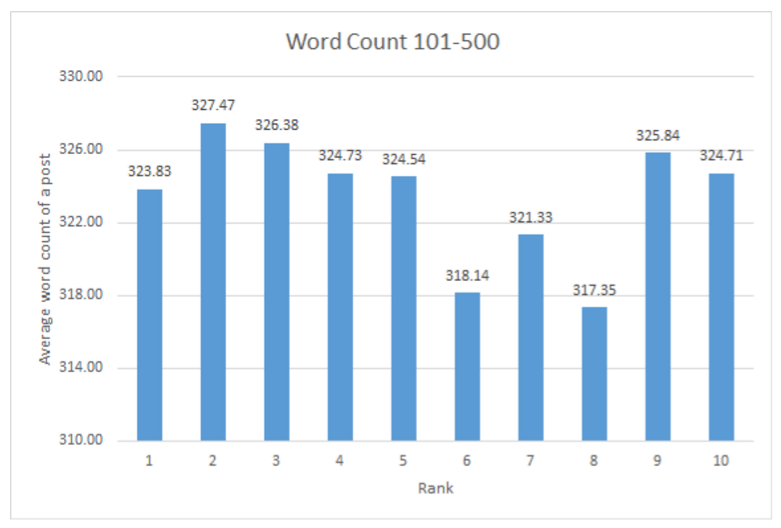 It's difficult to tell what type of content might fit in well within this range (small stories? teasers? news?) It's also difficult to draw conclusions based on the chart. The Pearson Correlation Coefficient would normally imply that there is a small negative correlation (-0.35) between average word length and rank. This can be roughly translated into saying that slightly longer content seems to be ranked higher, but that this does not happen uniformly across the 10 ranks. Not only is the average for the 1st ranked content lower than for the 2nd and the 3rd, but the average for the 6th and 8th is also lower than the one for the 9th and 10th.
This is where it's probably helpful to notice that the range of values only covers 10.12 words (so a mere 3% variation between average lengths) and that the median value is 333, slightly higher than but also fairly close to pretty much all of the averages in the above chart. We've seen this before with the 1-50 word interval and the conclusion is similar: as long as you're within the "golden" interval (which, in this case, seems to be 317-327), there's isn't any really good advice in terms of length.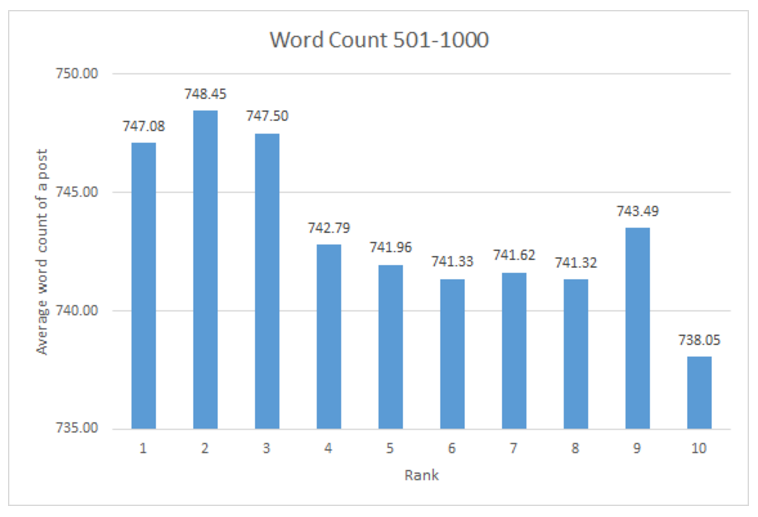 It might no longer be the case nowadays, but conventional wisdom used to be that most newspaper columns had to fit within 500 to 700 words. Which means that we've already entered quality, in-depth posting territory. Of course, not all of the content in this word range is automatically good, but it has the potential to be. It shouldn't be a surprise, then, that overall a higher number of words seems to be correlated with a better rank. This is supported not only by the graph, but also by the The Pearson Correlation Coefficient, which seems to indicate a strong negative correlation (-0.84) between post length and ranking (meaning that the higher the number of words, the more likely a post will be on a lower rank).
Of course, it's not a perfectly smooth linear relationship. There's a visible aberration from the rule for the 1st and 9th rank. The range of average values is not very big, just 10.4 between the largest and smallest average word count among all intervals. That's less than 1.5% compared to the smallest average word count value. Still, even when taking all of this into account, this is the strongest linear relationship we've seen, next to the one for the 51-100 interval.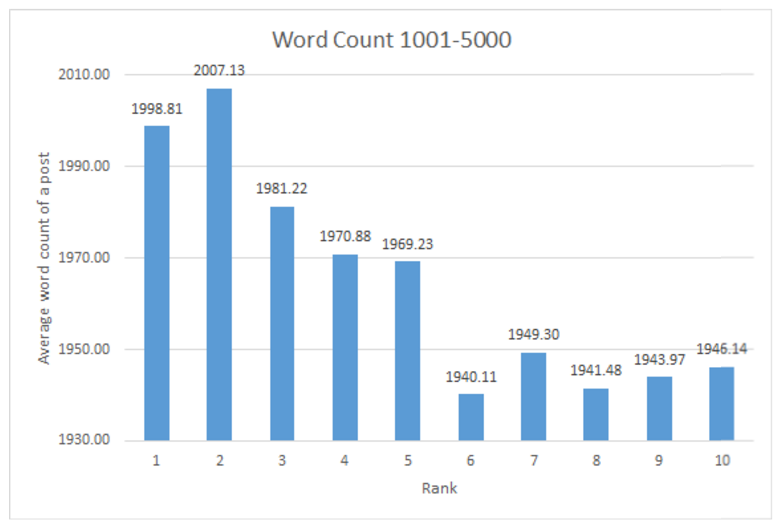 Longform articles are alive and well. Some of the most successful news stories from New York Times in 2013 averaged around 2000 words, with some being much longer than that. Even online, where space is not an issue, the ideal blog post revolves in this interval, at around 1600 words. It's no surprise then, that slightly bigger seems to be slightly better. Even though the chart shows a slightly more bumpy trend line, the Pearson Correlation Coefficient indicates a very strong negative correlation (-0.9), suggesting that, in general, longer posts are more often associated with better ranks. Sure, that trend might be more difficult to support for the second half of the rankings, but the difference between the first and second 5 rankings is so striking that it's difficult not to see a correlation.
Some other things seem to support the correlation hypothesis as well. The range is 67.02 (3.4% of the smallest value), quite bigger than for the previous word count interval. The median is 1672, significantly lower than all of the average word count scores, meaning the first five ranks probably have posts that are quite a bit longer than the last five ranks (in order to compensate for the difference between the median and the average).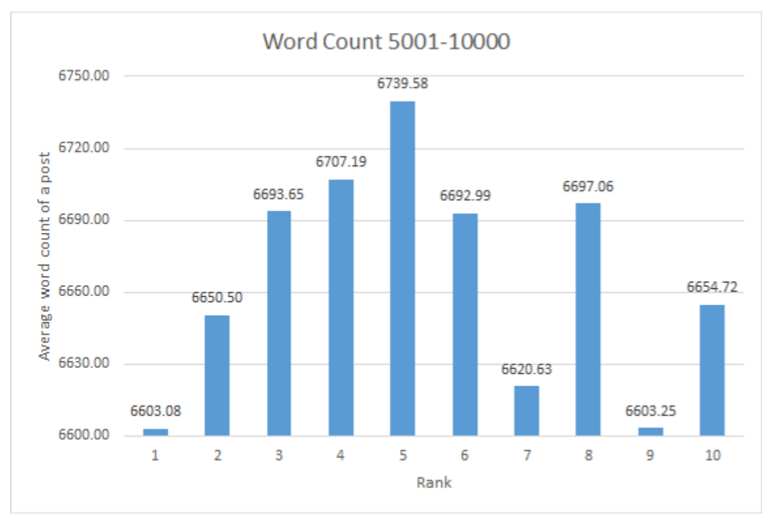 Most scientific papers are usually between 3.000 and 10.000 words in length. This could mean up to 20-something pages of text with no pictures. Even if it's not a rigorous scientific paper, it's easy to understand why the success of such a post has less to do with its length (as can be implied from the chart) than with its quality. Of course, shorter might still be better if we were to look at just the first 5 ranks, but not because of the length itself (the effort is already considerable for the reader even at 5.000 words), but because the struggle for conciseness tends to make everyone's output a little better.
All of this aside, however, it's important to bear in mind that the range of word lengths is still very small when compared to the average length. The difference between the highest value (6738.58 for the 5th rank) and the lowest one (6603.08 for the 1st rank) is just 135.5, only 2% of the smallest average length. Taking everything into account, the lesson here would probably be that if your content is really long, there's probably more to gain by making it the shorter of long articles.

How the Google Search Console Help You Choose Between Long or Short Content
Depending on the context, and on the needs, long or short might be suitable in different circumstances. Yet, whatever your needs might be, one thing is sure: more content means more keywords to rank for. And allow me to explain you why.
It's not just that stories that take their time to build up content are better, they're also pragmatically more likely to make you relevant. Using Google Console you can find out what type of content makes you rank for what keywords. And obviously, the longer the content, the more keywords to rank for. Simply add the URL of the post you're interested in and you can see statistics about who has accessed it and why (what they were looking for). It might give you a lot of insight into what people are looking for and how they think.
Let's take for instance one of our articles: 53 untapped ways to boost your email open rates. Once we've inspected this article using Google Search Console we've discovered some really useful data. First of all, being a long piece of content (over 10.000 words) is ranking for so many keywords. Secondly, we can find so many ranking possibilities for this article. Along with the positions info you can find data regarding the number of impressions.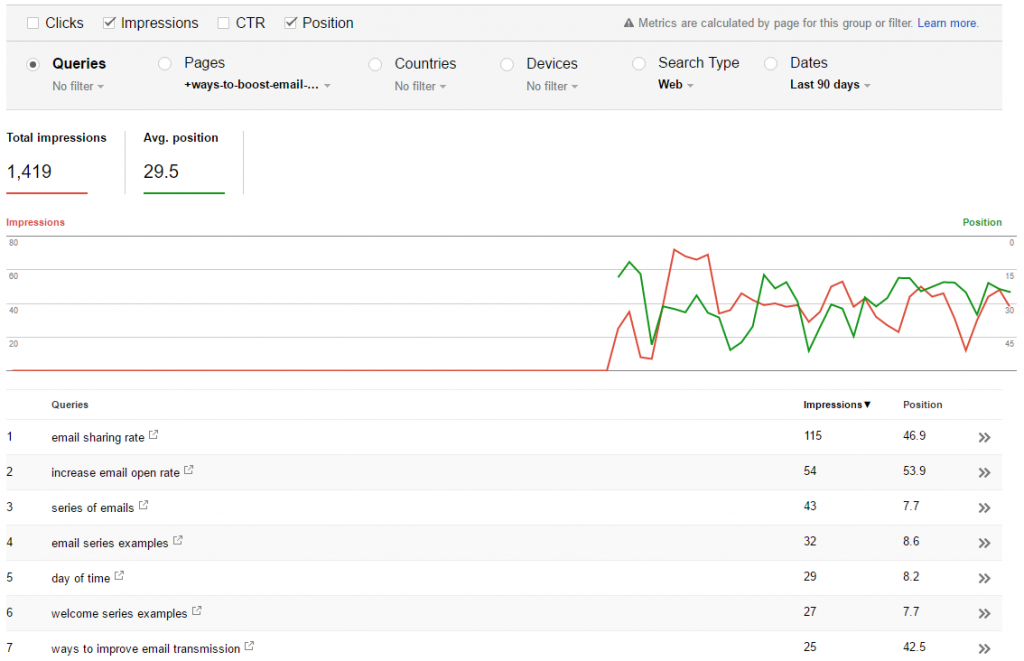 More keywords to rank for, more help in figuring out what type of content is working and which one is not. We did the same type of analysis with another article from our blog, 39 rarely used SEO techniques that will double your traffic. This article was a successful one, generating a lot of shares and comments. Along with this metrics, we were able to see the most "valuable" keywords for our article.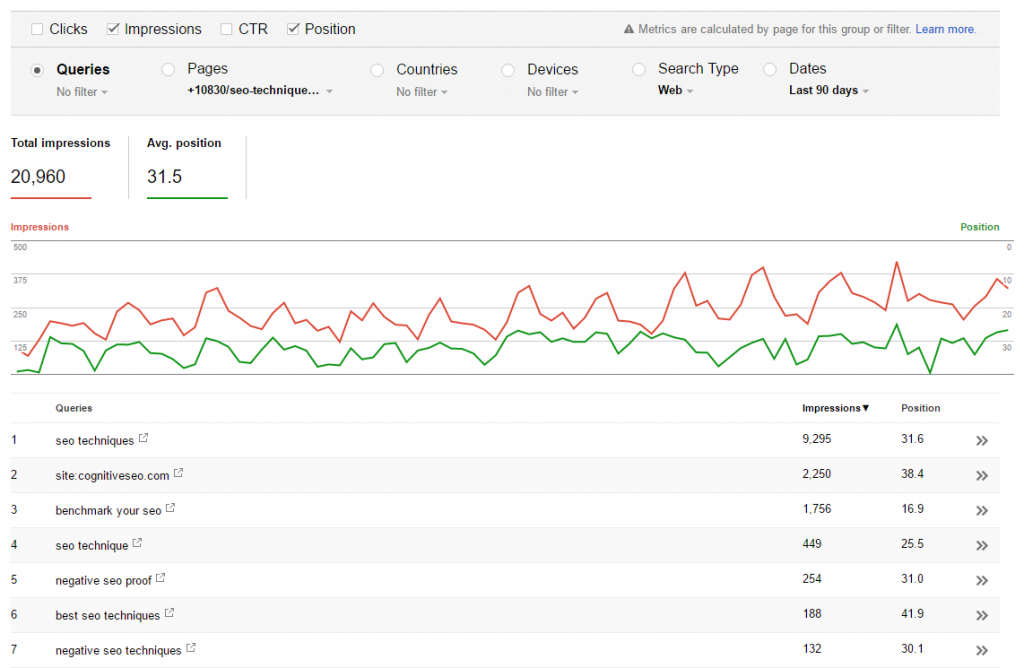 Using Google Search Console to determine which type of content, long or short, is working for you might be a great and still unexploited idea. The benefits are great and the effort invested is minimum.

Long Content or Short Content – Which One Has More Impact?
We've already warned you that the answer is not that easy. But what if we were forced to decide? Here's what the conclusion might look like:
Micro-content (1-50 words): you are limited by design, so you might as well take advantage of the wider spectrum, though it might be more important to fit within a certain range, rather than to be on a certain end of the spectrum;
Micro-content (51-100 words): you are in a slightly different scenario; you are still limited by design, but you've crossed into territory where you can afford to be sparse (your limitations are more accommodating, so now you get to fight for attention – and attention span);
Short-form content (101-500 words): length is probably less relevant than content; admittedly, a 150-word post is quite a bit different from a 450-word post, but they both have in common that they're either too long or too short for what you want to communicate;
Medium-form content (501-1000 words): the avenue of traditional newspaper columnists, there's still power in this format; you actually have a pretty good chance of being able to provide your readers with useful, well-argued analysis on a subject, or at the very least with a well-informed opinion, so you might as well push it a little and get in more words, rather than fewer, if that allows you to be more persuasive;
Long-form content (1001-5.000 words): you're in the big leagues now and if you can craft a post that holds your readers' attention for long enough, don't be quick to finish; your readers already know they're in for the long run, so take your time (and words) to provide more in-depth analysis, more examples or just more clarity;
Scientific form (5.001-10.000 words): not all posts this long are necessarily scientific, but that's probably the best analogy in terms of length; shorter is probably better, but shortness does not guarantee better results;
Exceptions with more than 10.000 words: you're not in Kansas anymore, Toto; we did not go into analysis with this word count because it's quite difficult to ascertain what kind of content might go here; even so, once you reach this size, any differences in length are probably not going to have significant impact on how you rank (though if we were to venture a guess based on Pearson's correlation coefficient, shorter is better).
Conclusion
The fact that the most widespread form in our analysis were actually long-form articles is no coincidence, since in-depth analysis seems to perform well consistently regardless of the source . Long-form allows you to run analyses (like the ones we're usually posting), discuss case studies in detail and generally come up with original content. Shorter content (such as lists, news and examples) are fine, too and still necessary, they'll even get you shares, but a lot of times short-form content is just re-hashing of original long-form content . Some of the most shared stories in 2015 are not what you'd expect at all: endangered species, screen addiction, walking in nature, Kenya's elephants, etc.  Sure, a lot of what you see as "viral" are lists and clickbait and kittens, but there's still a lot of interest for quality content, too. You can't get ahead by doing what everyone else is doing (or sharing). You need to create your own share-able content and that takes time and length.
Who did this research
Razvan Gavrilas

Researched & Audited the Analysis

Cornelia Cozmiuc

Researched & Wrote the Paper

Ionut Astratiei

Performed the Crawlings
and Data Validations
The post Long vs. Short Content: Which Ranks Better in 2016? An In-Depth Study on 300k Pages appeared first on SEO Blog | cognitiveSEO Blog on SEO Tactics & Strategies.
Over the last few weeks, my wife's been pretty ill and has needed some major downtime to recover.
Thankfully she's on the mend now physically, and her health is coming back to what it was before.
During this time, we've made some changes in our life that – since we're parents – include changes in the lives of our kids as well.
Some have been easy, others less so.
Some had already been coming, though, so they were easier changes to make.
During the downtime we had for my wife's recuperation, I spent a lot of time with our son and daughter (six and four respectively) and it made me realize that despite trying hard not to, I was starting to try and shape their growth.
Now, sure, this is normal for the most part.
After all, as a parent, you want what's best for your kid and to try and raise good people in the process.
But then there are the times when, instead of wanting what's best for them, perhaps you're actually having them do something because it's what's "best for you".
And that can be dangerous and unrewarding.
Kids Joy versus Parent's Joy
When I was younger, I studied karate. It was a mix of traditional karate and street fighting, to try and ensure you were ready for all outcomes.
And I loved it.
Not only did it help me get fit, it built on the confidence I'd learned as a child as part of the army cadets.
It also helped me understand that we're all the same, and none of us are better than the other.
So, when Ewan was five, we enrolled him in the local Tae Kwon Do class. And, for the first few months, he loved it.
He trained well, he listened, he practiced, and he was rewarded by achieving his orange belt.
If you do what you love, it is the best way to relax. ~ Christian Louboutin
Then he started to lose interest, especially after his favourite instructor went back to Korea.
He didn't listen as much. He played around more. He forgot his drills (or simply didn't take on board the moves involved).
And, as such, he started to get left behind by others that had joined at the same time.
This upset him. Not upset as in sad – more like frustrated. And this made him want to do less because he didn't see himself progressing.
At first, I was annoyed. OK, not so much annoyed, more like frustrated.
I'd seen how well he'd done previously, and how that had dwindled away.
It was an expensive "hobby", and that seemed to be going to waste, for want of a better word (we don't see anything our kids want to try as a waste, but it's a financial hit all the same).
And maybe, deep down, I was a little sad that he didn't want to continue something that had given me so much.
At first, I didn't recognize this last reason, but during my wife's illness, it gave me more time to spend with our kids and see what truly matters to them.
And it was the kick in the pants I needed.
We Learn What We Love
Ewan loves soccer which, given I'm from the UK where soccer is king, gives me a huge smile.
He likes other, more North American-type sports too, but he really loves soccer.
And he's good at it.
Before he finished for the school summer break, he'd play soccer with friends at school that were bigger and better, but he wouldn't give up, and more often than not he'd win the ball from them.
He's always playing with a ball around the house and loves to get outside and kick a ball around.
Sometimes he'll practice himself, other times he'll ask his little sister to play, or mummy and daddy.
When he saved enough money from chores he'd done around the house, he went straight to the shop and got an awesome pair of soccer shoes.
Simply put, he's doing the thing he really loves and it shows.
And I should have seen it sooner.
It's never too late to listen to your kids – but you need to want to listen. Click To Tweet
The good thing is, it's never too late to do so, as long as you take your blinkers off and really look.
I loved the fact that Ewan was initially enjoying Tae Kwon Do, as martial arts is something I love. And that made me biased, and could have resulted in me continuing to make my son do something he wasn't really enjoying any more.
Now, I know better.
Enjoy the Time for What It Is
Our kids are both young. They have many years of likes and dislikes, fun stuff and not-so-fun stuff ahead of them.
But it's their choice as to how they find out.
Sure, my wife and I can sign them up for programs and summer activities, etc., and see what sticks. But at the end of the day, the decision will naturally come from the kids.
Because they feel what's fun and enjoyable. They feel what helps them progress. And, most importantly of all, they feel what truly makes them happy.
Which, at the end of the day, is all you ever want as a parent.
So. Lesson learned.
Enjoy the time for what it is. Enjoy the choices your kids make. And enjoy the fun that ensues because of that.
Because at the end of the day, it's called "growing as a family" for a reason.
Here's to what lies ahead.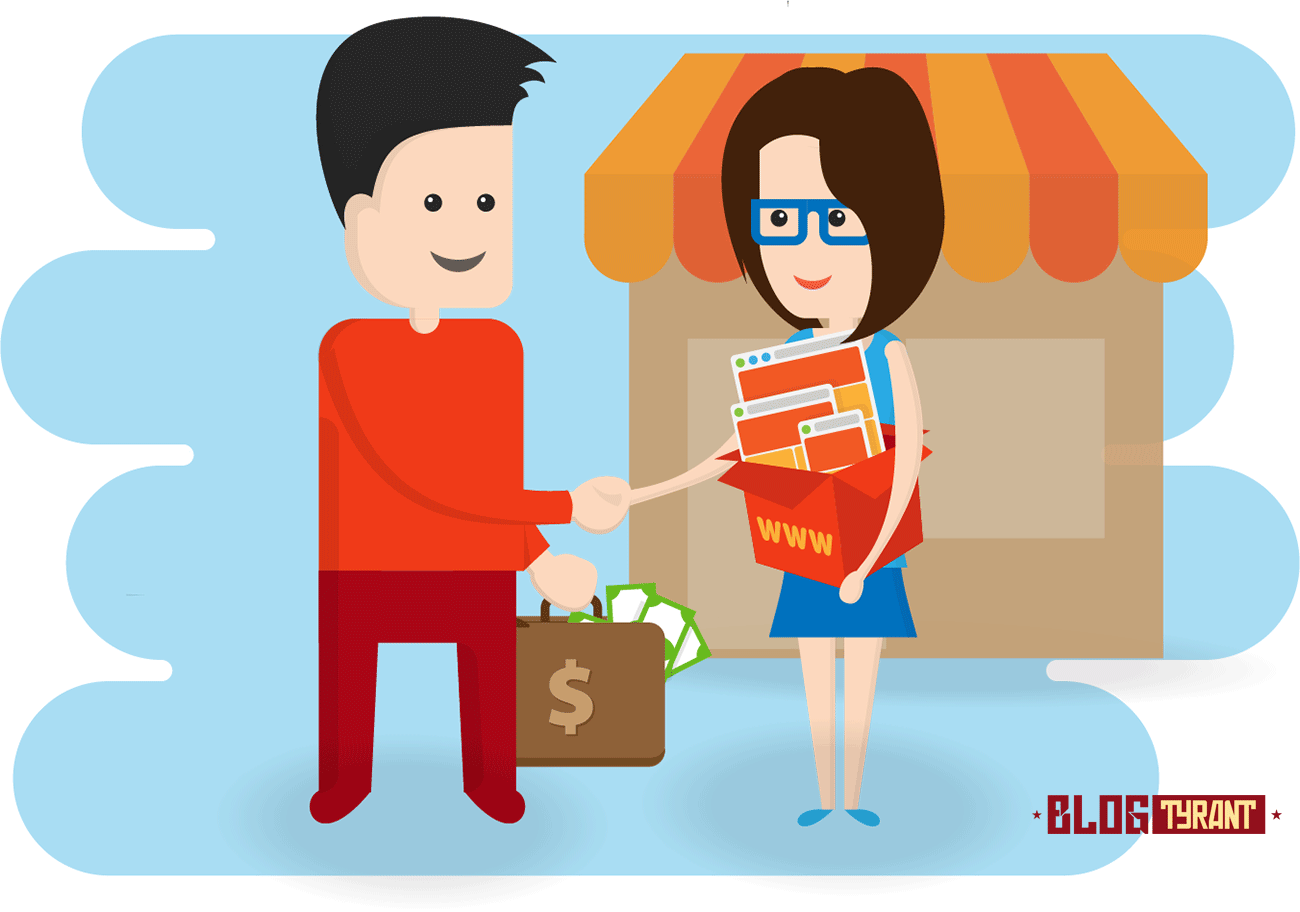 Before you think about starting a new blog you might want to consider buying one that is already profitable. Buying websites is now serious business and, if you know what you're doing, it can be a really smart financial decision.
One of my first flukes in the online world was selling a fitness blog that I had only been working on for a few months. It was a great learning experience and taught me a lot about doing business online.
In today's post I'm going to go over some really important things that you need to know before you think about buying an existing website. Knowing these things could save you thousands of dollars and countless hours (and maybe help you avoid a scam or two…).
Let's take a deeper look.
A quick warning about buying a website
Buying a website can cost serious money and comes with a lot of potential risks for the inexperienced buyer. Here's a recent Tweet of mine proving that it's big business – this is for the domain name alone!
Got $50,000? Pretty good domain name! https://t.co/klLduwlxmu is for sale on @flippa https://t.co/yVATPtbIfw

— Ramsay (@BlogTyrant) July 27, 2016

Note: That domain name sold for $40k… and not to me.
This post isn't meant to be advice but rather a starting point for your further research. Always consult your accountant and relevant business professionals before making these types of financial decisions and ensure you know what you're in for.
Most of all, don't rush the process. Take your time doing the due diligence and get information from a variety of trusted sources. You might want to "start at the top" – but you still have to ensure it's a good decision.
Where do I buy a website?
Once you've done your due diligence (that section is below) you essentially have two options on where to buy a website:
Use a website like Flippa
Websites like Flippa are specifically designed to auction or sell domain names and existing websites. These are a good option because the community often weighs in on any "issues" and certain statistics are required when you create a listing.
Purchase one privately
This is when you essentially approach a website that you think has potential and ask whether they are willing to sell. You'd then go through a discovery process where you find out all the details and numbers and make an offer.
Of course there are other methods but these are the two main ways that I have seen the most often. I'll go into details about threats and opportunities below.
Should I really buy an established website?
When you're thinking about buying an established website you want to make sure you have some plans. You'll want to tick off at least one or two of these:
Does the website generate revenue?
The first reason people buy websites is because they want to make money or add to an existing stream. If a website is already generating proven revenue that is a good sign, and you can often find something that is earning well but could be doing better. Something I see pretty regularly on Flippa, for example, is people who have built up a successful blog but no longer have the drive or time to maintain it. They might have an offline job taking up their time, or they might have just lost the passion for it. These can be good opportunities, in my experience. We'll get into what you need to look for specifically down below.
Is the website in a niche that you know about?
There is no point in buying a blog in a niche that you don't understand. It can cause a lot of stress and you genuinely won't enjoy the process. Of course, there are some exceptions. For example, you might have enough experience with online business that you could purchase the website and then hire someone to manage it. Or you could manage it yourself an just hire writers to produce the content. When it comes to the niche, however, it's best if you know how it works and how it makes money. Running a website is so much more than just producing content.
Is the website a competitor?
If you already have a website it might be the case that you want to purchase something that is competing with you. This is a pretty common business practice. We see it all the time with larger companies (like Facebook buying instragram and 58 other things) but it can also work on a smaller level. You would need to make sure that the competitor was large enough to pose a significant threat, and that your own revenue levels were good enough to justify such a decision.
Could the website become a sister site to your existing website?
Sometimes purchasing a website can be a good idea if it adds to your existing plan. For example, if you've got a blog about gardening then purchasing a website that reviews gardening gloves or tools could be a really nice addition. Again, this comes back to having a solid blogging strategy and is not something you really take on lightly. Cross promoting websites and blogs can be good if the branding is tight, otherwise it can cause some confusion.
Is there some SEO value in buying the website?
Another main reason people buy websites is because it can be a way to acquire new links. This is a somewhat dubious area of SEO practice and is not always legitimate. The idea is that you look for a website with excellent SEO value so that you can either step in to some good organic rankings that they've earned, or else use the new site to link back to your current site. Looking at the rankings is important – even if they're not making money you might find that they rank for some quality keywords that you might be able to turn into a profit with your specific knowledge.
Do they have an exciting mailing list?
Another reason people purchase websites is to acquire the website's mailing list. As we've looked at before, your mailing list is where you end up making the most money. It is also a good protection from Google's algorithm changes. However, it's not that easy to grow one and can take a long time. If you have reason to believe that a particular site has a large and active mailing list then it can be useful to purchase that as part of the site, even if the site itself isn't particularly exciting.
These are the main things people will look for when trying to buy an established website. As mentioned, it's vital to know why you want to do this before you get into the investigation process. You'll want to have a very deliberate strategy.
Some vital things to know before you buy a website
Okay, now we can get into the juicy stuff!
Before you buy a website you need to do a lot of research.
And I mean a lot.
This is especially true if you are investing a significant amount of money into the purchase. But, even if it's only a $1000 website, there's no point rushing into it and wasting that $1000 that could have otherwise been used on other marketing or content creation.
This is not an exhaustive list by any means, but here are some of the main things you need to consider before you buy.
1. Make sure you know who owns it
There have been stories in the past of people gaining control of a website through dark wizard means and then selling while they have control. The result is that the new owner doesn't really own the new site and the money they paid is likely lost.
Use whois tools like Domain History to look at the ownership history and whether there have been any strange changes in the past. Most of these tools offer an archive of changes and alterations so sometimes something funny will stick out.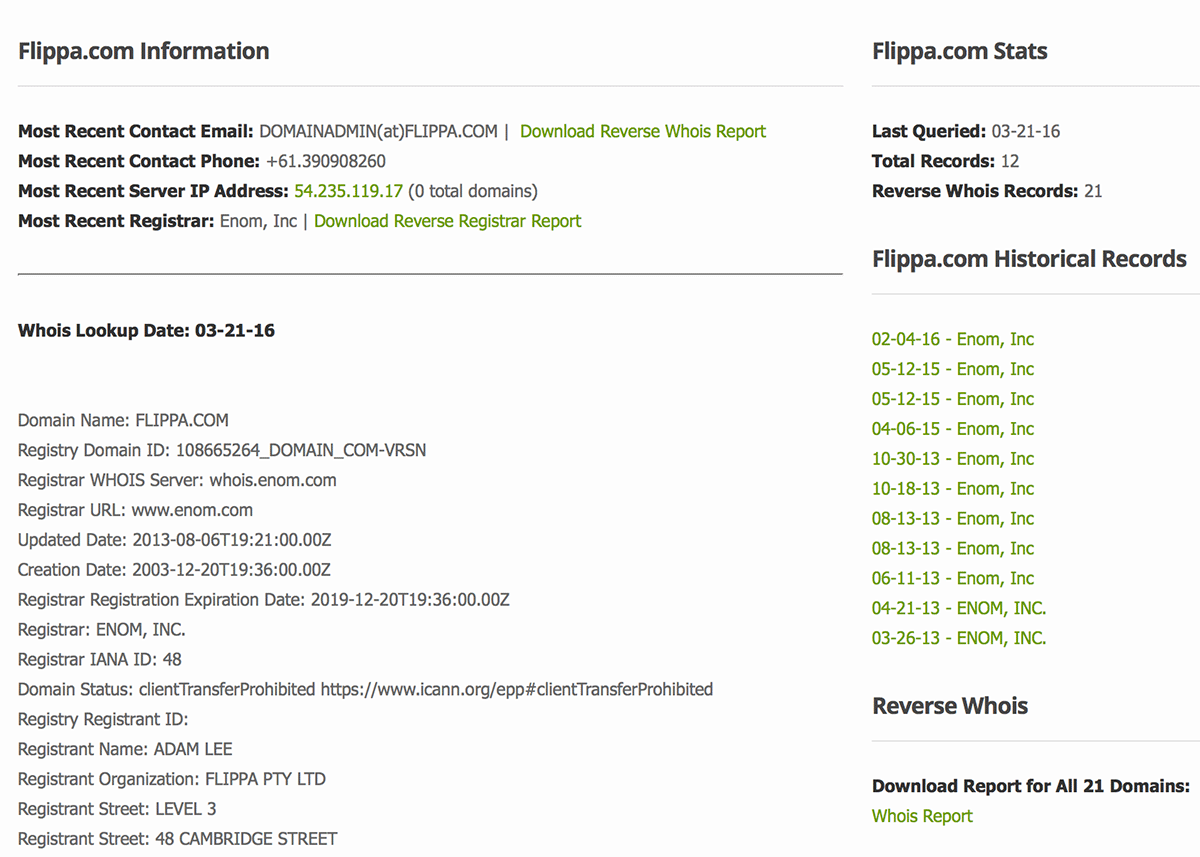 Here's a quick search I did of Flippa's domain and you can see all the details are available as well as an archive of major changes on the right. Very handy when looking to become the new owner of a domain.
2. Use the Wayback Machine to see it's history
One thing you don't really want is to purchase a family-friendly site only to discover that two months ago it was actually and adult site or some awful spam thing. Tools like the Wayback Machine can let you see snapshots from a website's past. Have a snoop around and make sure it has always been the one thing and never used as a link farm or similar.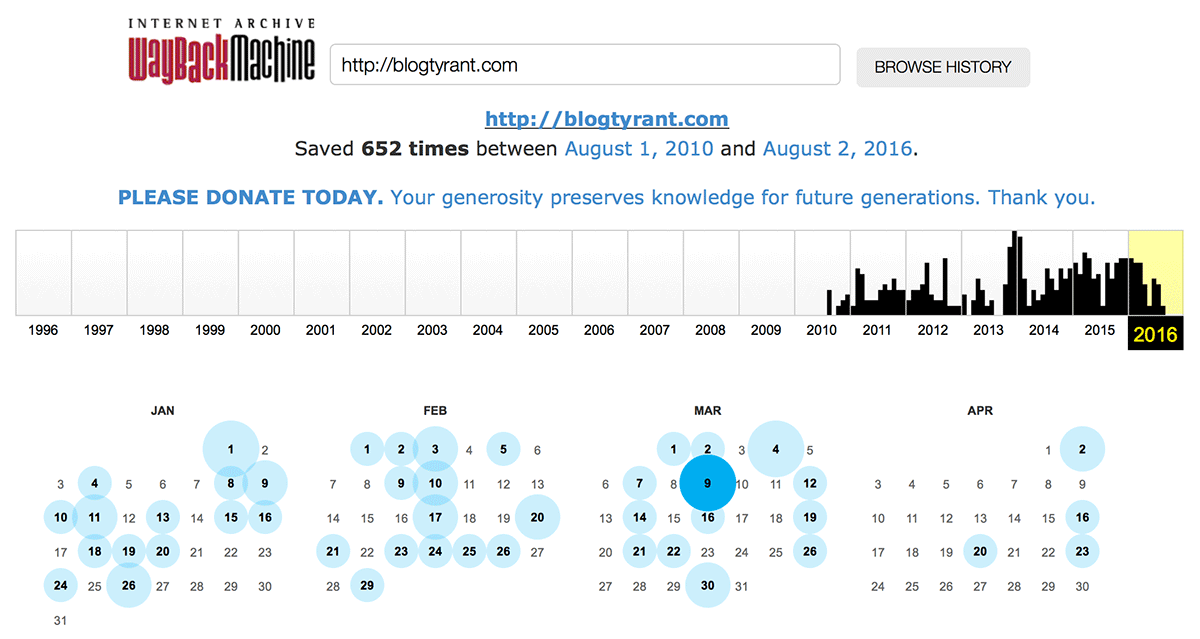 Embarrassingly, there's six years worth of archives for Blog Tyrant going back to the first ever ugly-ass design that we launched! Another good reason to be careful what you put on your website.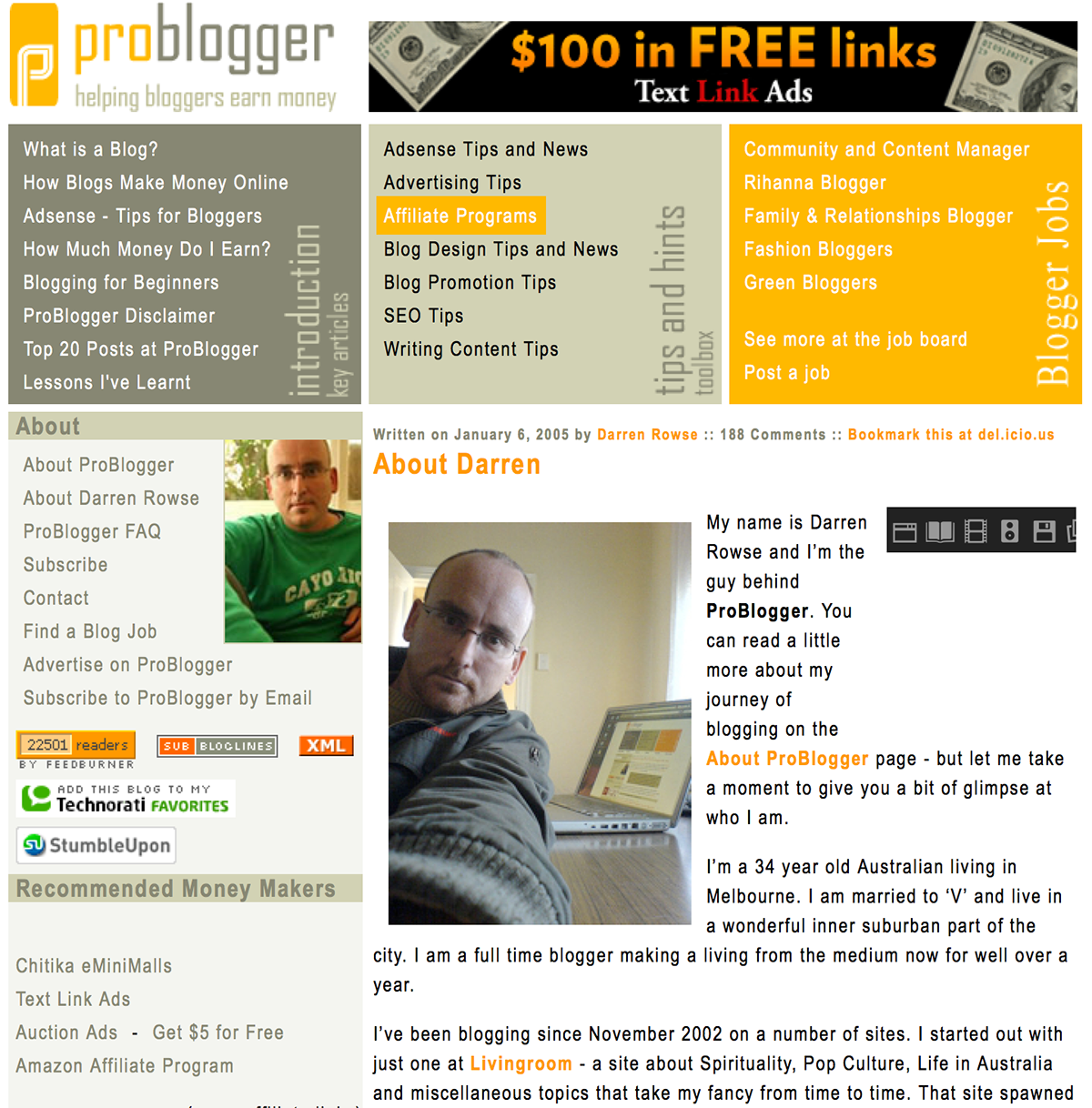 Oh, and shout out to the decade-old ProBlogger site. I love you Darren! Couldn't help myself on this one. This is the site that got me started.
3. Look at some SEO/traffic signals
Before you get too attached to a potential purchase you want to make sure the SEO side of things is looking good. Do a good manual search of Google yourself and then go deeper.
For example, you can use a site like SEMRush to look at the back links and other SEO details that may be missing. These aren't always spot on accurate, however, so enter your site first and have a comparison.
Again, it's not supposed to be a foolproof method but rather a way to just gain some more information on your potential acquisition.
Here you want to look for some obvious red flags. For example, if the site is ranking on the front page of Google for a good keyword but only has two back links then something fishy is going on. They might be faked, somehow, or you at least run the risk of losing your rankings should those links vanish.
4. Carefully examine the stats provided
When someone posts a listing on Flippa or you begin negotiating in private you will always have a lot of stats to look at.
Now, normally they will provide screenshots of all the vital things like traffic numbers, bounce rate, page views, content, etc. but I encourage you to ask for logins to their stats accounts to be sure. This is pretty easy – they just have to add your email to Google Analytics and allow you to view-only. It's no threat to them.
What you want to do now is start comparing the main numbers to previous periods and see if there are any noticeable trends. For example, you might find a massive traffic spike from six months ago and then a huge drop off. This is a red flag for me because it could mean there was some big advertising spend or lucky back link and that may be responsible for a large chunk of their recent revenue.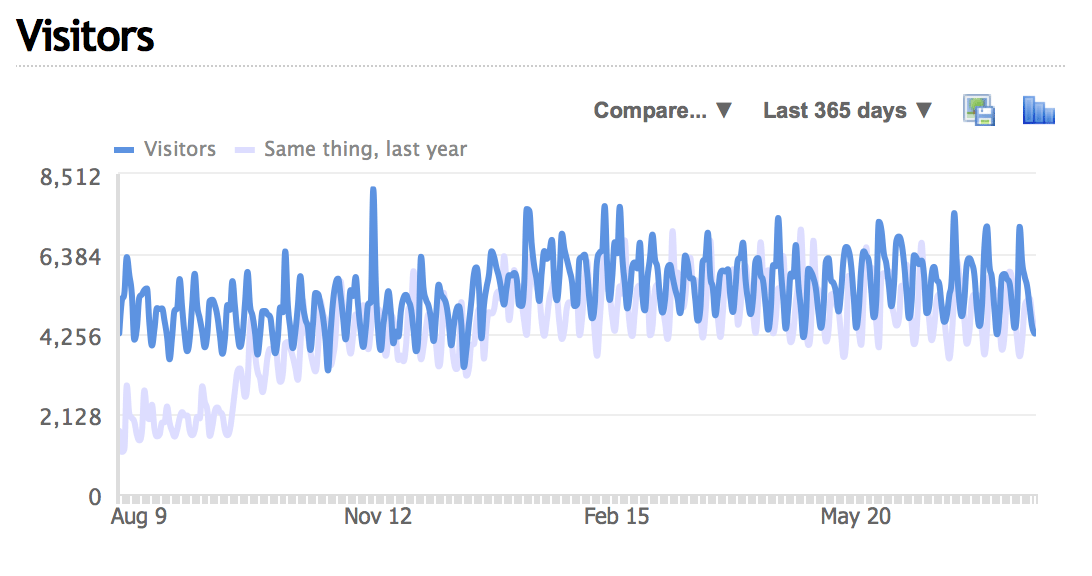 Here's one screen shot I took from one of my accounts. What information would you take away from this?
You also want to see if there are any individual posts/pages that are causing the majority of traffic. Again, this represents a risk because the traffic might suddenly drop off or not be all that relevant to your monetiztion strategy.
5. Details of revenue and expenses
One of the most important things you need to look at is the revenue and expenses reports.
Sometimes these will be quite detailed and complex, other times they will be quite simple. Again, there is no harm in asking your accountant or business advisor to take a look at the numbers to make sure you haven't missed anything.
The main things you want to figure out are:
Where does it earn its revenue?
Where does the money come from and are you happy with the levels?
How consistent and stable is it?
Does the money come in consistently and is it likely to keep continuing over the next months and years?
Is it diversified?
Make sure to take a look at whether or not the revenue is diverse. For example, if it's only from one source is that a risk to continuity?
Is it real?
The hardest part to determine is whether or not the revenue details are real. It's pretty easy to fake images and reports in Photoshop so see if you can get a variety of sources/reports and even ask if you can confirm the details with your own login again.
Is the profit stable?
Revenue is fine but if you're making $20,000 a month but your advertising budget is $19,000 then that's a big risk and represents a lot of work and advertising expertise. Make sure you know where it's all coming from. The flip side of that is that if you think you can do these things better you could improve profits.
Although earnings are not everything when it comes to a website, they are important. It's a big risk to buy a site that is making zero dollars and turn it into something profitable. For beginners it's always good to look at something relatively established.
The actual buying process
Once you've done your research, sought advice, talked to the owner, etc. you might finally decide that you want to purchase a website. At that point, you'll need to cover a few based:
Make sure you have as many details as possible
Ensure that the seller is willing to give you details like name, phone number (call them!), address, business numbers, tax numbers, etc. and then run those details against any government databases that may be available in your country. You want to be 100% sure that this person owns the website contents and domain name and have the authority to sell it.
Know exactly what you're buying
Make sure you know exactly what you're buying. Is it the domain name alone or is it the entire website inclusive of the contents, servers, databases, images, mailing list, etc. Be very specific.
Consider getting a contract made
Contracts are messy, expensive and sometimes not even that useful (international stuff is hard). That being said, a contract can be useful for outlining a sale process, as well as resolving any issues quickly should some problem arise in the future. Please don't use stuff taken off the web – talk to an IP lawyer in your city.
Add a non-compete clause
If you're buying a website from someone it's good to remember that they have a lot of expertise and connections in the industry. The last thing you want is to spend big on a website and then they go off and make a new one and take your market.
Ask for a period of support
If the original website owner is willing to stay on board for a few months to help you get the hang of the website or even keep producing content until you know how to run it then you're onto a winner. That can be a hugely valuable teaching moment for you and your business.
Use Escrow.com or similar
Using a site like Escrow allows you to have protections in place for the buyer and seller. For example, they won't release the domain name under the funds have cleared, and visa versa. They act as an intermediary for both parties, and don't allow the transaction to be finalized until both parties are happy.
Purchase in stages
It is often wise to do the buy in stages. For example, they might send you the databases and give you access to the hosting before you send the money. Once the money is cleared in their account (or Escrow) then they give you access to the domain name or sign it over. The domain name is really the final clearance for a purchase – until you have ownership and control over that you haven't bought anything.
Know how to get your money back
The last thing I wanted to mention is that sites like Escrow and Paypal often allow you to get your money back should something go wrong or if you are defrauded by someone. Before you start any purchase online (be it a website, car, business, etc.) you should research and find out how that works for each service and in each country.
By now I've probably scared most people out of the whole idea! While that wasn't my intention, I do just want to make sure you are aware of some of the risks that your research and transaction can be as smooth as possible.
Remember, buying an existing website might give you a boost closer to the top, but you still have to run it and make it work. In actual fact, the purchasing process is just the beginning…
Should we buy a website together here on Blog Tyrant?
So, I had the bright idea that we could buy a website here on Blog Tyrant as a learning exercise. We could do it together, as a community!
For example, I could pick a budget and set some criteria and then we could choose a site from Flippa over the next few weeks. I'd purchase it and then document the process and any improvements that are made. It could be a very fun way to learn about building a website.
Leave a comment below if you'd be interested in seeing this happen.
This letter of thanks is part of the UNFUCD "Thank a teacher" mission, which encourages us to write a letter of thanks to someone who has helped shape the person we are today.
Dear Mr. Houston,
You may or may not remember me – after all, you must have seen thousands (if not tens of thousands) of boys and girls pass through your history class at Hawick High School during your time there.
I wonder what you're doing now – I can't see you on the school's website, and you must be retired by now.
But whatever you're doing, and whether you'd remember me or not, I wanted to take the time to thank you for some very important moments that helped shape my love for both stories and history.
More Than Just a History Teacher
Ever since the first day I walked into your class when I was 12, I knew there was something different about you.
For a start, you looked like no teacher I'd ever had.
Compared to the suited, grey-haired and stuffy teachers I'd been used to, you were a lanky, scruffy, and heavily-bearded individual with a penchant for the ugliest wooly sweaters.
Add to that the fact you spoke like your students, as opposed to the "educated Scottish" that so many of your peers used, and it immediately made you a different proposition.
But it was when you taught that the magic happened.
I'd always been interested in history, but you made it come alive. So much so that it was my second highest mark at exam time, after English (which, ironically enough, you inspired me to be better at).
Your description of battle scenes during the wars you spoke of; the knowledge of the time you spoke of; your passion for the topic at hand. All of this and more entranced me, and many like me.
When you spoke, history was a living thing as opposed to something we had to learn about, because it was part of the curriculum.
You embedded characters that may or may not have been real, just to ensure we all related to the lesson at hand.
You even made up ghost stories to make a particularly long lesson more fun. And for that, I thank you.
Instilling the Love of Stories and Words
But it wasn't just your amazing history lessons that are the reason for this letter, although that would have been reason enough.
No, it's your unselfishness to your muses that saw you encourage me to better apply myself to English that I also want to thank you.
You saw how rapt I was as you recounted your mix of fact and fiction. You saw how I'd daydream at times, adding my own take to your descriptions.
And instead of punishing me for not paying attention, you encouraged me to expand on these daydreams and write down stories around them.
You encouraged me to share them with the class, and when the class enjoyed them as much as I did, you said something to me that I'll never forget.
Words and stories are important, Danny. But it's the belief in these words and stories that make them real. Always believe.
That advice led me to become a straight A student in English, where I was among the top three percent in Scotland for that year's English exam.
It led me to write for the school magazine, where a mini-series of mine was voted best of the year.
More than anything, though, it led to my love of writing that sees me penning this letter on a blog that's been around for almost 10 years now. And if popular opinion is anything to go by,
And if popular opinion is anything to go by, you really need to love blogging to keep at it when it's such an unfashionable pastime. Or so they say…
So, Mr. Houston.
I know I'll never be able to thank you enough for all you've done for me – you probably aren't even aware. But whether you ever see this letter or not, know that I'll never forget my time in your class.
Teachers get a hard time. Students can be mean to them, parents can be too over-expectant of them, and government policies don't always see the value they bring, just the money they cost.
If nothing else, this is one person who sees teachers for all the wonderful things they are, and for one teacher in particular, for how a bearded scruff made the difference of a lifetime.
Thank you, Mr. Houston, for everything.
Note: As mentioned at the start of this post, this is part of the UNFUCD mission to write a letter of thanks to someone who helped shape the person you are today. 
The mission is an ongoing part of the UNFUCD goal to "create happiness one day at a time". You can learn more about UNFUCD and its goals here.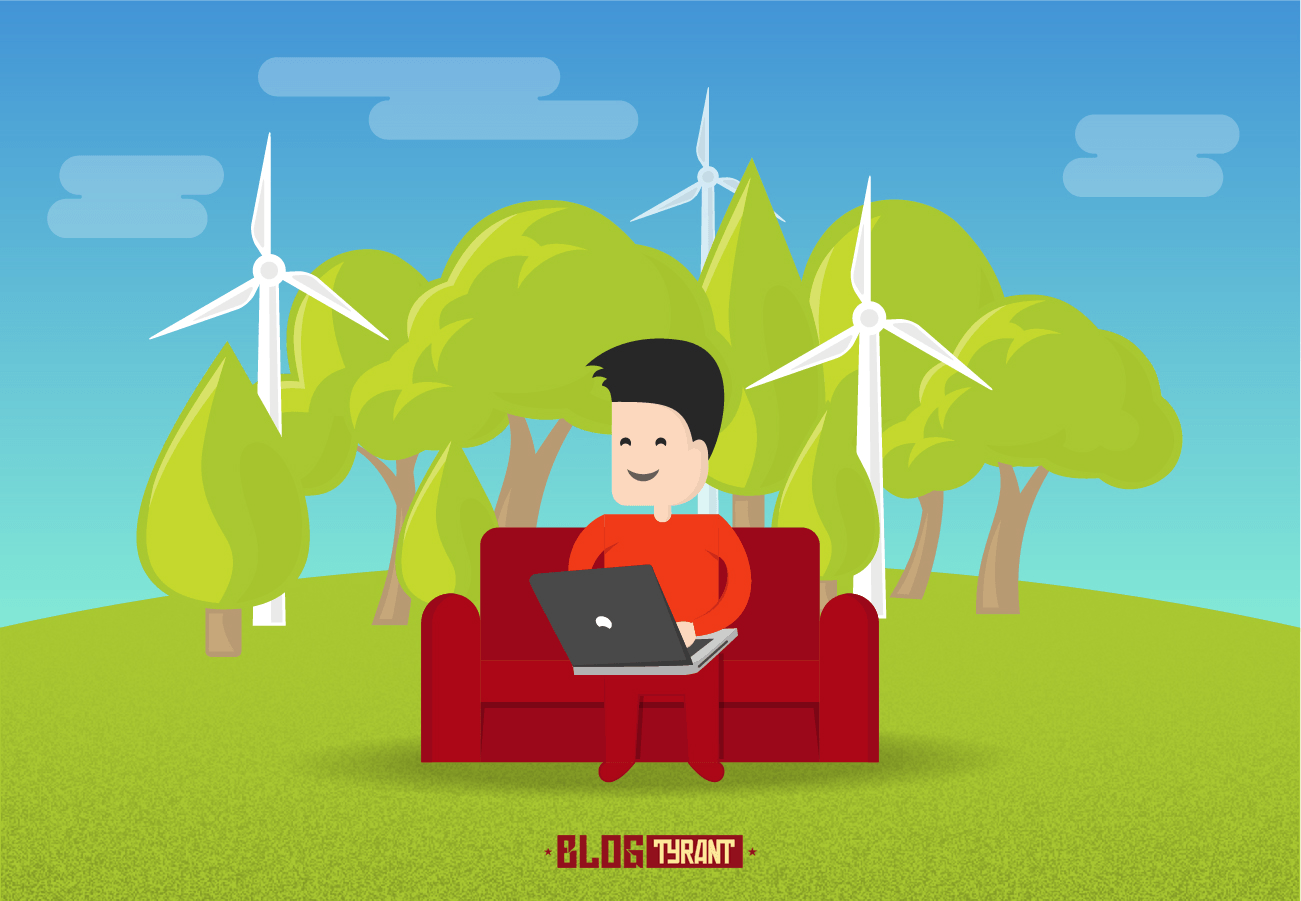 Every time someone visits your website a server somewhere needs power. More often than not that power comes from a "dirty" electricity source. Websites now produce a huge chunk of global greenhouse gasses.
Over a year we're potentially talking tonnes of pollution into the atmosphere for each website that goes online.
It's pretty frightening.
But there is good news: we can cheaply and effectively offset this carbon and make our websites much greener.
This post is designed to be a starting point for your own research and maybe a trigger for you to take some small action. Together we can make a difference, so please consider sharing it around.
Let's do it!
Why is Blog Tyrant writing about this?
We all know that the environment is in trouble.
It's been in trouble for a long time and, while there are some important breakthroughs, it seems like the progress is all too slow.
Although the science has been settled for ages now, there are still politicians and private companies who use misunderstandings and half-truths to muddy the issue and confuse people.
Some examples of this are seriously shocking.
As online business owners, we tend to think of ourselves as being pretty green. After all, we're not driving trucks around or cutting down trees for palm oil, are we?
Unfortunately, however, our websites add to global pollution by having servers that are usually powered by either a mix of clean energy and dirty energy, or just dirty energy alone.
In fact, the IT industry now pollutes just as much as the airline industry. – Tweet this.
Seeing as Blog Tyrant helps a lot of people start blogs and build traffic, I've decided to step up and use some of my money and skills to offset my own impact, while also encouraging others to do the same.
Fortunately, it's quite cheap to make a big dent.
If everybody who reads this post spends even $10 offsetting some carbon we're talking about thousands and thousands of tonnes of pollution out of the atmosphere. What an amazing thing to do!
I'm really hoping you guys are down for this.
A quick overview of how websites create pollution
I had a graphic created to illustrate some interesting points about how much a website can pollute and how bad the problem really is. Let's take a look:


Please consider sharing this graphic on social media or feel free to grab the code above and embed it on your own blog (I don't care if you remove the links, they're no_follow anyway). Getting the word out there is one small way we might be able to make an impact.
Now let's get into some details, facts and stats.
So, how much does a website pollute?
Before I get into some of the solutions I thought it would be useful to take a look at how much pollution our websites and blogs are actually creating.
Unfortunately, while researching this issue, I found it almost impossible to get a consistent estimate of how much carbon was being produced.
I literally spent months investigating and couldn't come up with a definitive and accurate answer – some companies refused to elaborate on their methods, others didn't publish any at all!
Erik, the founder of CO2 Neutral Website, was by far the most helpful in explaining why it's so difficult to find figures. Here's an excerpt from our email conversations:
We did publish an average formula early on but we saw some companies phrasing: "Our website emits X tonnes of CO2," based on our formula. But in some cases it was a false number. So what we have done is evaluate around 1,000 websites and taken the average number of 50% of the most polluting websites. We have then made sure our total calculation of needed compensation is higher than this number. That way we are very sure – but we just do not want specific companies to put a number on their site.
Not many companies were as forthcoming about their methods as Erik's, and as such I haven't mentioned them in the article.
From what I can tell, there are a few main factors that need to be looked at when assessing a website's carbon footprint:
The website's traffic levels
The more traffic a website gets the more energy is needed to keep it online and access it.
The amount of time readers stay on your site
The longer visitors stay on your site the more power their computers use.
The types of devices used to access your site (laptops vs PCs, etc.)
Larger PCs are more inefficient than laptops, for example.
The types of servers your website uses
Some servers are more efficient than others, and some companies purchase carbon offsets.
The location of your readers
Some countries/states now have a percentage of renewable energy in their power supply. Readers in these locations will thus produce less carbon.
All of these things will impact that amount of energy that is required to power a website, but it's impossible to be 100% accurate because there's no way to know exactly what all of these numbers are.
For example, we can estimate how much energy a visitor on a PC will use to read your blog for five minutes, but if that reader has a massive 3-screen gaming rig then the CO2 is going to be significantly higher than average.
So how do we assess our own website's pollution?
We need to rely on averages/benchmarks used by trusted organizations that are involved in the business of offsetting carbon around the world by supporting green projects.
Again, Erik was the most transparent about this:
On our website you can find the calculation behind the carbon offsetting, and our carbon offsetting is audited independently by the globally recognized accounting firm Deloitte. You will find that we compensate with many buffers in our calculations. So, in the end, our CO2 reductions are more than the emissions from the use of the websites. This is our decision as we want to be very sure that our participants in total deliver on their message, that they are CO2 neutral.
At this stage it seems like it's only possible to get a very rough estimate about a website's carbon emissions – but I'm starting to think that is okay as long as firms like Erik's are making trustworthy compensations.
Looking elsewhere, I found Carbon Fund has a great breakdown of how they calculate their offsets while this website calculated 1,000 visitors a day be to around 2,160 kilograms (4,761 pounds) of CO2 per year. Other websites, however, indicate that this figure might be a little high.
Personally, I'm comfortable looking at a range of figures from a variety of sources and then assuming that my website is worse for the environment than it might be in reality. I think it's better to err on the side of caution when it comes to climate change, especially as the offsets that we can purchase are relatively inexpensive.
I'll show you what I decided to do for my business below.
How to make your website carbon neutral
You don't need an exact number of CO2 output in order to do something and, luckily for us, we don't have to go out and plant trees ourselves!
What we can do is pay a reputable organization to invest in green projects on our behalf. There are literally hundreds of amazing projects around the globe that have been specifically set up to help companies offset the damage that they do.
After researching the options available I decided to go with CO2 Neutral Website as a good starting point for making my website carbon neutral.
I was really impressed with their model, transparency and the way in which they simply and easily allow websites to offset their carbon, but also spread the word through a website icon (you can see it in my footer). Here is the certificate you get upon joining: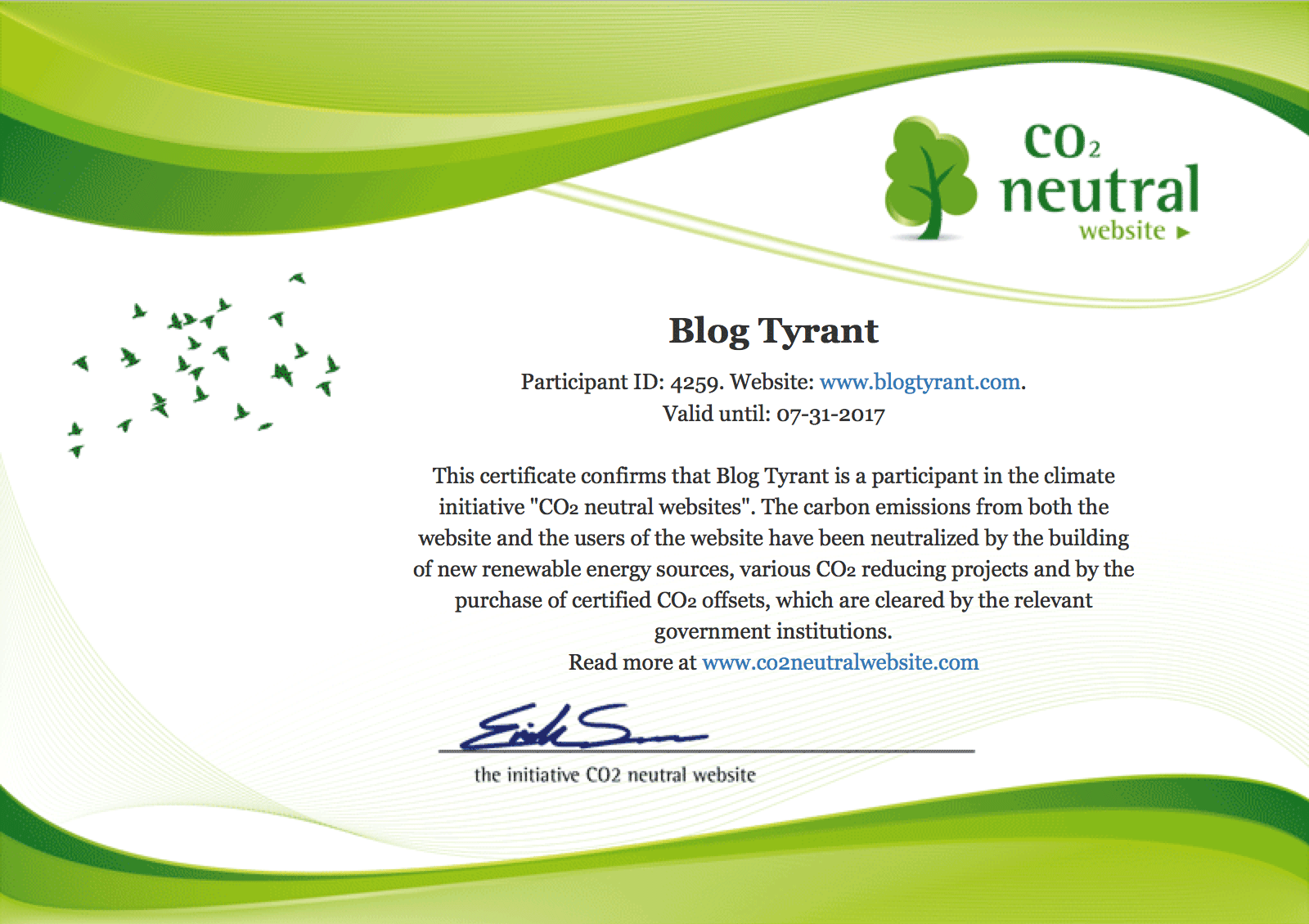 I then decided to engage the United Nations online platform for voluntary cancellation of certified emission reductions (CERs) in order to ensure that I am well and truly offsetting more than I am producing.
This website allows you to invest in and support wind, solar, hydro, re-forestation, etc. at a very low cost.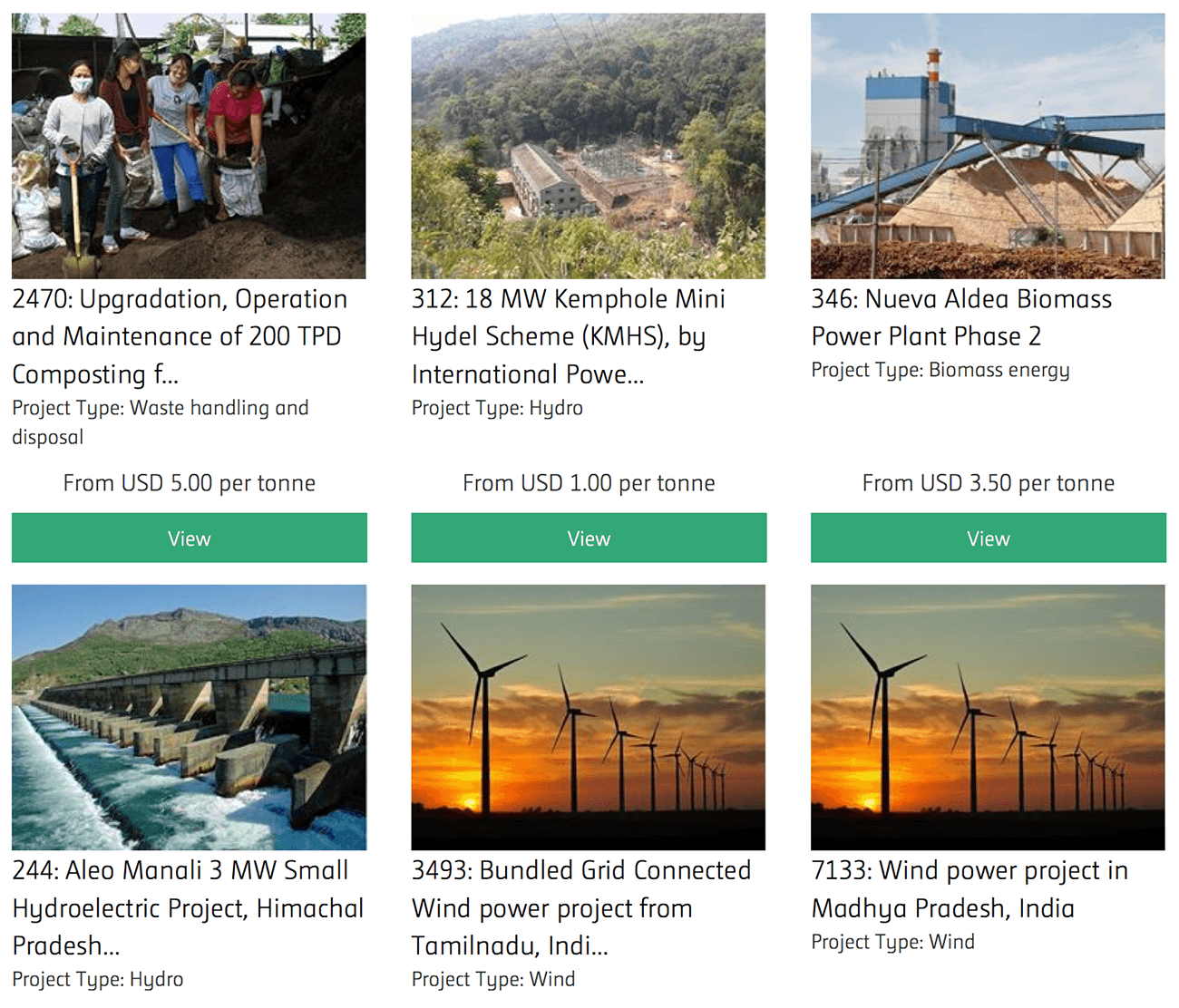 These projects work by canceling carbon credits so that you're effectively taking a tonne of pollution off the table for every credit that you buy. They also have the added benefit of being beneficial to the local communities where these projects take place – a lot of them in developing countries.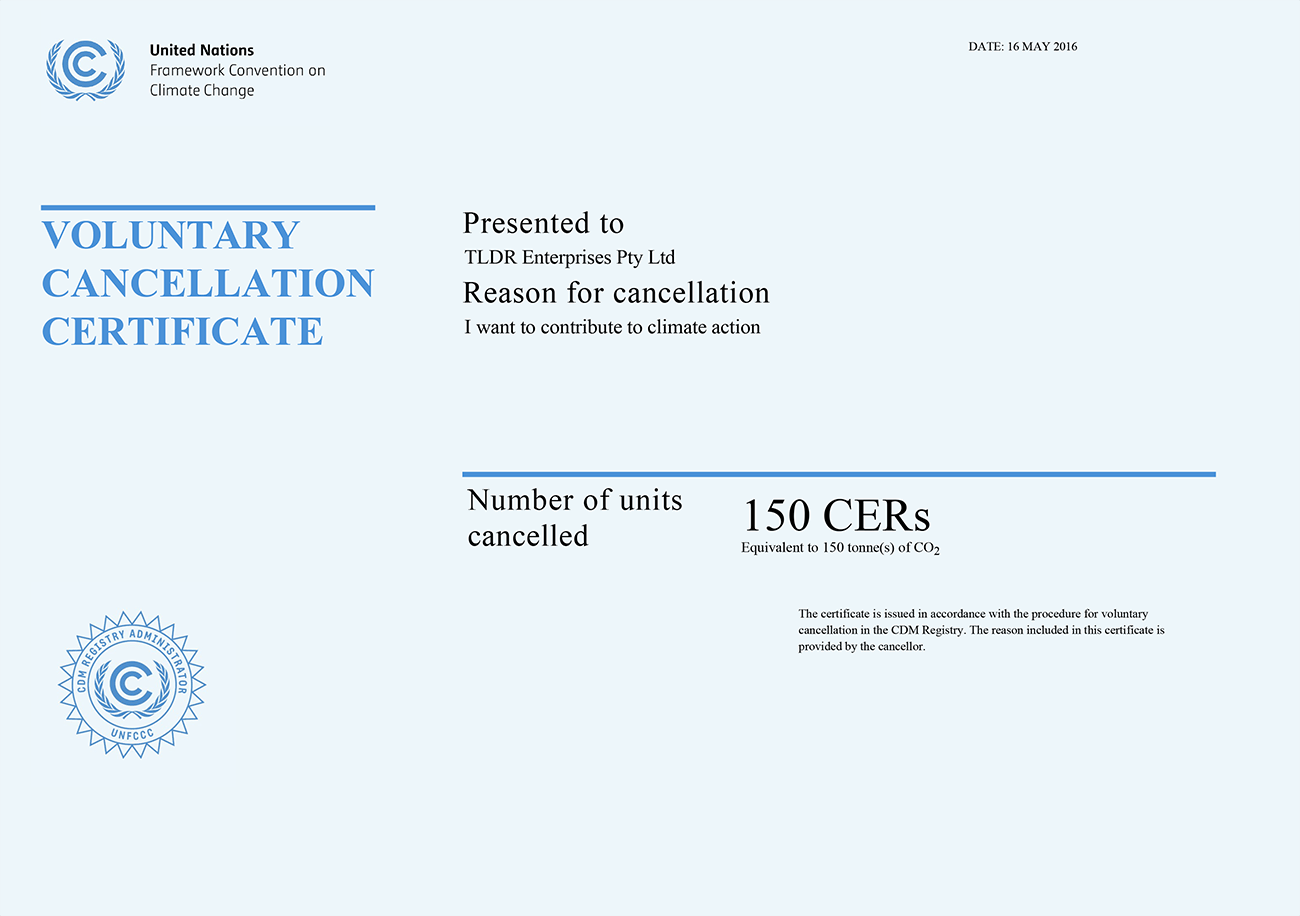 Each time you purchase you get a certificate of the cancellations.
I decided to purchase offset cancellations for 150 tonnes of CO2 here as a starting point for my research. This cost around $150 and was focused on wind projects in India.
I'll continue to do this each month as I feel like it is a good way to spend some of the money that my company produces, and has become a regular part of our charity donation mix.
So, what can I do next?
If you've been inspired by this post then here are a few things you can do online right now that will have an impact on not only your own website, but the other websites that you use every day:
Share this post
If enough people share this article we can get some traction on social networking sites and then, hopefully, get in front of more influencers who can then push it further. A quick Facebook post could go a long way.
Join CO2 Neutral Website today
As far as I can tell, this is a really good place to offset some carbon and spread the world by placing a graphic on your website that says you're carbon neutral. If you can't afford it (maybe take a look at some ways to make money online as well) then move on to the next option.
Purchase some voluntary cancellations
Use the United Nations online platform for voluntary cancellation of certified emission reductions (CERs) and pledge to keep making small donations here and there when you can.
Look at other projects like Solar Aid
Other companies like Solar Aid help fight climate change by selling solar lamps and chargers in Africa so as to prevent the use of kerosene lamps and dirty home generators. This also has wonderful benefits for the community and is cheaper to donate.
Email your web host
Some hosting companies benefit the environment by purchasing carbon offsets and using efficient cooling processes, others do absolutely nothing. Email your web host's management and put polite pressure on them to step up on their commitment to climate change and purchasing offsets. Customer pressure is a big impetus for corporate change.
Pressure your service providers
Think about all the cloud-based services you use each day. Your mailing list storage, file sharing like DropBox and iCloud, entertainment like Spotify and Netflix. As paying customers of these services you have a voice. Get on public social networking sites and ask what they are doing to address their carbon footprint.
Quick tip: Donations to these types of organizations will sometimes be tax deductible depending on your local tax laws. Talk to your accountant and see whether you are able to claim them or any portion at tax time.

And don't forget all the offline things we can do as well:
Eat less meat (even one meal a day)
Going vegetarian halves your diet's carbon footprint so if you do it even one extra day a week you'll massively benefit the environment over your lifetime.
Call your Congressperson and then vote accordingly
Phone calls do a lot more than emails when it comes to government policy. Call your local members and tell them that a climate policy needs to be prioritized if they are going to win your vote. And make sure you vote accordingly. This is a huge economic, security and social issue we need to tackle.
Switch to renewable energy at home
Most energy providers now allow you to pay a slightly higher supply cost to get more of your electricity from renewable sources. As more people do this more money will go into those projects and costs will come down. Ring your provider and ask what's available and if it's not, switch. You'll get a good deal.
Don't upgrade (in fact, downgrade)
Do you really need that iPhone 6s+ when you've already got the 6? Do you even really need to upgrade every time your phone plan allows for it? The carbon emissions required to make something new (like a phone, laptop, PC, car, TV, etc.) are astronomical, far higher than the actual emissions associated with running the thing. I got rid of my massive gaming rig PC for a laptop, and have run my online company from two laptops in a decade, and one of those was second hand. I don't need the latest.
These are just the tip of the melting iceberg – there are so many things we can do in our day to day lives. As I said at the top of the post, I'm just hoping this article serves as a starting point.
Will you get on board?
If you feel inspired to take some action for your own website then why not leave a comment below and make it public? I think it could be really inspiring to see that other people in our community making websites carbon neutral.
I'm lucky enough to be able to spend some of my income on offsets and related charities. I'll continue to do that while also promoting this article to try and get as many people on board as possible. Hopefully it'll have some small effect.
Please share this post around and let me know your thoughts below.
Over on Facebook, my friend Josh Wilner lamented about this year's US Presidential race, and the divide it's caused because of the rhetoric being used as propaganda by certain party "leaders".
Josh's biggest concern, if you like, was summed up with these words:
The 2016 election will be remembered by many as the year they lost friendships. That is not as tongue-in-cheek or snarky as it sounds either. In some cases it is a sad commentary on our tribalism and need for everyone to agree with us.
As someone who found myself unfriending a few people over their very far-right wing beliefs during the candidate debates (even though I'm not in the US), Josh's words resonated deeply.
Although he does clarify further in his update that "significant differences can be overcome as long as they don't include bigotry, racism, and anti-semitic views", his update still highlights how we seem to have arrived at a place of "you're either with me or against me".
And it never used to be like this – at least, not visibly so.
The Growing Tribalism of Online Friendships
Earlier this year, I wrote a post about it being your own fault if you got pregnant by having sex in the ear. While it was a flippant title, the topic itself was something that relates to Josh's update about tribalism.
The post shared a study from the Pew Research Center, entitled Social Media and the Spiral of Silence. This was a research paper that showed social media had actually hindered our freedom of thinking, as opposed to encouraging it.
An example used was the Edward Snowden leaks, and how people were discussing that (or not) on the likes of Facebook.
From the study, some important stats were shared:
86% of Americans were happy to talk about Snowden offline, but only 42% of Facebook and Twitter users were happy to talk about him on these respective channels.
Three times as many people were happy to discuss the Snowden case both offline and online, if they felt the others "in the room" agreed with their point of view.
Now, while the first bullet point may suggest Americans were weary of discussing the Snowden case because the felt Big Brother was watching, it's the second statistic that ties in with the whole tribalism aspect.
Regardless of the medium – online or offline – it still meant three times as many people would offer an opinion if it tied into the thinking on display.
That essentially means three times as few people no longer have an opinion, unless it's one that is supported by everyone else or will put them in the spotlight in a way that doesn't lead to conflict.
Because, as Josh mentions over on Facebook, without the tribe and the agreement of others, a differing opinion isn't heard. Which leads to unfriending and, by association, tunnel vision.
The Good Old Days of Fights and Beer
I remember when I was in my mid-twenties, and I'd play both soccer and rugby for local teams back in the UK.
Now, these weren't high-quality sports teams – far from it. Instead, it was the Sunday League variety where being able to run at least five minutes meant you were fit enough to play.
More often than not, they were teams made up of regulars of various bars around the town I was living in, and – as such – fistfights would regularly occur during games.
These would come about due to dirty tackles, elbows to the head, or simply ongoing match banter that went too far with the insults. Cue a punch up, often involving most of the players.
The referee would interject, the players in question would be punished, and the game would continue. Sometimes, the fight might continue on the sidelines, until the game was finally over.
But here's the thing.
Once the game was finished, and everyone was showered and relaxing in the bar, violence and disagreement was forgotten. Hands were shaken, compliments on a win were given, and beers were shared.
Laughter replaced anger, friendship replaced [temporary] hate. All was good in the world again.
Anger is Not Always Hate
Now.
I'm not naive enough to think we can do the same with online discourse and disagreement (for one, the lack of a physical bar is an immediate stumbling block).
But do we really have to be in the with or against camp from the off? Can't we take a step back, and analyze someone's point of view before we condemn then as idiots or whatever else we're calling each other?
Can't we take a step back, and analyze someone's point of view before we condemn then as idiots or whatever else we're calling each other?
Taking a 'with me or against me' mindset is about as helpful as a chocolate fire guard. Click To Tweet
I'm no fan of Donald Trump, and I do believe that any supporters of his that are behind his more right-wing and divisive statements are probably folks I don't want to be associated with.
But, instead of discounting all Trump supporters as mindless idiots, have a read of this BBC piece, that offers an excellent overview of why normal, disenchanted Americans are voting for him.
These supporters have arrived at their decision for reasons that don't include hate and ignorance, but sadness and anger at how the preceding governments have let them down.
But, of course, for many people, the fact they're going to vote for Trump immediately relegates them to mindless idiots.
And, from the other side of the fence, the same can be said for folks voting for Clinton and the responses they get from Trump supporters. And round and around we go…
Break Down the Tribes
Look, I get it – we all do. The world is kinda shitty right now, and it's not clear who, if anyone, has the best solution to fix it.
But putting up walls between us because we disagree on something doesn't solve anything. Instead, it simply plays into the hands of those who'd divide us, and dilutes the change we could impact if we worked together on common ground.
While that might give you a short burst of satisfaction – "I showed him!" – it does far more damage in the long run than the power glow it gives you in the immediate future.
And it's not only us who suffer but our kids and the generations they'll be responsible for after them.
And that's not a happy outlook whatever way you view it.
So let's make a deal. Let's take a pause, breathe, analyze and consider before making snap judgments.
Let's understand why others feel a certain way, and either agree to disagree or acknowledge that they may have a point after all. One that isn't blunted by ignorance and shortsightedness.
It may not happen overnight. It may not happen in our lifetime.
But isn't it worth aiming for, so that at some point in the future, we lose the with or against us mindset, and use differences of opinion to form new, accepting ones?
I know I'm going to try better – you in?